Welcome to NFL Week 9! Each week Nimble GPP will bring you the plays to get you paid for DraftKings GPP. Excited to share all my "Nimble GPP" content with you all this year. Each week I will help you build the best GPP lineups by providing you the building blocks at each skill position by identifying "High Priced", "Mid-Range", and "Value" plays. The play represents the player I predict for the most upside at their price range. Mix and match the players you are high on and build your optimal lineup.
If you are interested in NIMBLE GPP Lineups or Bo McBrayer's Cash Plays, check out all our content at NimblewNumbers.com . All Nimble's Numbers will be powered by RuntheSims.com this year. Signup for a FREE RunTheSims account today!!
High Priced – Quarterback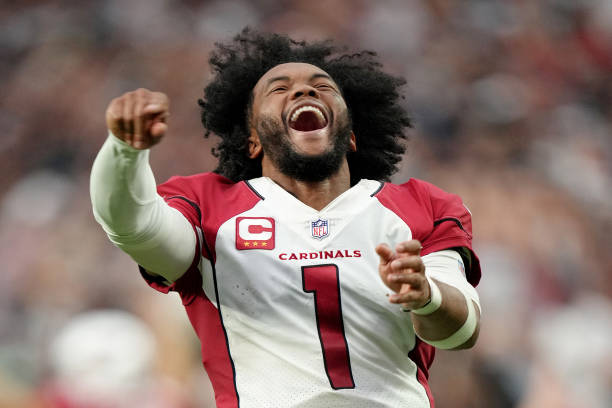 Kyler Murray, Arizona Cardinals – $7,400
Kyler Murray's offense runs the most plays every week. On average he attempts 40.6 passes per game and rushes 6.4 times per game. He's touching the ball on 67% of the plays. Since the return of DeAndre Hopkins in Week 7, Murray has averaged 23.4 points per game. In the previous six weeks, he had been averaging 20.8 points per game.
166 of Murray's 299 rushing yards have come in the last three games. His best rushing game of the season was agaisnt these same Seattle Seahawks in Week 6 when he rushed 10 times for 100 yards and the DraftKings rushing bonus. Murray hasn't rushed for a score since Week 4, but that streak has a good chance of ending this week.
Stacking Murray with Hopkins is one of my favorite stacks of the week. It will be a popular stack given that there are only 10 games on the DraftKings main slate this week and Hopkins is relatively inexpensive. Running it back with Kenneth Walker III, who sliced up the Cardinals for 110 total yards and 19 DraftKings points in Week 6.
Mid-Range – Quarterback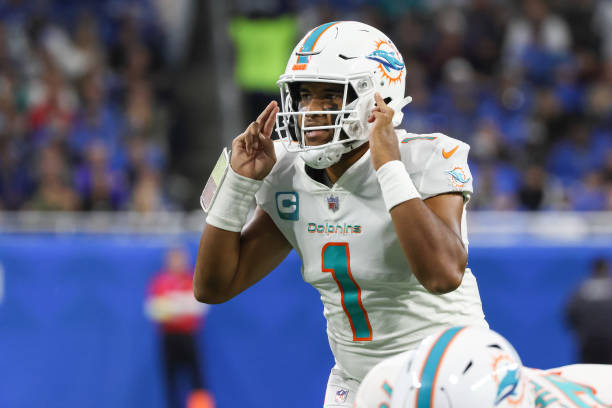 Tua Tagovailoa, Miami Dolphins – $6,700
Last week Tua Tagovailoa torched a terrible Detroit Lions defense for 382 yards and three touchdowns. His wide receivers, Tyreek Hill and Jaylen Waddle are ranked first and fifth in DraftKings points per game at 24 and 19.7. Last week they combined to score 68.1-points, helping Tua score 32 himself. The trio combined for 100 DraftKings points.
Tua will be priced over 7K in the very near future. His weapons are a little priced up, but with the target volume, the price is worth paying. The Bears' defense on paper is much better than the Lions, but the last week they got lit up by the Dallas Cowboys offense for 42 points. I expect Tua and company to keep this game up-tempo despite the Bears' best efforts. I'm comfortable rolling Tua stacked with either wide receiver, but not both this week.
Value – Quarterback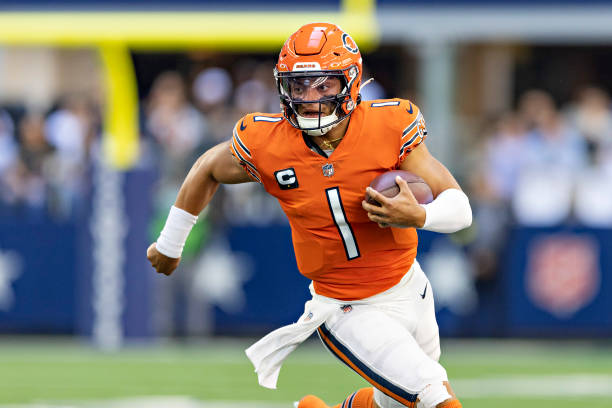 Justin Fields, Chicago Bears – $5,300
In the last three games, Justin Fields has scored 69.8 DraftKings points. Schwing!! Fields has scored the fifth most points during that stretch and has performances of 26, 24, and 19.7. The floor is becoming safe and we have yet to explore his ceiling. He leads all quarterbacks with 319 rushing yards in the last five games. He's averaged 64 yards per game and has rushed for two scores. Adding a big-body wide receiver like Chase Claypool can't hurt either.
The Miami Dolphins rank 21st against quarterbacks, giving up 18-points per game. Jared Goff lit them up last week, passing for 321 yards and a touchdown. This game has a 44-point total, but I am smashing the over. I expect a score more like 35-28 with lots of DraftKings points to be claimed. Running Fields naked is an option. Stacking him with Darnell Mooney is a cheap stack at only $10,000. Either way, Fields will be a staple of my GPP builds.
High Priced – Running Back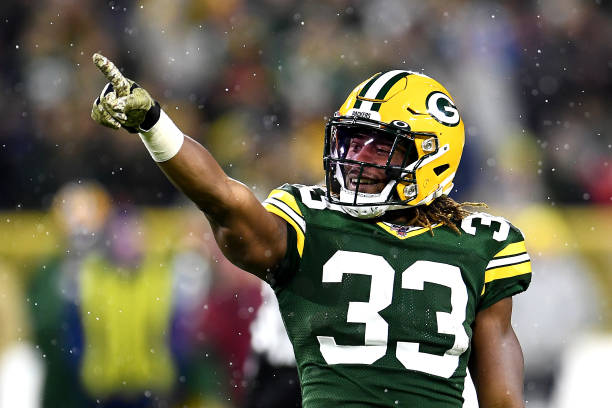 Aaron Jones, Green Bay Packers – $7,400
Aaron Jones is one of my favorite plays this week! The RunTheSims.com NFL optimizer likes him as well. He's currently the second-highest projected running back on the slate with a base projection of 20.11 and a ceiling projection hovering around 32-points. He's currently Green Bay's second-leading receiver with 30 receptions.
His matchup this week might be the nuts. According to StatMuse.com, "Aaron Jones has 98 carries for 503 yards and has scored seven touchdowns in seven games versus the Lions in his career." The last time Jones played the Lions in September of 2021, he scored four touchdowns, three receiving. Jones saw 25 touches and was the focal point of the Packers' offense last week. He scored 22.7 DraftKings points despite failing to score a touchdown. He averaged 7.2 yards per rush and looked dominant.
The man is simply on another level at the moment. And in case you didn't get the memo, the Lions are terrible against running backs. They have given up 11 rushing touchdowns and over 1,000 total yards to running backs. It's officially Aaron Jones SZN!
Mid-Range – Running Back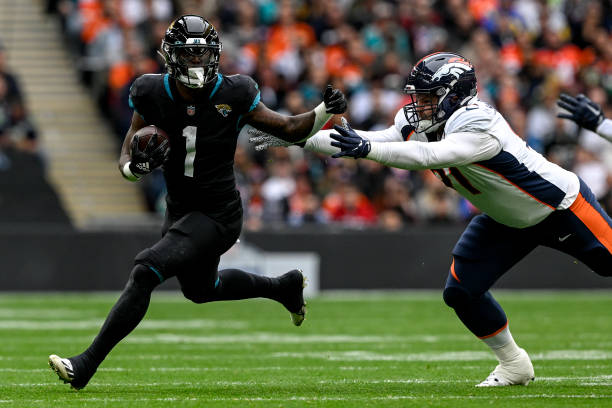 Travis Etienne, Jacksonville Jaguars – $6,300
Travis Etienne is the truth! Last week he rushed for 156 yards on 24 carries, averaging 6.5 yards per carry. He scored 28.2 DraftKings points and crushed his value at only $5,800. This week he's priced up $500. His volume and efficiency still make him a tremendous value at $6,300.
The Raiders have been terrible against pass-catching running backs, giving up 436 receiving yards and three touchdowns in seven games. Yes, they already had their bye week. I expect the Jaguars to run all over the Raiders this week with Etienne leading the way offensively. Alvin Kamara gashed them last week for three scores,
I'm hopeful Etienne picks up a rushing and a receiving score for the double touchdown dip. According to RunTheSims.com, his ceiling is over 31-points, making him a great GPP play in all formats this week.
Value – Running Back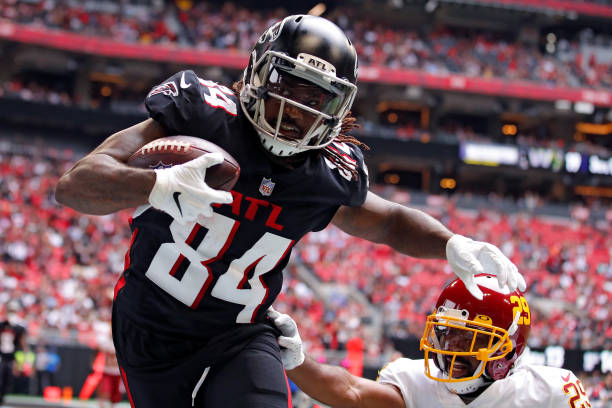 Cordarrelle Patterson, Atlanta Falcons – $5,800
Cordarrelle Patterson is eligible to return from the Atlanta Falcons Injured Reserve this week, leaving DFS sharps to beg the question, "what if Patterson is back?" I for one would be thrilled to see him return to his role of red zone touchdown vulture extraordinaire. Before getting injured in Week 4, Patterson had two 25-point games. He's a boom-play this week if he returns to face the terrible Los Angeles Chargers rush defense.
The Chargers rank 31st against running backs, having given up close to 1,200 total yards and 10 touchdowns through seven games. The Falcons rush the ball 57% of the time, second most in the NFL this year. If Patterson gets the green light to play without any restrictions, he will be a staple in my GPP builds. If he's on a pitch count, I still like him, but my exposure will probably be below the field.
High Priced – Wide Receiver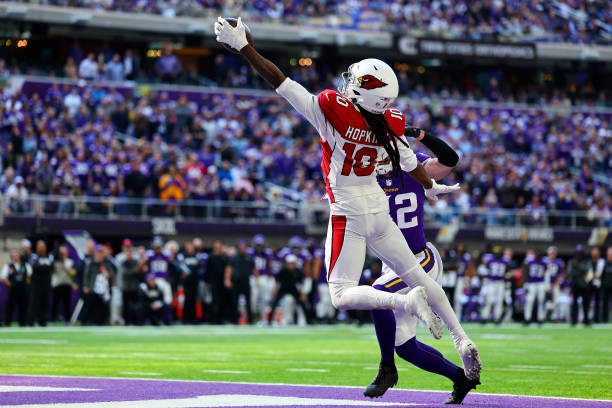 DeAndre Hopkins, Arizona Cardinals – $7,900
Since returning from a bullshit PED suspension DeAndre Hopkins has looked electric! He is averaging over 30 DraftKings points per game and is still priced under 8K. They can't boost his price fast enough. He should be $8,300 but was only priced up $500 this week instead of $900. Take the discount while you can and bet over the field this week.
Hopkins has seen 27 targets in two games and he should continue to see 10-12 targets every single game moving forward. The Arizona Cardinals lead the NFL averaging 70 plays per game. Murray is averaging 40.6 pass attempts per game. I can't spell it out any simpler for you if my name was NimbewNumbers. I'm stacking Hopkins with Murray, but definitely feel comfortable playing him in a run-back stack with a few Seattle Seahawks players.
Mid-Range – Wide Receiver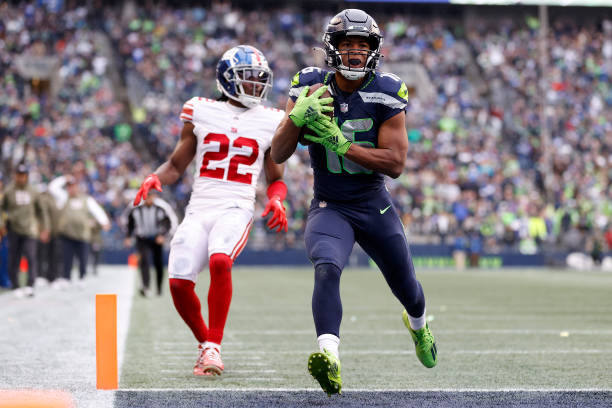 Tyler Lockett, Seattle Seahawks – $6,100
The last time these two teams met back in Week 6, Tyler Lockett was held in check. He caught two of his five targets for 17 yards and only scored 1.7 DraftKings points. Lockett has seen eight targets the last two weeks and despite dropping a touchdown last week, scored 16.3 DraftKings points. He also caught a game-winning touchdown later in the game, so trust has been restored with Geno Smith.
Vegas loves this game! And so does my partner Mike "Cash" Collins from the Fantasy Millionaires (@FFMillionaires on Twitter). He made Lockett and Geno Smith his Gold Stack of the week. At only $11,900, this stack allows you to run it back with Hopkins or even Zach Ertz or Rondale Moore for $5,100. Did I mention that I will be game-stacking this game? Maybe you should as well.
Value – Wide Receiver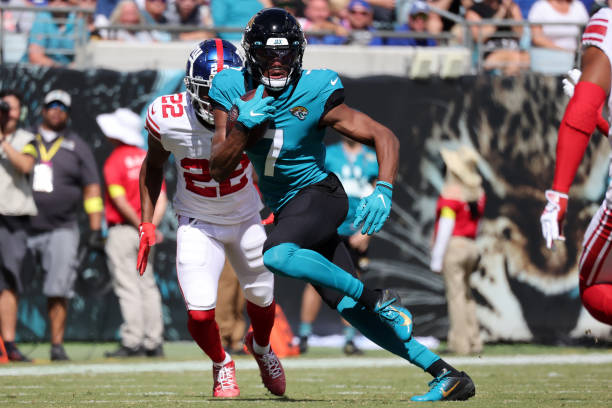 Zay Jones, Jacksonville Jaguars – $4,100
Zay Jones currently has only one less reception than Christian Kirk on the season and is $1,400 cheaper on DraftKings. Both wide receivers have favorable matchups against a bottom-third secondary that has given up over 1,100 yards receiving and six touchdowns to wide receivers. The 47.5-point game total is also very appealing. Where else can you find a wide receiver two on his team who is averaging 7 targets per game? Save yourself the research, because the answer is nowhere. Zay Jones might just be the lotto ticket you need to cash this week in GPP.
High Priced – Tight End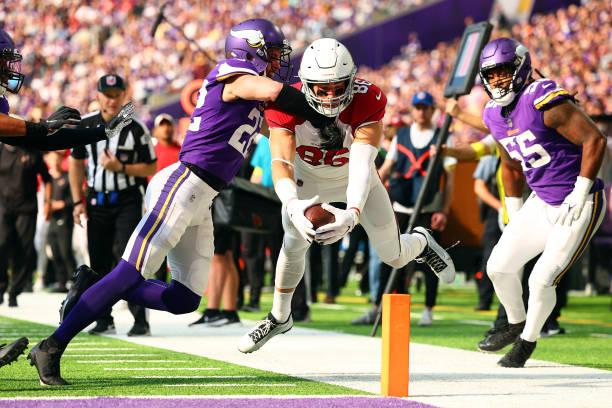 Zach Ertz, Arizona Cardinals – $5,100
The Arizona Cardinals and the Seattle Seahawks will be seeing each other for the second time this season when they face off in Week 9. The last time they played was only three weeks ago. In that matchup, Ertz converted seven receptions on 10 targets into 70 yards and 14 DraftKings points.
Since DeAndre Hopkins' return in Week 7, Ertz has only seen nine total targets in two games. The good news for Ertz is that the Seattle Seahawks rank 32nd agaisnt tight ends, giving up over 20-points per game to the position. The Cardinals and Kliff Kingsbury are well aware of this and will exploit this mismatch. I'm most comfortable stacking Ertz with Murray or running him back in a game stack.
Mid-Range – Tight End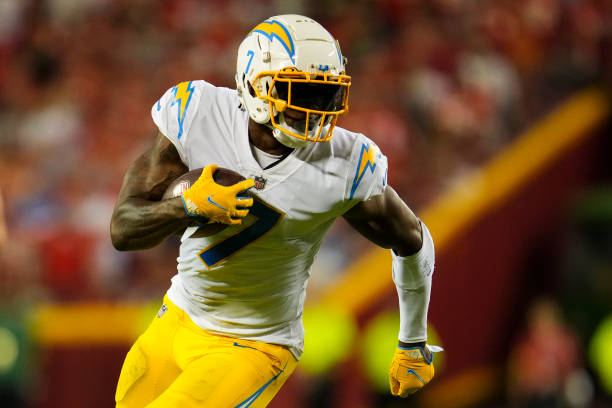 Gerald Everett, Los Angeles Chargers – $4,800
The Los Angeles Chargers are hurting for pass catchers at the moment. Mike Williams is OUT for at least a month. Keenan Allen didn't return to the game last week after tweaking his injured hamstring in the first half. Josh Palmer is still currently battling a concussion that calls his availability into question as well. As much as I like Everett as a pass-catching tight end, he legitimately might be the only eligible player for Justin Herbert to throw the ball to not named Austin Ekeler.
Seriously though, I expect the Chargers to feed Everett in this matchup. The Atlanta Falcons rank 29th against the tight end, having given up over 550 yards receiving and a touchdown this year. Everett or bust in Week 9!
Value – Tight End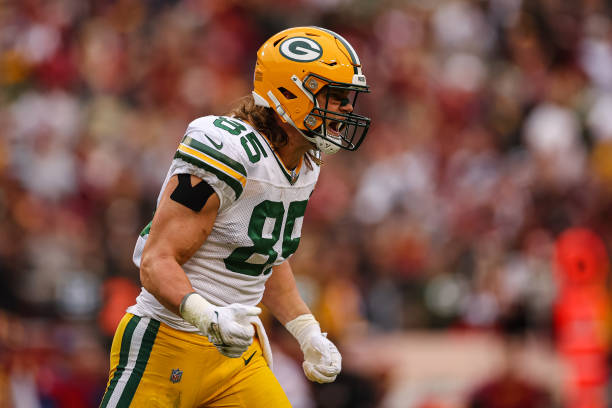 Robert Tonyan, Green Bay Packers – $3,800
Robert Tonyan has 22 targets in his last three games, behind only Travis Kelce and Geroge Kittle. Aaron Rodgers has lost four straight games and this week's tilt against the Detroit Lions is a must-win for him and the Packers. With Allen Lazard nursing an injury and Christian Watson in the NFL concussion protocol, Rodgers is desperate for trusted pass-catchers. The Lions rank 26th against the tight end position, giving up 15.5-points per game. I expect Tonyan to see 6-7 targets and have an opportunity for a touchdown in this potentially high-scoring game.