Welcome to NFL Week 4! Each week Nimble GPP will bring you the plays to get you paid for DraftKings GPP. Excited to share all my "Nimble GPP" content with you all this year. Each week I will help you build the best GPP lineups by providing you the building blocks at each skill position by identifying "High Priced", "Mid-Range", and "Value" plays. The play represents the player that I predict for the most upside at their price range. Mix and match the players you are high on and build your optimal lineup.
If you are interested in NIMBLE GPP Lineups or Bo McBrayer's Cash Plays, check out all our content at NimblewNumbers.com . All Nimble's Numbers will be powered by RuntheSims.com this year. Signup for a FREE RunTheSims account today!!
High Priced – Quarterback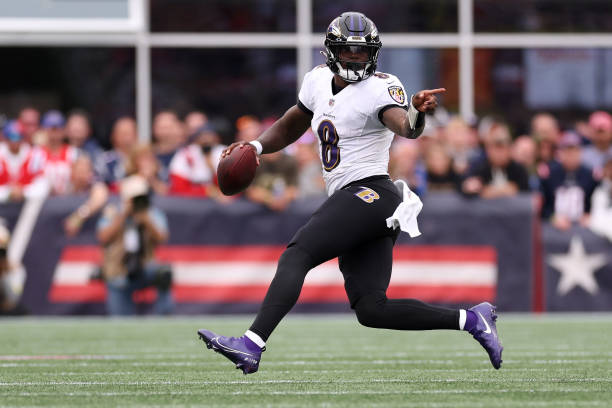 Lamar Jackson, Baltimore Ravens – $8,300
Lamar Jackson currently leads all DraftKings scores with 113 points. He's averaging 37.8 points per game. What's been most impressive is what he's done through the air. His 10 passing touchdowns lead the NFL. He's also added two rushing touchdowns, giving him a total of 12. This week Lamar Jackson faces Josh Allen and the high-flying Buffalo Bills offense. The 52-point total is the highest on the board this week and I think the game shoots the over.
Last week the Baltimore Ravens defense gave up 30 points to Mac Jones. Josh Allen is not Mac Jones. Lamar Jackson is going to need to throw three touchdowns and rushed for two more touchdowns just to keep his team in the game. The Bills are banged up a corner which is great news for Rashod Bateman and Devin Duvernay. I love stacking Lamar with one of his wide receivers or with Mark Andrews. A double stack is not out of the question at all.
Mid-Range – Quarterback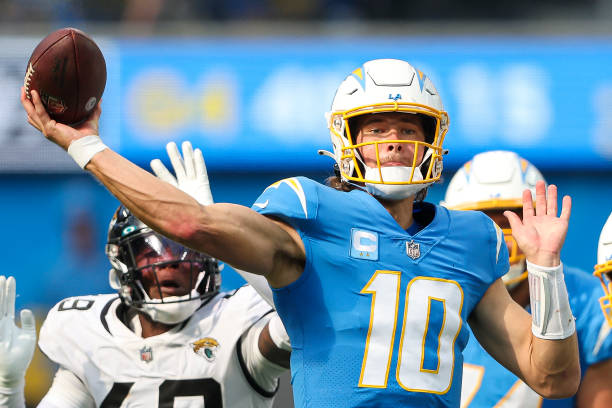 Justin Herbert, Los Angeles Chargers – $7,100
The Houston Texans' secondary is bad. Their starting cornerbacks, Derek Stingley Jr. and Steven Nelson rank 92nd and 60th, respectively out of 102. That's not good. They have only given up one touchdown pass, but to be fair they had Alec Pierce drop a touchdown on them back in Week 1, and have faced a "cookless" Russell Wilson and the hapless Chicago Bears. Despite his broken rib cartilage, Herbert passed the ball 45 times last week in the loss to the Jaguars.
I am not worried about his health in this matchup and there's a chance that Keenan Allen might be back as well. I expect Austin Ekeler to be heavily involved in the passing attack in this matchup. Ekeler currently leads all NFL running backs with 22 targets and 21 receptions. The Houston Texans are terrible agaisnt the running back, already giving up 92 yards in three games. All signs point to the Chargers and Herbert getting right against the Texans.
Value – Quarterback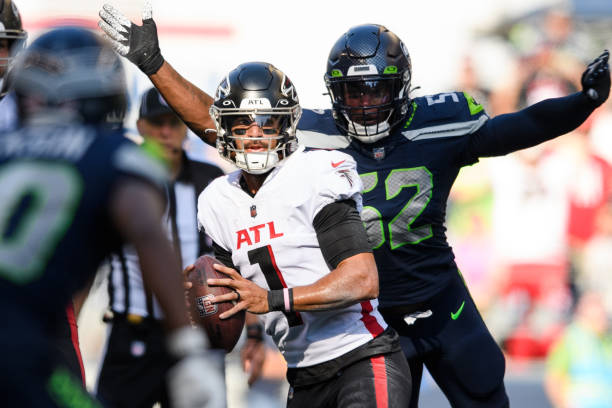 Marcus Mariota, Atlanta Falcons – $5,600
Last week Marcus Mariota was my value quarterback at $5,500. This week DraftKings has priced him up $100 to $5,600. According to RunTheSims.com his baseline projection for Week 4 is 20 points, or close to 4xing his value. The Falcons currently ranked ninth in points scored per game with 26.7.
The Browns on the other hand have given up seven total touchdowns to quarterbacks, including two rushing touchdowns. Mariota has a rushing touchdown in two out of three games so far this season. Mariota is a very safe play with tons of upside in a game with a 50-point total with two defenses that have been mediocre so far. He could pay off big this game shoots.
High Priced – Running Back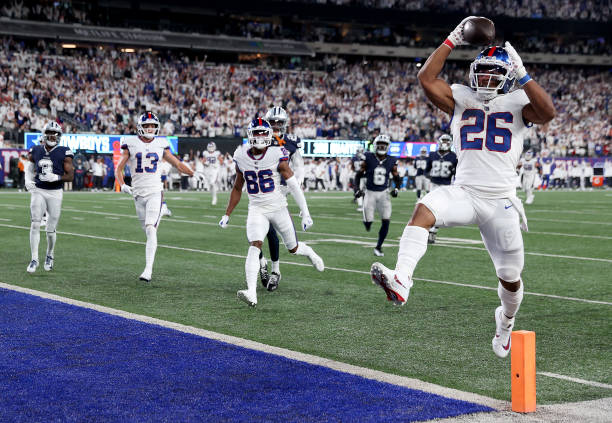 Saquon Barkley, New York Giants – $8,000
Saquon is back and he looks electric! Consider his Week 4 price of $8,000 price a sweet Monday night discount. The DraftKings price gremlins hedged their bets and lost this one. Jonathan Taylor, Christian McCaffery, and Derrick Henry are all hundreds of dollars more expensive this week. Barkley is second to only Nick Chubb in DraftKings points at the running back position, and only by 0.1.
He currently leads all NFL running backs with 409 total yards. He's averaging five targets per game and six yards per carry. The Giants are playing the Chicago Bears in Week 4. They just gave up 101 total yards to Houston Texans' rookie running back Dameon Pierce. Barkley has seen 68 opportunities through the first three games of the season and should see 22-25 touches in this matchup.
Mid-Range – Running Back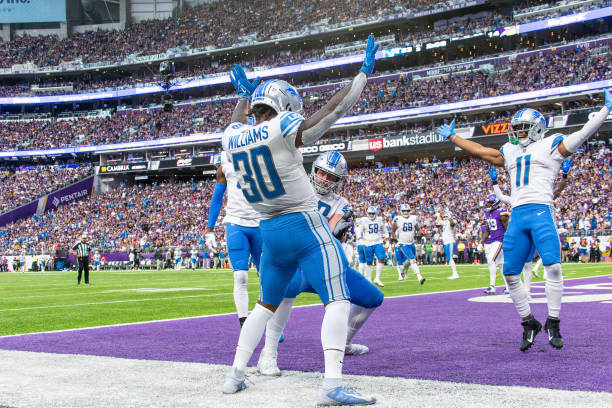 Jamaal Williams, Detroit Lions – $6,100
D'Andre Swift is banged up and is most likely going to miss some time with sprained shoulder according to a Tom Pelissero report on Twitter. Even before the injury, Jamaal Williams was holding his own in the Lions backfield. He's the Lions' primary goal-line back and is tied for the NFL league lead with four rushing touchdowns.
According to the Detroit Free Press, if Swift misses time, Williams will likely split the backfield load with Craig Reynolds and Justin Jackson. I expect Williams to serve as the starter, with Reynolds jumping into the PPR role. The Seattle Seahawks, have given up 502 total yards and two touchdowns to running backs through the first three weeks. Williams should be a smash play!
Value – Running Back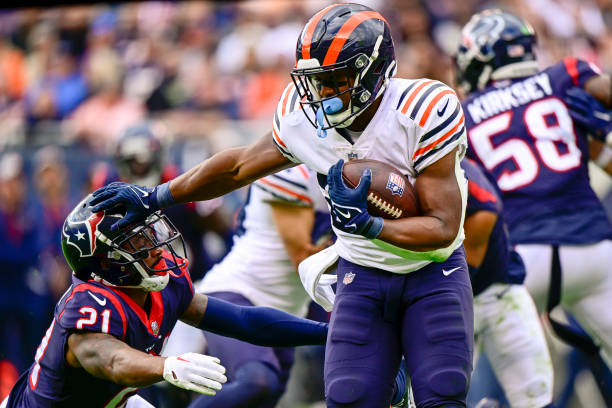 Khalil Herbert, Chicago Bears – $5,700
After last week's explosive performance filling in for the injured David Montgomery, Khalil Herbert isn't sneaking up on anyone this week in DSF. His juicy cheap price will make him a chalky pay-down option. I'm not worried unless we get into the 30% rostership zone.
The Bears' run-heavy attack will keep Herbert busy agaisnt a New York Giants defense that just gave up 178 yards rushing to a depleted Dallas Cowboys offensive line. In the young season, the Giants have already surrendered 469 total yards and three touchdowns to running backs. The Bears running backs are averaging 28.7 touches per game. Herbert is averaging 7.3 yards per carry and his 240 rushing yards rank 6th best in the NFL. Adjust the ranks.
High Priced – Wide Receiver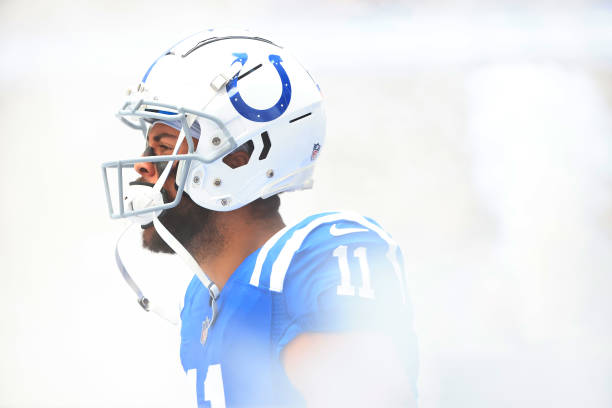 Michael Pittman, Indianapolis Colts – $7,200
Michael Pittman is averaging 21 DraftKings points per game this season. Matt Ryan's affinity for Pittman is growing too. Last week he targeted him on 25% of his dropbacks. He turned his whopping 53% wide receiver target share into eight receptions good for 72 yards. He's only found the endzone once, in Week 1 against the Houston Texans. According to PFF this week Pittman has the second-best cornerback matchup. Cornerbacks Kristian Fulton and Roger McCreary both measure in at 5'11" and weigh under 200lbs.
Pittman on the other hand stands 6'4" and weighs 220lbs. The size mismatch represents a clear advantage for the Colts to exploit downfield and in the red-zone. I expect Pittman to see 8-10 targets, including 1-2 down by the goal-line. At $7,200, Pittman is priced up coming off of a down performance, so hopefully, that scares folks off of him and his chalk isn't through the freaking roof.
Mid-Range – Wide Receiver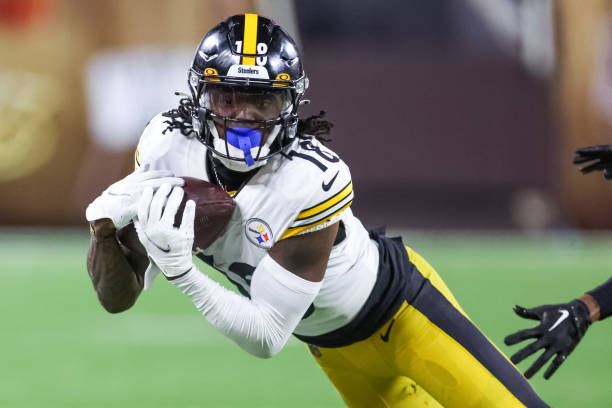 Diontae Johnson, Pittsburgh Steelers – $6,000
Diontae Johnson is averaging 11 targets per game this season, But only 14.6 DraftKings points per game. That's all going to change this week when he faces the New York Jets. I'm predicting a two-touchdown breakout performance for Diontae Johnson. The Jets have already given up 466 receiving yards to wide receivers as well as six touchdowns. They give up two touchdowns per game to wide receivers on average.
The Jets' safeties imparticular are a huge liability. Lamarcus Joyner has a PFF grade of 29.9, good for 75th of 76. Jordan Whitehead, the pillar of the group ranks 65th. If Johnson gets behind the defense, who for some reason still is playing man coverage, he will find paydirt. Shhh. This little secret is just ours.
Value – Wide Receiver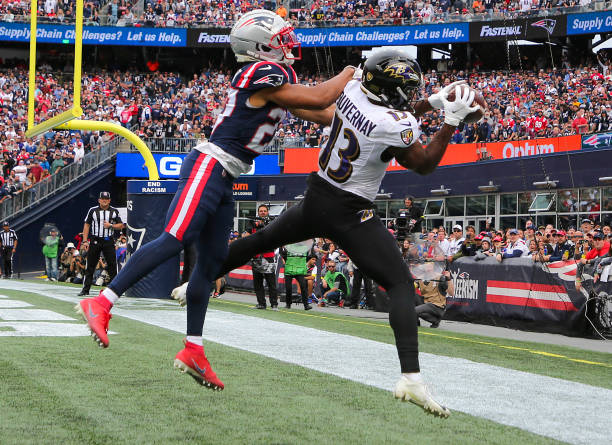 Devin Duvernay, Baltimore Ravens – $4,100
Devin Duvernay is a touchdown Ninja. He has eight targets this season, eight receptions, and three touchdowns. He is one touchdown behind Stefon Diggs for the NFL lead. He's also one point behind his teammate Rashod Bateman in DraftKings points. And he's only $4,100 in a game with a 52-point total that has the potential to shoot into the 60s. Lamar is looking for him in the red zone as well.
I love stacking Lamar with Duvernay and running it back with Stefon Diggs or Gabriel Davis. We know this game is going to shoot and touchdowns are going to be scored through the air. Lamar Jackson leads the league with 10 passing touchdowns. If you don't play Duvernay you don't deserve to win.
High Priced – Tight End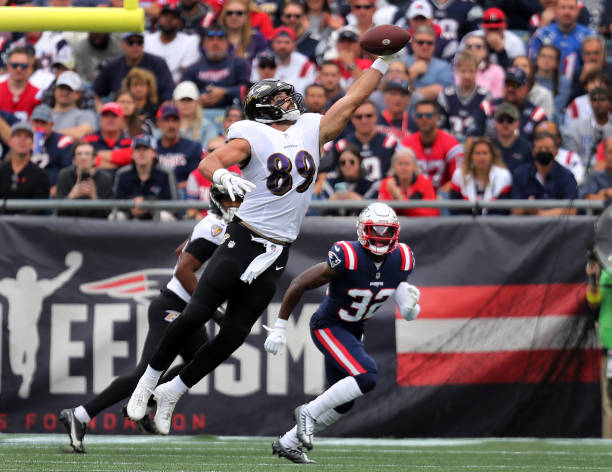 Mark Andrews, Baltimore Ravens – $7,100
Mark Andrews is the WR1 on the Baltimore Ravens and we have always known that. His $7,100 price tag is a bargain given his role in the Ravens' offense though. Did you know that? For a bit of perspective, he leads all NFL tight ends with 31 targets, 22 receptions, 240 receiving yards, and three touchdowns. With back-to-back 28-point DraftKings performances and a 52-point game total against the Buffalo Bills, all systems point to blast off for Andrews.
His floor is safe and his ceiling is close to 10 points higher than any other tight end this week. If you are paying up for Andrews, you should stack him with Lamar Jackson to maximize your leverage. I also like adding Devin Duvernay and running the game stack back with a few of the Buffalo Bills' weapons.
Mid-Range – Tight End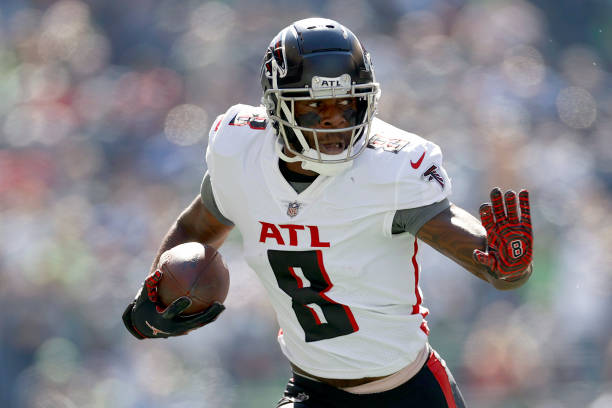 Kyle Pitts, Atlanta Falcons – $5,000
Kyle Pitts truthers have had a rough first few weeks of the NFL season, Bo McBigTime and Mike "Cash" Collins especially. I hope they can finally take a deep breath and relax. Last week Pitts finally came to fantasy life, turning his eight targets into five receptions for 87 yards and 13.7 DraftKings points.
The head coach of the Atlanta Falcons, Arthur Smith came out and said "the ball will find him" and it did. I expect the ball to keep finding Pitts this week in a potentially high-scoring matchup with the Cleveland Browns. The game has a 50-point total and the Falcons are home underdogs. There will be targets and I predict that Pitts will catch his first career NFL touchdown in America. Punch those prop tickets boys!!
Value – Tight End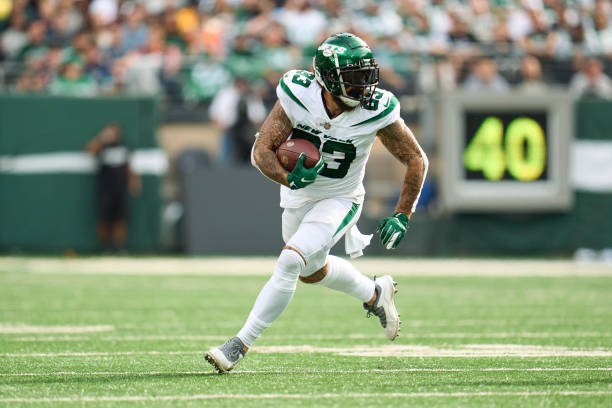 Tyler Conklin, New York Jets – $3,600
Tyler Conklin is the third-highest scoring tight end through the first three weeks of the NFL season. And it's not like he had one explosive game and two duds, he has been consistent, scoring over 10 points all three games. This week, he faces a Steelers defense that was just bludgeoned by David Njoku for nine receptions, 90 receiving yards, and a touchdown.
Conklin is tied for third in tight end targets with Travis Kelce with 24. With games of seven, nine, and eight targets, the floor is safe and the upside is sky high. The Jets are road underdogs, so you know Flacco will be adding to his league-leading 155 passing attempts. He's averaging an unholy 51.6 attempts per game. Enjoy the free money.