Welcome to NFL Week 3! Each week Nimble GPP will bring you the plays to get you paid for DraftKings GPP. Excited to share all my "Nimble GPP" content with you all this year. Each week I will help you build the best GPP lineups by providing you the building blocks at each skill position by identifying "High Priced", "Mid-Range", and "Value" plays. The play represents the player that I predict for the most upside at their price range. Mix and match the players you are high on and build your optimal lineup.
If you are interested in NIMBLE GPP Lineups or Bo McBrayer's Cash Plays, check out all our content at NimblewNumbers.com . All Nimble's Numbers will be powered by RuntheSims.com this year. Signup for a FREE RunTheSims account today!!
High Priced – Quarterback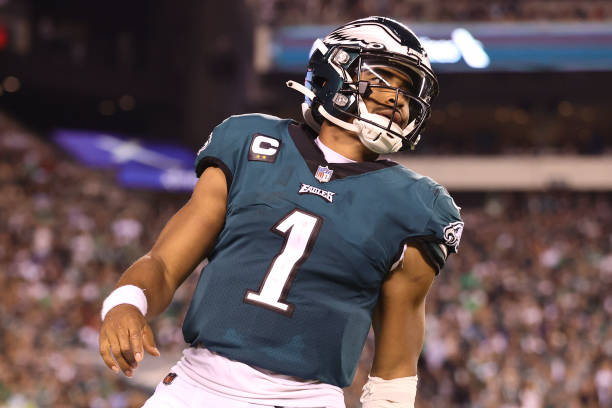 Jalen Hurts, Philadelphia Eagles – $7,600
Jalen Hurts is a beast! He currently is the NFL's eleventh leading rusher and ranks second in rushing touchdowns with three. He's also passed for over 550 yards and has a completion percentage of 69%! His RunTheSims.com boom rate is over 66%. The Washington Commanders have historically struggled to contain rushing quarterbacks and their current group of linebackers might be their worst in decades. Jalen Hurts could rush for over 75 yards in this matchup in the first half. I love playing him naked or stacking him with A.J. Brown. He's currently being rostered at 9%, which is behind only Josh Allen and Kirk Cousins.
Mid-Range – Quarterback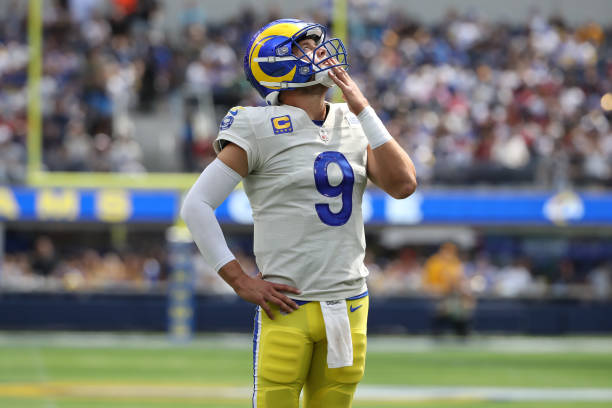 Matthew Stafford, Los Angeles Rams – $6,500
Matthew Stafford rebounded in week 2 scoring over 20 points after a disappointing season opener against the Buffalo Bills. The Cardinals on the other hand rank 32nd against quarterbacks, giving up over 26 points per game. They have surrendered 612 passing yards and seven touchdowns, with no interceptions. Stafford has three different stacking options this week. Cooper Kupp is priced up at $9,900, Allen Robinson at $5,700, and Tyler Higbee down at $4,500. Kupp is the Rolls-Royce stack with the most explosive upside. He saw 28 targets in two games last season. I'm comfortable stacking them all but prefer Kupp at the points per dollar value.
Value – Quarterback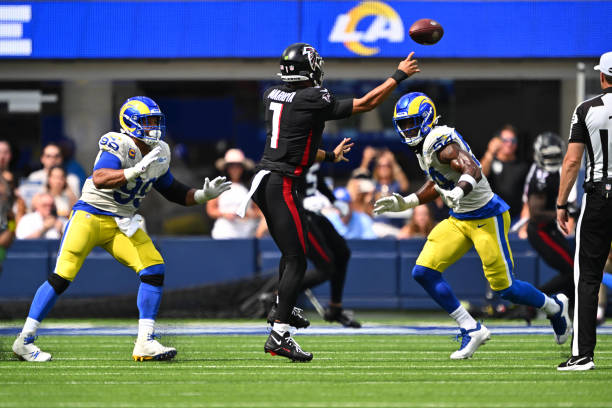 Marcus Mariota, Atlanta Falcons – $5,500
Bo McBrayer from FantasyPros loves Marcus Mariota this week in a double stack with Drake London and Kyle Pitts. Marcus Mariota is the 12th highest scoring DraftKings quarterback through 2 weeks with 37 points. At only, $5,500 he's a tremendous pay-down value who has rushing opportunities with goal-line carry upside. If he can finally connect with Pitts, the stack could pay off in a big way. I'm also completely comfortable running Mariota out naked and paying up at running back or wide receiver this week.
High Priced – Running Back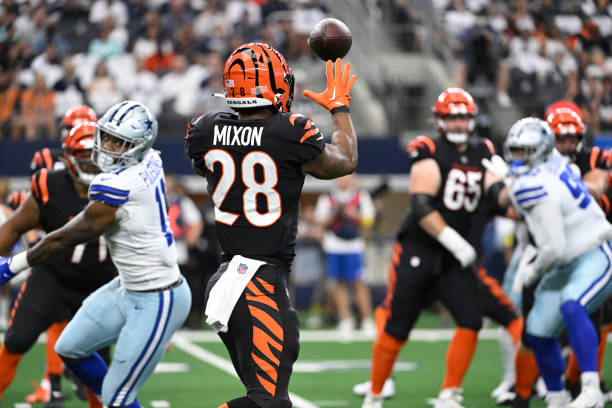 Joe Mixon, Cincinnati Bengals – $7,600
Joe Mixon is averaging 30 opportunities per game through the first two weeks of the season. Mixon is fourth in the NFL with 13 running back targets as well. The Bengals are 0-2 and on the road this week in New York to face the Jets. I can see Zac Taylor using Mixon to control the clock and slow the game down to make sure that the Bangles come out with a victory. I can easily see Mixon rushing for over 100 yards (and the bonus) and scoring a touchdown or two. All while adding 4-5 receptions and 30 yards out of the backfield. Currently, he's picking up 14% rostership, which is the fourth highest on the slate.
Mid-Range – Running Back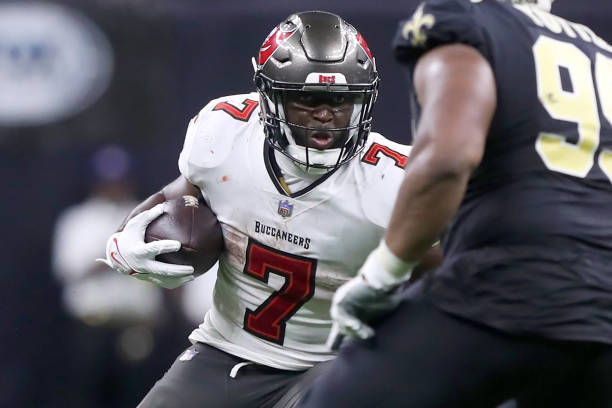 Leonard Fournette, Tampa Bay Buccaneers – $6,500
Leonard Fournette is still the only game in town for the Tampa Bay Buccaneers this week when they face Aaron Rodgers and the Green Bay Packers. Mike Evans is suspended, Chris Godwin is OUT, they were so desperate they signed Cole Beasley to the practice squad. Leonard Fournette is going to eat in this matchup he underperform last week and has been priced down $200 to $6,500. According to RunTheSims.com Fournette's boom rate is over 63%. He's one of the best plays on the board and should see 25 touches again in this matchup. Tom Brady knows the best way to win is to feed Fournette while the rest of his team heals up.
Value – Running Back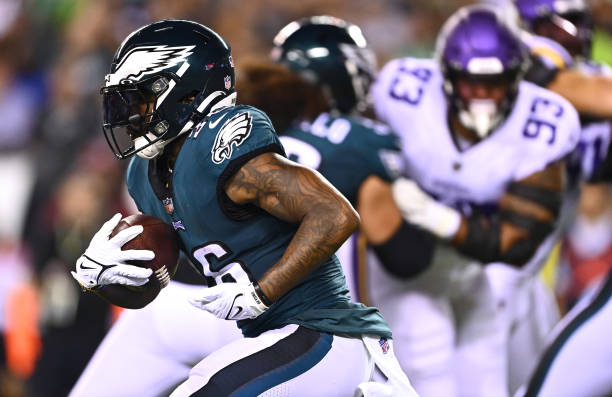 Miles Sanders, Philadelphia Eagles – $5,500
Miles Sanders is averaging 17.5 opportunities per game. While the Washington Commanders on the other hand have given up 310 total yards and three touchdowns to running backs through the first two games of the season. Travis Etienne dropped a walk-in touchdown and Trevor Lawrence failed to hit him on another potential touchdown, so those numbers are actually pretty light. The Commander's linebacking corps is barely that. Once Miles Sanders breaks through the line, to the second level he should have the opportunity to turn basic runs into huge plays. I would not be surprised to see him go for a long touchdown in this game over 50 yards. If I'm paying down at running back I'll take all the Miles Sanders. Yes. Yes. Yes. I can't believe I'm saying this as well.
High Priced – Wide Receiver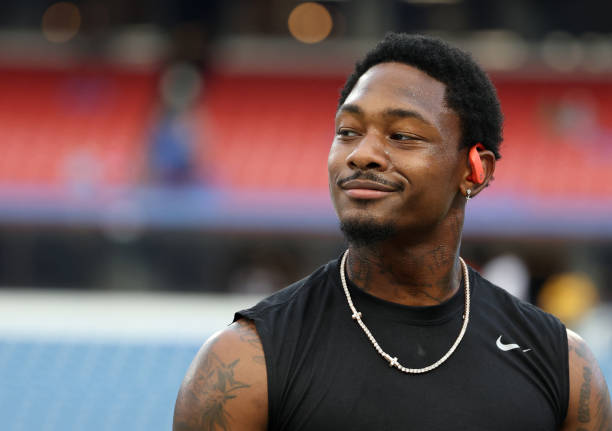 Stefon Diggs, Buffalo Bills – $7,700
Stefon Diggs is the number one scoring player in DraftKings through two weeks and he's price down at $7,700. He's $2,200 cheaper than Cooper Kupp and he's scored seven more DraftKings points so far through two weeks. Yes. Time is a flat circle. Adjust the ranks and be thankful that the oddsmakers over at the DraftKings haven't yet caught on to the fact that Stefon Diggs should be priced at around $8,800 every single week. Diggs is third in the NFL in receptions with 20. He is second in receiving yards with 270, behind only Tyreek Hill. And he has four touchdowns, which leads the league. Stefon Diggs to the f****** Moon!
Mid-Range – Wide Receiver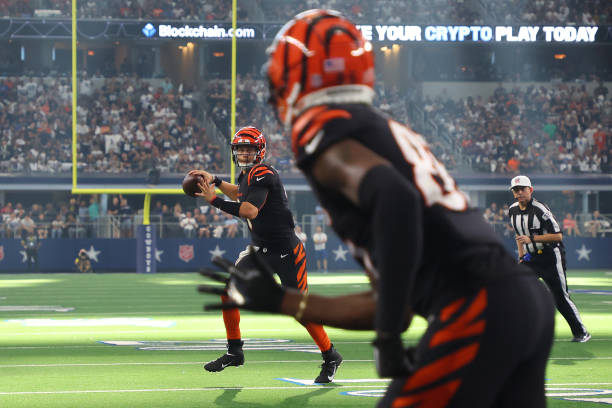 Tee Higgins, Cincinnati Bengals – $6,100
Tee Higgins is back! And so are the New York Jets and their sucky secondary. They've already given up 239 yards and four touchdowns to wide receivers in the first 2 weeks. Higgins saw 10 targets last week which converted into six catches for 71 yards and a touchdown. At $6,100, he is $2,000 cheaper than Ja'Marr Chase this week. He's a great value if you're stacking either Joe Burrow or using him in a runback stack with a Joe Flacco/Jets receiver stack. Higgins and Burrow is my co-host at the fantasy millionaires, Mike "Cash" Collins's, favorite stack of the week. I personally love running it back with either Elijah Moore or Garrett Wilson in a game you know the Jets are going to have to pass the ball. Bombs away!
Value – Wide Receiver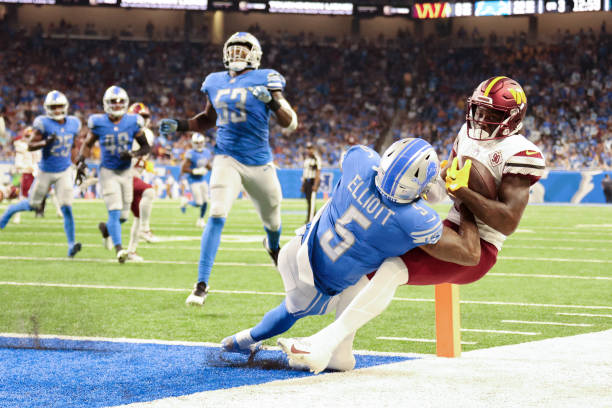 Curtis Samuel, Washington Commanders – $5,100
Curtis Samuel is my value wide receiver for the third straight week. Next week he might be my mid-range wide receiver as he's been priced up now to $5,100, which is the very edge of the value wide receiver category if I'm being honest. And I'm always being honest with DFS. Samuel is the WR1 on a Washington Commanders offense that already has seven passing touchdowns and has targeted the wide receivers extensively in the passing game. Samuel leads the team in targets with 20, receptions 15, receiving yards 133, and in DraftKings points with 43.1. Washington is a six-point home underdog with a game script ripe for a late touchdown pass to Samuel to push him over the 20-point mark and another 4x.
High Priced – Tight End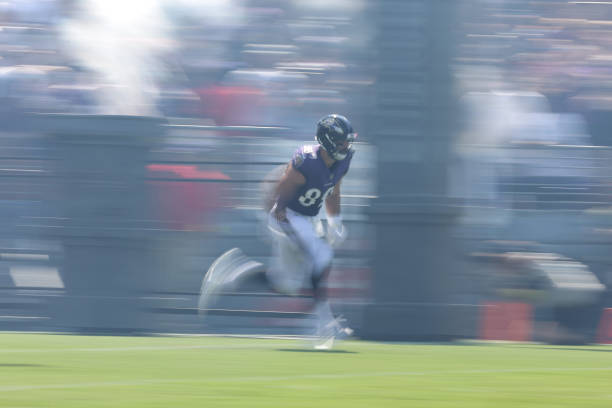 Mark Andrews, Baltimore Ravens – $6,900
This week Mark Andrews is priced at $6,900. Insert "nooice" meme right here. Travis Kelce is $1,000 more expensive at $7,900 when their stat lines are Basically carbon copies of each other. The Ravens are going to need to throw the football in this game against the Patriots. I expect Bill Belichick to try to take away Lamar Jackson's abilities to roam outside the pocket, making Mark Andrews an even greater threat. I expect him to get upwards of ten Targets in this matchup and should score you between 18 and 20 points. I feel like his floor is safe and you save yourself $1,000.
Mid-Range – Tight End
Kyle Pitts, Atlanta Falcons – $4,800
Kyle Pitts is priced at $4,800 this week on DraftKings, making him one of the most interesting plays at tight end. Pitts has done nothing, absolutely positively unequivocally nothing so far this year. But we know there's untapped potential and we also know that eventually Mariota will find him and there will be a touchdown scored and all the Earth Will Rejoice. The question is will it be this week. I think it will be. Seattle has struggled against the tight end. Look what washed Russell Wilson did to them in week one. Now Kyle Pitts has a chance to redeem himself and cash it in for you at a tremendous value. Fingers crossed he catches his first NFL touchdown in America this weekend.
Value – Tight End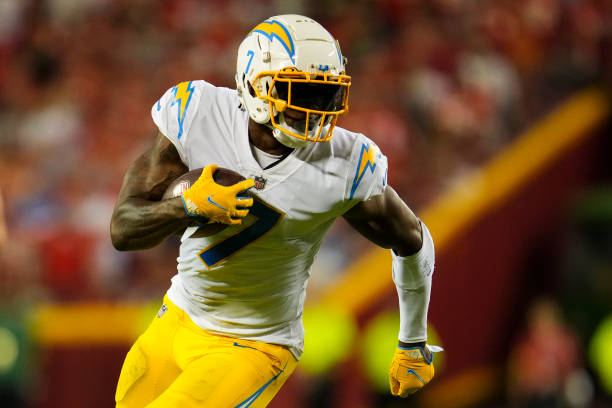 Gerald Everett, Los Angeles Chargers– $4,400
Gerald Everett has finally recovered from being winded and looking for his mouthguard. Last week was 10 long days ago and I'm not worried about any carryover or hangover between him and Justin Herbert. At $4,400, Everett is a value in this high total game that should see the Los Angeles Chargers score up words of 27 points. I'm comfortable rolling with him at his $4,400 price tag this week only if I'm stacking him with Justin Herbert. I don't want to play him naked.