Time is money. I'll spare you the long intro. Cooper Kupp, Deebo Samuel, Ja'Marr Chase, and Hunter Renfrow were all drafted as the WR2 on their team last season. Each of them was projected outside of the top-15 and they finished overall as the WR1, WR3, WR5, and WR10 respectively. ADP is a lie.
This is your last chance. After this, there is no turning back. You take the ADP pill—the story ends and you wake up with your drafted fantasy team and believe whatever you want to believe. You take the red pill and…WR2 Theory.
WR2 Theory Origin Story
Everyone loves a good origin story. If you don't, just scroll past to get to the analytics.
It's been two years since WR2 Theory was officially launched into fantasy football ether. If you missed the origin story, WR2 Theory's roots can be traced to a brief-but-meaningful Twitter exchange with JJ Zachariason in February 2020. JJ posted a tweet asking for questions for his Late-Round Podcast mailbag. All the stars aligned as I stumbled upon it and posted a question that I had been mulling over the last few seasons. Simply put, I wanted to know how accurately we (as the fantasy community) were at successfully predicting which wide receiver finished the season as the WR1 on their own team. I was sure that this question had already been answered by fantasy football analysts and if JJ could just kindly push me in the right direction, I could get that info and get on with winning all my leagues….in February….don't judge me.
After talking to JJ, it quickly became apparent that the easy answers I was seeking were not readily available to be effortlessly plucked from the fantasy football tree of knowledge. If my question was going to be answered, I was gonna need to take the fantasy stats into my own hands. I started immediately and haven't looked back!!!
My Process
I began by pouring over the last eight seasons of WR ADP data and then compared it to the end of the season wide receiver rankings. Next, I filtered that data through the vacated targets tool to see if there was a correlation between breakout WRs and vacated targets.
Afterward, I studied the team-specific factors and circumstances to identify and document the conditions that led to the shift in the WR value for each team. Finally, I created the "criteria for success" that incorporated all of the key data points and then used them to determine WR2 breakout candidates for 2022.
As I dug further into the data, I started to see a pattern emerge. Each year there are wide receivers that are routinely undervalued and outperform their ADP. In 2021, Cooper Kupp, Deebo Samuel, Ja'Marr Chase, Darnell Mooney, and Christian Kirk, were all drafted as the WR2 on their respective teams and finished as the WR1. In the case of Kupp and Chase, both had teammates (Robert Woods and Tee Higgins) who finished in the top-12 the previous season.
You don't have to be Nimble with Numbers to see the discrepancy between consensus wide receiver ADP and true wide receiver value. The question then becomes, how do we identify the next WR2 to become a WR1 or the WR3 who will greatly outperform their ADP?
WR2 Theory Criteria for Success
Every evaluation/prediction process needs criteria for success. Here is mine:
Vacated Targets: Targets that are available in an offense.
High Volume Passing Offenses: Offenses that consistently/historically see an increased percentage of passing volume when compared to the league average.
Emerging Talent/Rookies: The infusion of talented younger players into offensive schemes.
Injuries: Increased workload due to injury to a teammate.
Vacated Targets
One important tool that I used to help me identify potential WRs who fit into the WR2 Theory was the 2021 vacated target data. Here is the list of 2022 vacated targets brought to you by John Daigle from 4for4 (@notJDaigle on Twitter). I updated it with color graphics and made it sortable and accessible here. My colleague doesn't believe they exist but we're talking about them about and now you are thinking about them, so…
Observations
Last year, Cooper Kupp shattered the glass ceiling for WR2 Theory after scoring 439.5 points, the most fantasy points ever scored by a wide receiver. Kupp was drafted as the overall WR16, three spots after his teammate Robert Woods who was WR13. WR2 Theory for the win!!!
This season, two of the league's top quarterbacks, Patrick Mahomes and Aaron Rodgers both saw their stud wide receivers traded in the offseason. Mahomes has 340 targets and Rodgers has 250 targets that need a new home this year, which is extremely intriguing. The Tennessee Titans moved on from A.J. Brown and brought in Robert Woods and drafted Treylon Burks. The Dallas Cowboys and the Buffalo Bills have over 30% vacated targets as both have moved on from older wide receivers. They either drafted a wide receiver or have younger players waiting to ascend to the starting role. Tom Brady has close to 200 targets up for grabs as well. This is why WR2 Theory matters. Get this right and you Cooper Kupp your league.
A Passing League
It is undeniable that the NFL has become a passing league. Last year, six teams featured at least two wide receivers who finished in the fantasy top 30. Explosive Offenses: Over the last seven years the following teams supported two top-30 WRs.
Emerging Talent/Rookies
The common-sense wisdom in redraft leagues has always been to wait on rookie wide receivers, who typically are unreliable and breakout later on in year two or three. In 2020, Justin Jefferson, CeeDee Lamb, and Chase Claypool turned that thinking on its head, with Jefferson finishing as a WR1 and Lamb and Claypool finishing as WR2s. In 2021, Ja'Marr Chase scored over 300 fantasy points and Jaylen Waddle finished as the WR13, scoring 245 points.
The 2021 NFL wide receiver class was stacked with talent and they did not disappoint. Here is the list of rookie and second-year WRs who finished in the top-36 in 2021 (Bold indicates 2021 rookie).
2022 WR2 Candidates
Here are my 2022 WR2 Theory break-out candidates identified by round. All 2021 ADP rankings come directly from 4for4's ADP tool and are based on a 12-Team PPR league.
Rounds 3–5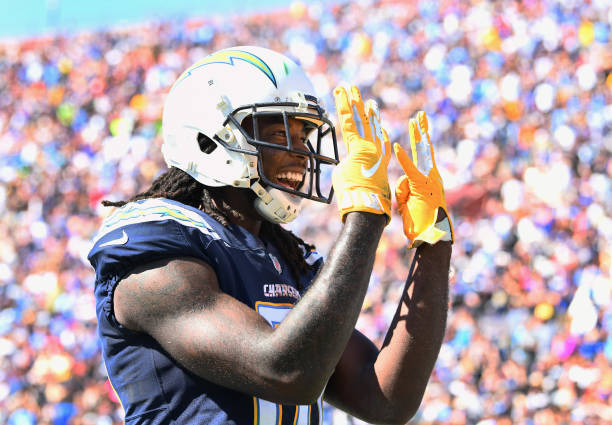 Mike Williams – Los Angeles Chargers – WR17
Mike Williams finally broke out last season with Justin Herbert under center, finishing as the overall WR12. Despite averaging only 0.7 fewer FPPG last season, he's currently being drafted seven spots after 30-year-old Keenan Allen, who is flying off the board at WR10.
Digging into the numbers, Mike Williams was boom or bust last year, amassing a staggering 66% of his fantasy points in only six games. In the other 11 games, he only averaged 7.4 fantasy points, which was frustrating. His targets per game fluctuated between 4 and 17. Mike Williams won you weeks and lost your weeks. He was an upside play with variance, a gamble for sure each week, unlike Allen.
Why should you trust him thin 2022, given what you just read? Matthew Betz (@TheFantasyPT) brought up a great point on Twitter that his production decrease coincided with an early-season injury in Week 5 of last year. This makes a lot of sense, given his dip in target share percentage in the weeks following. Allen outpaced him 71 targets to 42 targets in the next seven weeks.
This year Williams is completely healthy, with no lingering knee issues hampering his progress. Evan Silva of Establish the Run lays out a pretty convincing case for Williams surpassing Allen this season. I'm with Evan! I absolutely love Williams and have him on every team that I've drafted so far this year (4).
He's already a top-12 fantasy wide receiver, who has another year of reps with Herbert, who the Chargers just signed to a 3-year $60M deal. All the signs are here given the high volume passing offense for Williams to smash his WR17 ADP and finish as the WR1 on the Chargers.
Allen Robinson – Los Angeles Rams – WR23
Allen Robinson was terrible last season, but in his defense so were the Bears, Matt Nagy, and Justin Fields. Matt Harmon from Reception Perception points out how terribly the Bears used him last season "Over 47 percent of Robinson's sampled routes in 2021 were a slant or curl. I mean, what is that?" Matt is showing restraint, I will not. That is some bullshit. McVay won't do him dirty like that this year.
When Matt came on the Chalk Blocked Show he said, "Any argument that Allen Robinson is washed is completely ridiculous." Word on the beat reporter streets is that Robinson is thriving with Stafford. He is quickly becoming one of Stafford's most reliable targets, hauling in targets in the middle of the field. Stafford is head and shoulders the best NFL quarterback that Robinson has ever played with.
With the exception of 2020, when Cooper Kupp finished the overall WR26, the Los Angeles Rams have had two wide receivers inside the top 24 every year since 2018. Robert Woods has been traded to the Tennessee Titans, opening the way for Robinson's acquisition.
The Rams' offense produced 899 wide receiver fantasy points in 2021. They scored 92 more points than the next closest team, the Tom Brady-led Bucs. This offense is primed to be even better than it was last year, which is a kind of scary way of thinking. Robinson has WR1 upside in a pass-friendly offense and you can draft him at the end of the fifth round. Sign me up for all the shares.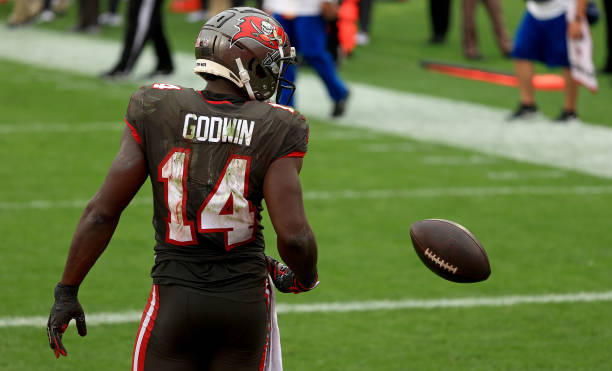 Rounds – 6–8
Chris Godwin – Tampa Bay Buccaneers – WR24
Last year Chris Godwin averaged 17.3 FPPG, and Mike Evans averaged 16.4 FPPG. Evans is currently being drafted 15 spots ahead of him. Godwin is coming off a knee injury, which has suppressed his early ADP. According to Luke Easterling from Bucs Wire, "Godwin didn't start training camp on the Physically Unable to Perform (PUP) list, which is always a good sign. Just a few days into camp, he began taking part in positional drills, wearing a knee brace."
Godwin finished as the WR2 in 2019, averaging 19.7 FPPG that season with Jameis Winston. ADP perspective, the WR24 last year was Calvin Ridley, he averaged 14.2 FPPG. Godwin might miss a few early-season reps, but I'm not worried about an aging Julio Jones or Russell Gage impacting his season-long value. There's no Gronk, and oh, btw, last year both Godwin and Antonio Brown averaged 17.3 FPPG.
In the last two seasons, Tom Brady has attempted 1,329 passes, completing 886 times for 9,949 yards and 83 touchdowns. Please tell me why Chris Godwin won't be on all my teams, unless you steal him from me. How dare you! And after I put you on to him and all. I see how it is. No Godwin for you!!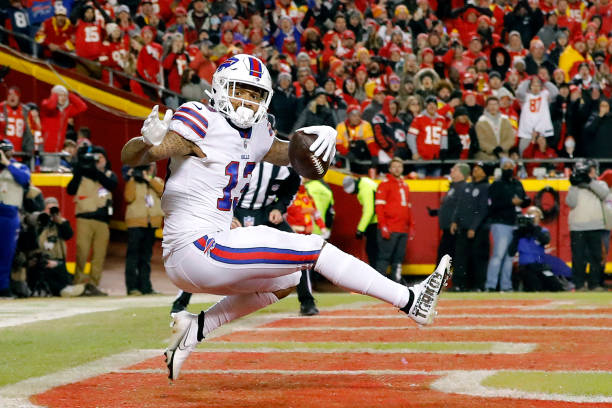 Gabriel Davis – Buffalo Bills – WR27
The Buffalo Bills moved on from Cole Beasley and Emmanuel Sanders in the offseason. The moves freed up 200 targets in the Bills' high-octane passing offense. The Bills' wide receivers scored the fourth most fantasy points last season behind only the Rams, Buccaneers, and Vikings.
Admittedly the offseason hype has the four-touchdown playoff game against the Chiefs sent his ADP into orbit. Rightly so, if we are being honest. Josh Allen is a potential NFL Hall of Fame quarterback in his early prime with a cannon arm and a wide receiving arsenal that looks close to unstoppable, even in the vaunted AFC East.
Let's look at the numbers from 2021. Davis performed well during the regular season, earning a 73.7 PFF grade. That's all well and good, but he went total beast mode in the playoffs, turning his 13 targets into 10 receptions for 242 yards and 5 touchdowns. His 92.3 PFF ranking was the best of any playoff wide receiver. The future is now with Gabe Davis, shake off the haters and join team winning!
Adam Thielen – Minnesota Vikings – WR29
Picking Adam Thielen might not be the sexy pick the kids will be using to inspire the TikTok dance trend, but the man gets it done. With Justin Jefferson as his running mate the last two seasons, Thielen has averaged 16.2 FPPG. The average WR29 over the last 5 seasons is averaging 13 FPPG. If you like more points, Thielen makes a lot of sense.
Still not sold? Thielen converted his 15 red-zone targets into nine touchdowns for a truly mind-blowing 86% touchdown conversation rate. Thielen is a dangerous weapon that will be single-covered 60% of the time every time Kirk Cousin looks for him. Thielen isn't going to be flashy, but his two touchdown performances will win you your week.
Still not sold? Mike Zimmer and his Instagram girlfriend broke up and oh, he's not the coach of the Minnesota Vikings anymore. In his place was hired pass-friendly Kevin O'Connell, who wants to push the ball downfield, unlike Zimmer who established the run more than Adam Levitan. If Thielen can stay healthy, he's a tremendous value at WR29. Don't overthink this one.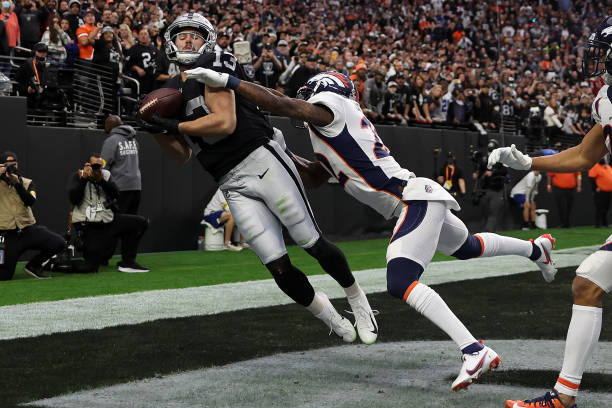 Hunter Renfrow – Las Vegas Raiders – WR36
Hunter Renfrow is the perfect WR2 Theory candidate. He finished as the overall WR10 last year in PRR. This current ADP is wild. I get that Davante Adams is the WR1 and Darren Waller is a thing, but still, this is just stupid. Renfrow had a ridiculous 80% reception rate, why is Derek Carr suddenly going to ignore him? I didn't realize that Adams was a slot receiver. I'll adjust my ranks.
With the addition of Adams, Renfrow will be further ignored, increasing the potential for favorable one-on-one matchups. Renfrow might not score 260 fantasy points, but he's definitely going to score more than 170. That's the average score the WR36 scored in the last five years.
I'm projecting Renfrow for 190 fantasy points, which is more like WR30. Renfrow doesn't have to finish the season as the WR1 on the Raiders for WR2 Theory to work. Adams depressing his ADP makes him a value and adds 30-40 points to your team without reaching for him.
Rounds 8-12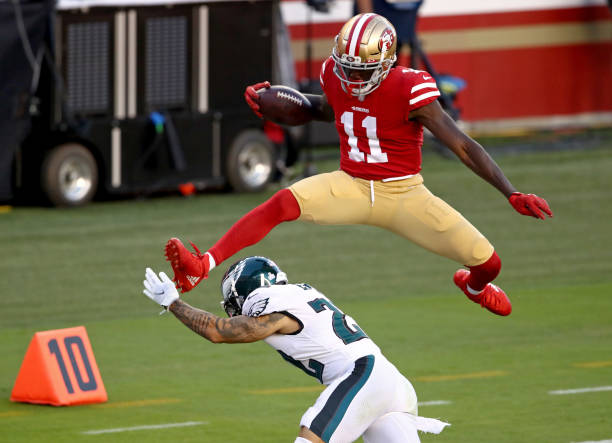 Brandon Aiyuk – San Francisco 49ers – WR39
For the last two seasons, Brandon Aiyuk has finished as the overall WR35. He's averaged 177 FPPG but has had his ups and downs along the way. The infusion of Trey Lance into the San Francisco 49er's offense is going to be a game changer for Aiyuk, who thrives downfield after the catch. He ranked 19th amongst NFL wide receivers after the ball is in his hands.
We all know Aiyuk's athleticism is off the charts. Combine that with an explosive 49ers offense and the impending Deebo Samuel regression, his WR39 price tag appears to be a grave miscalculation from the fantasy football community.
Realistically we should expect more of the 15 FPPG we saw in 2020 than the 10 FPPG we saw last season. If you remember, he began the 2021 season in Kyle Shanahan's dog house and it took a few games to break out of it. I don't expect any of those issues, as all the training camp reports have been glowing.
Jose Luis Sanchez from Si.com reported that "The Brandon Aiyuk hype train is legitimate. It isn't just a bunch of hope that he will be amazing this season. He's DEFINITELY going to be sweet this year. In fact, his "hype train" is officially now a "shooting star" with how mesmerizing his practices have been."
If Aiyuk can average even 14 FPPG that would be a 90-point improvement from last season. A better hype train name might be "Sleeping Giant." I'll be scoping up all the Aiyuk shares I can grab at the end of the 8th round.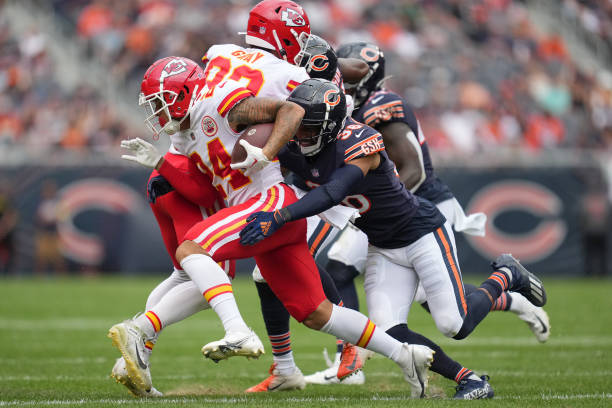 Skyy Moore – Kansas City – WR50
I've watched all offseason as Skyy Moore's ADP crept up from the '60s into the '50s and soon into the '40s. Should you be buying the hype? An 11th-round pick for a talented rookie with 4.41-speed that offense is joining a Patrick Mahomes offense with 340 vacated targets. I'm surprised it took this long for the FF community to figure it out.
According to training camp reports, the Chiefs are deploying Moore all over the field. He's not Tyreek Hill. And he doesn't have to be to return value at his current ADP. Bryan Stewart from Arrowhead Pride reported "Moore…will be a slot receiver…he still stands apart from a typical slot wideout, who usually doesn't have the linear speed to threaten downfield — or the catch radius to be a legitimate threat from the outside. Moore checks both of those boxes."
Moore might not start the season red hot as he'll be competing with veteran JuJu Smith-Schuster, Mecole Hardman, and MVS for targets. If you draft Moore, give him a few weeks to find his footing, because once he does, he might not ever let up.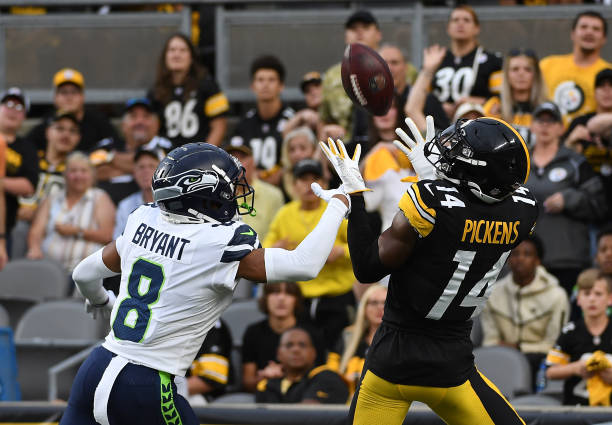 George Pickens – Pittsburgh Steelers – WR52
George Pickens's ADP is currently on hellish fire after his three-catch, 43-yard, touchdown performance was noticed by fantasy football heavy hitters. Jeff Bell of FootballGuys (@4WhomJBellTolls) astutely pointed out that Pickens was on pace for a historical rookie season with "204 receptions, 2,924 yards, and 68 touchdowns. A record." His tweet went viral of course (I blame analytics) causing the ADP spike of the freaking summer and all but ruining my WR2 Theory reveal party. Thanks a lot, Jeff.
Pickens still has value, even after his rapid ADP rise. He's coming off the board at the beginning of the 11th round, which is a fair price to pay for a dynamic big-play wide receiver whose Player Profiler comp is Jerry Jeudy. The Steelers' offense should be better this year without the accused rapist Ben Roethlisberger under center.
First off Diontae Jonhson is not getting 169 targets this year. I expect Pickens to vulture a handful of those targets. Mark Kaboly of The Atheltic reported "Pickens has been the star of camp, consistently making play after play, which is highly unusual for a rookie receiver. You would expect to see flashes, but not every day. And I mean every day."
Chase Claypool regressed in 2021, scoring 2.3 fewer FPPG. Calling himself a top-three wide receiver in the NFL over the summer doesn't sit quite right with me either. The Steelers have a history of recognizing wide receiver talent, I trust Mike Tomlin knows what he's doing and will be scooping Pickens looking for a long-shot league winner.
Rounds 12-16
Jalen Tolbert – Dallas Cowboys – WR59
I like Jalen Tolbert and have him on every team I've drafted this year (dynasty, redraft, best ball, even Scott Fish Bowl). My reasoning is that he will be a starting wide receiver for the Dallas Cowboys. Seems pretty straightforward. They produced over 750 fantasy points for the wide receiver position and now find themselves out of healthy wide receivers.
CBSSPorts is reporting "With Michael Gallup (knee) and James Washington (foot) both set to miss the beginning of the regular season, there will be a lot of pressure on Tolbert to handle a big role from the jump despite being a third-round pick from a smaller conference."
Jalen Tolbert underwhelmed in his preseason debut, only catching two of seven targets. Still, he had seven targets. He might not start off red hot, but there will be a role for him to start the season and he should be drafted in every home league. Hopefully, by you.
Cheat code. Draft Gallup and stash him on your IR until he's back off the PUP list.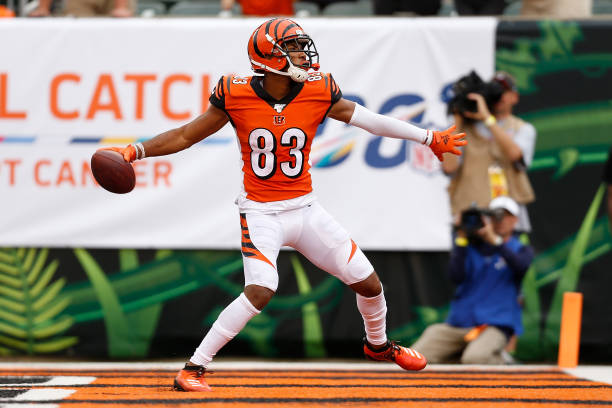 Tyler Boyd – Cincinnati Bengals– WR60
All Tyler Boyd did last year was score 184 points and finish as the overall WR31. How does the fantasy football community repay him? They drop him 30 ADP spots and start drafting him in the 14th round. This is just absolute madness. For perspective, Quez Watkins was the WR60 last and he scored 116 fantasy points.
In the last four seasons in the NFL Boyd has scored 221, 223, 192, and 184 points. Sure there's some regression, but damn! Are you telling me he's going to go full Quez in 2021? I just can't with this garbage.
Tyler Boyd deserves much better and if he's hanging around in the 14th round of your home league, you are getting away with highway robbery. If either Ja'Marr Chase or Tee Higgins were to get banged up, Boyd immediately becomes a starting WR3 on your squad each week. Free Tyler Boyd!!!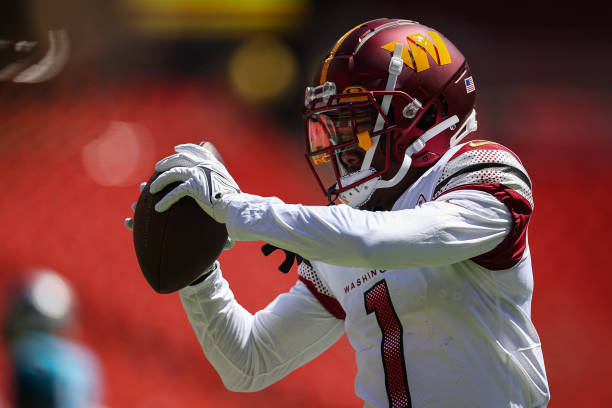 Jahan Dotson – Washington Commanders – WR66
The Washington Commander might actually be onto something this time with Jahan Dotson. I live in the Washington DC suburbs and Dotson fanboying has been reverberating across the sports radio airways in anticipation of him getting unleashed this season.
Sure, all hometown talk radio is too good to be true. Sam Fortier of the Washington Post reports that "Dotson should be on the field often. Turner uses three or more wide receivers at one of the highest rates in the league — 75 percent of the time last year, according to Sharp Football — and will continue to do so this season."
Curtis Samuel's presence might scare you away, but if the Commanders had faith in Samuel, they wouldn't have invested 1st round draft capital in Dotson. It's his job to win at this point. If Carson Wentz can do his best Joe Flacco impersonation and get the ball downfield, Scary Terry might finally have a suitable running mate at wide receiver.
Dotson's ADP is currently 15.10 and being drafted as a dart throw or is available on the waiver wire in PPR leagues. He's a receiver that I won't be drafting, but I will be monitoring him the first few weeks of the season to see how he's acclimating to the NFL.
Nico Collins – Houston Texans – WR76
Nico Collins is a wide receiver that I have been drafting all offseason as well. He's free and cheap and 6'4″ and 220lbs. Sure, the Texans are one bad season from being relegated to the USFL, but they are committed to developing Davis Mills into a franchise quarterback. They've armed him with a big downfield threat in Collins.
Last season, Collins got off to a slow start but ended the last three games catching eight balls for 135 yards and a touchdown. During this preseason, Collins has been working with Texans wide receiving great Andre Johnson to work on his route running and hand placement. The work appears to be paying off early on in camp as Collins looks fluid and much more comfortable running routes.
Realistically I am not expecting Collins to oust Brandin Cooks from his WR1 position on the team, but I am expecting him to close the gap and carve out a role as a fantasy flex player this season. If he can double his output from 2021, he'll be live each week.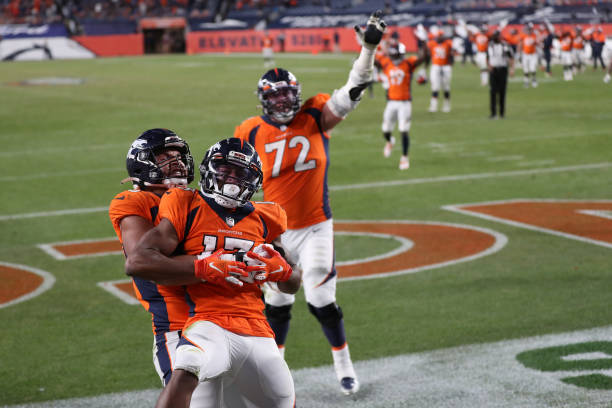 K.J. Hamler – Denver Broncos – WR87
The Broncos lost Tim Patrick to a season-ending torn ACL during the training camp. K.J. Hamler missed all of his rookie season, suffering his own torn ACL in the 2021 preseason. The second-round pick has looked good in his return to practice.
Luke Patterson of Si.com reports "Hamler's routes were precise, smooth, and explosive on Monday. The third-year slot receiver known for his speed, burst, and elite athleticism caught virtually every pass thrown his way in positional drills and during team period."
The addition of Russell Wilson to the Broncos' offense is a true game changer for Hamler given last season that Drew Lock was battling with Teddy Bridgewater for the quarterback job.
According to PFF's Sam Munson, "Hamler could be a perfect designated deep threat for, arguably, the best deep passer in the league." His deep ball skill set is exactly what Wilson maximized in Tyler Locket over his career in Seattle. There's already talk from Hamler that sees himself as the next Tyler Lockett. Wheels up on his free ADP.