Welcome to NFL Week 2! Each week Nimble GPP will bring you the plays to get you paid for DraftKings GPP. Excited to share all my "Nimble GPP" content with you all this year. Each week I will help you build the best GPP lineups by providing you the building blocks at each skill position by identifying "High Priced", "Mid-Range", and "Value" plays. The play represents the player that I predict for the most upside at their price range. Mix and match the players you are high on and build your optimal lineup.
If you are interested in NIMBLE GPP Lineups or Bo McBrayer's Cash Plays, check out all our content at NimblewNumbers.com . All Nimble's Numbers will be powered by RuntheSims.com this year. Signup for a FREE RunTheSims account today!!
High Priced – Quarterback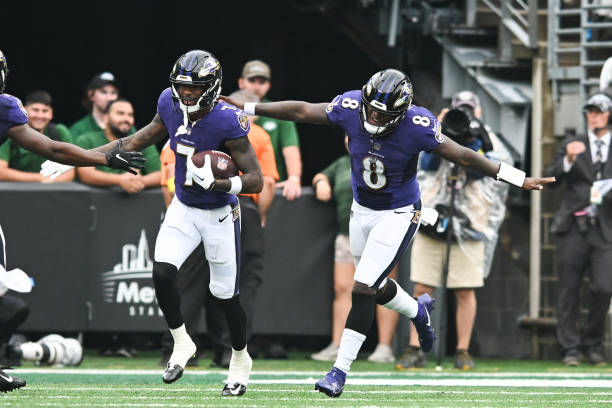 Lamar Jackson, Baltimore Ravens – $7,400
Lamar Jackson is the best play at quarterback this week. He's currently the sixth most roster quarterback at 7%. I love it and so should you if you would like winning money, and I think most of you do. Unless you're Bo and you play me head-to-head each week then you lose and you still like it, but I digress. I'm stacking Lamar Jackson with Mark Andrews and running it back with Tyreek Hill this week. This is one of my favorite pay-up stacks of the week. The high price should drive people away and allow you to differentiate your builds.
Mid-Range – Quarterback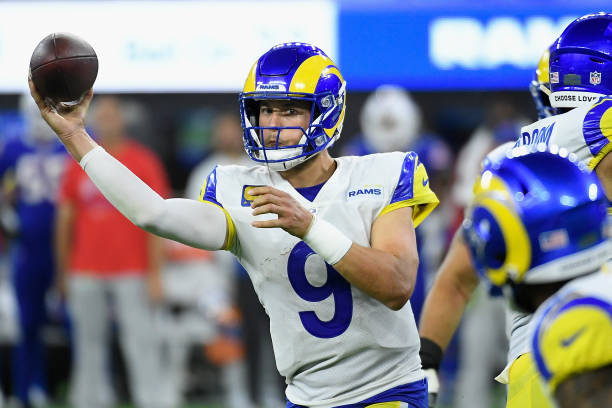 Matthew Stafford, Los Angeles Rams – $6,300
According to RunTheSims.com, Matthew Stafford is the most rostered quarterback on the DraftKings Main Slate. The Atlanta Falcons defense will do that to you. Last week they propped Jameis Winston up for 21.66 DraftKings points. Stafford is coming off of 10 days rest and should be healthier and more in sync with Allen Robinson this week. Cooper Kupp is $9,900, making Robinson at $5,500 the second most popular play this week. Pay-up or value, Stafford is in play this week and should score 22-24 points. He's most effective in the stack and should not be played naked. I mean should any of us?
Value – Quarterback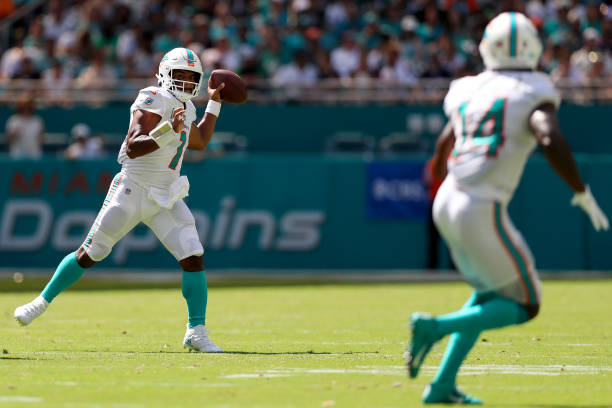 Tua Tagovailoa, Miami Dolphins – $5,600
If I'm not playing Lamar Jackson, I'm playing Tua Tagovailoa. In a game you know there's going to be a high-volume passing upside, he has Jaylen Waddle and Tyreek Hill and Mike Gesicki and Chase Edmonds and Raheem Mostert and opportunity through the roof for an underpriced top-15 quarterback this week. Keep pricing guys like it's last week instead of like it's this week and I'll take it every time. Tua is a potential Milly Maker winner, let me put it that way. The Ravens are likely going to be playing rookies Jalyn Armour-Davis and Pepe Williams after Kyle Fuller tore his ACL in Week 1, Marlon Humphrey was limited in practice and Marcus Peters's status is still up in the air. All signs point to an over!
High Priced – Running Back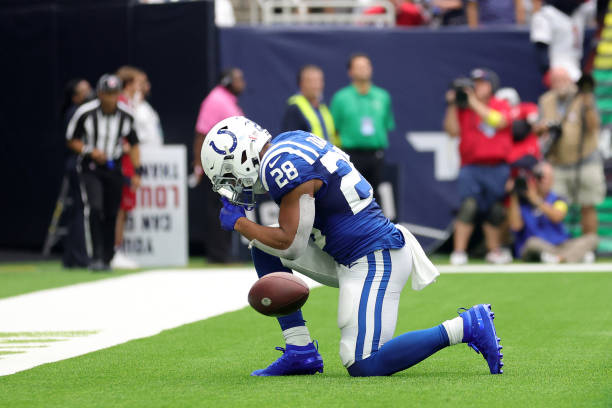 Jonathan Taylor, Indianapolis Colts – $9,900
According to RunTheSims.com, Jonathan Taylor has the highest ceiling of any running back on the Week 2 DraftKings Main Slate. Last week the Jaguars gave up 130 total yards to Antonio Gibson, good for 20 DraftKings points. All good things if you are Taylor who saw 38 opportunities in Week 1. Michael Pittman is probably OUT this week after missing practice on both Thursday and Friday. Taylor is going to eat all game long. At only 10% rostership, I will be above the field on him this week in my GPP builds.
Mid-Range – Running Back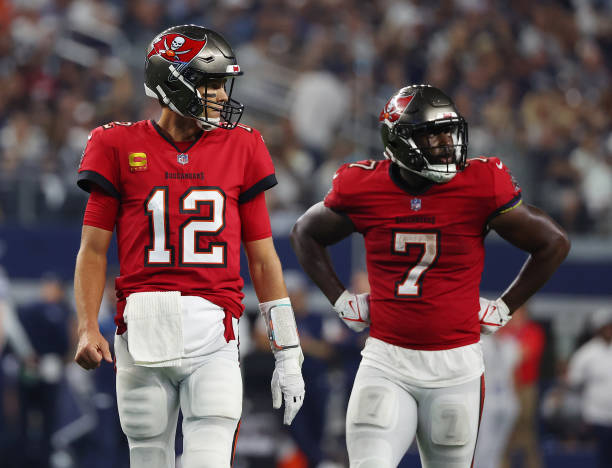 Leonard Fournette, Tampa Bay Buccaneers – $6,700
Leonard Fournette is the Tampa Bay Bucs offense right now. Mike Evans is banged up, Julio Jones as well, hell Chris Godwin is OUT this week already and it's only Friday. Fournette practiced today and yesterday and he's a full send. He's the best player on the board at only $6,700. I'll be head over the field with Lenny. I want to run around in a field of my little Lenny lineups. The Saints owned Tom Brady as a Buccaneer the last two years. Brady has thrown six touchdowns to 8 interceptions. He's even come out and said that he's not his old self and this offense is going to be different and that difference is Fournette.
Value – Running Back
Jeff Wilson, San Francisco 49ers – $5,100
Jeff Wilson Jr. is Bo McBrayer's breakout back of the week. His DFS darling. His creme-de-la-creme of low-priced value running backs with the potential to score two touchdowns and run for a buck twenty-five, while catching three passes for 40 yards. I love that we are getting a high-volume running offense with a low-priced back who should see the goal-line work. We know he's going to see upwards of 20 touches in this game. Wilson is only picking up 7% rostership at the moment. That's music to my ears. No one's on him. Except for Bo and everyone he tells and he never stops talking, so better act fast and lock him up!
High Priced – Wide Receiver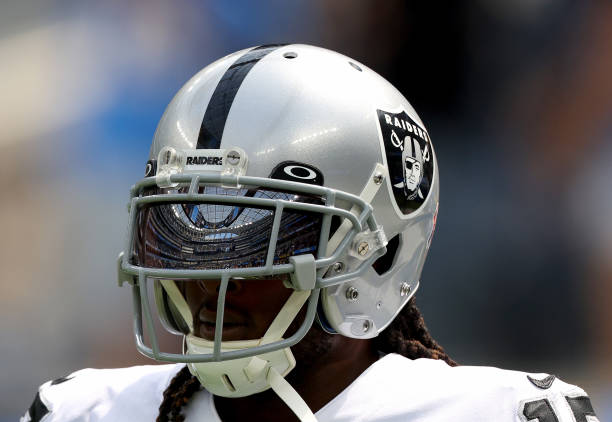 Davante Adams, Las Vegas Raiders – $8,600
Davante Adams is currently the most rostered wide receiver on the Week 2 DraftKings Main Slate at 17%. I totally understand and I'm also going to advocate for rostering him this week. 17 targets last week and this week his grandma is in the stands for the first time to watch him play. You don't think he's going to show out for his grandma? You don't think the whole Raiders team isn't going to try to get him two touchdowns for his grandma? Grandma plays this week friends. She's already at the MGM gambling according to Adams. I'm all in on Adam's grandma!
Mid-Range – Wide Receiver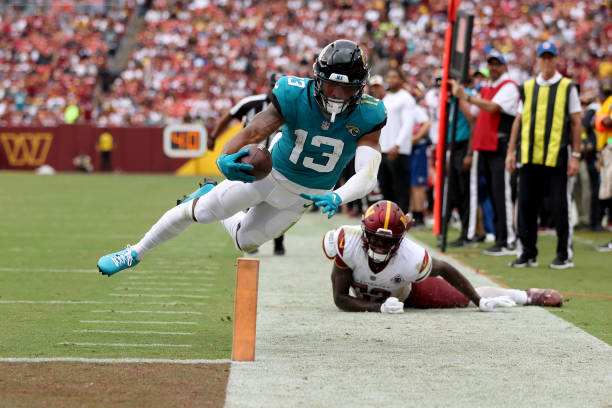 Christian Kirk, Jacksonville Jaguars – $5,700
Last week Christian Kirk saw 12 targets from Trevor Lawrence in a negative game script that saw them trailing much of the afternoon. This week they are home underdogs to the visiting Indianapolis Colts. Who don't have Carson Wentz anymore (who beat them last week) they have Matt Ryan who looks to beat them this week. They're going to need to throw the ball and Christian Kirk is the number one wide receiver on that team by a mile. 117 yd receiving on six receptions that's close to 20 yards per reception. Add a touchdown in there and we're looking at a 22 to 25-point game this week, which is definitely in the realm of possibilities. I'm shooting for the upside that the Jag's defense still sucks and they will be playing in garbage time.
Value – Wide Receiver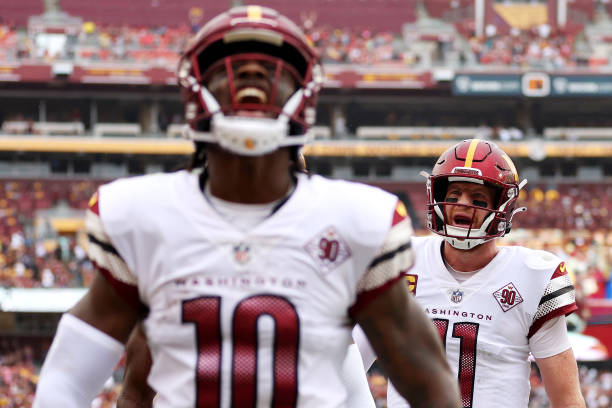 Curtis Samuel, Washington Commanders – $4,600
Last season Curtis Samuel barely saw the field. Last week he was targeted 11 times and caught eight passes for 55 yards and a touchdown. Oh and 20 DraftKings points as well. The boys and girls over at DraftKings do not believe in Samuel this week and have kept his price down at only $4,600. The Washington Commanders versus Detroit Lions game has a 48 1/2 point total. Neither one of these teams have a defense. That's not good. As a matter of fact, it's great because we want to bet against them this week in a potential shootout that I'm projecting goes over 50 points.
High Priced – Tight End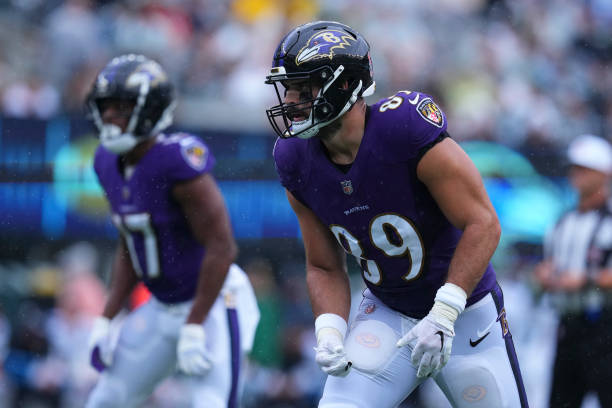 Mark Andrews, Baltimore Ravens – $6,400
Mark Andrews is optimal. Mark Andrews is elite. Mark Andrews is the play for the high-priced tight ends this week with Kelce playing Thursday night. This is one of my favorite games of NFL week 2. I'm projecting this game to shoot over 50 points, crushing the 44.5-point total. Mark Andrews will catch a touchdown in this game. My projection is 19 to 21 points for him. This is going to be a different game than Week 1. The Ravens were crushing the Jets most of the game. There was no back and forth in that game. This week the Miami Dolphins are a different challenge altogether. I can see this game going down to the last play and hopefully is a touchdown to Mark Andrews. Fingers crossed.
Mid-Range – Tight End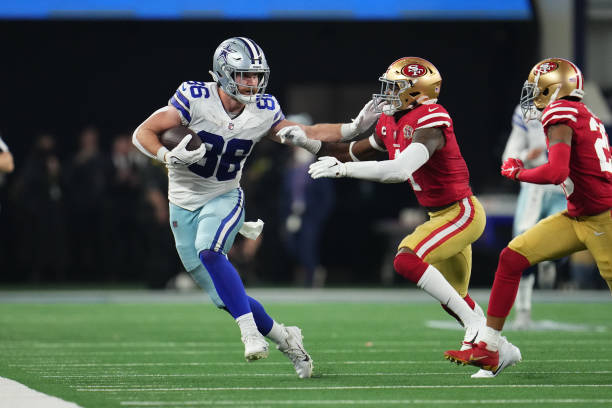 Dalton Schultz, Dallas Cowboys – $5,200
They say a backup quarterback's best friend is a tight end. I don't think backup quarterbacks have best friends honestly. They're losers cuz they're not starting quarterbacks, but in this hypothetical world, I get it. The new quarterback socks so he throws it to the closest guy who's not a lineman and that normally has the tight end whose kind of the lineman. Dalton Schultz is no lineman, so maybe he won't hit this week, but who else would they throw to between him and Ceedee Lamb and Tony Pollard? $5,200 is a steal for Schultz in a loss coming from behind garbage touchdown you know you're going to love it.
Value – Tight End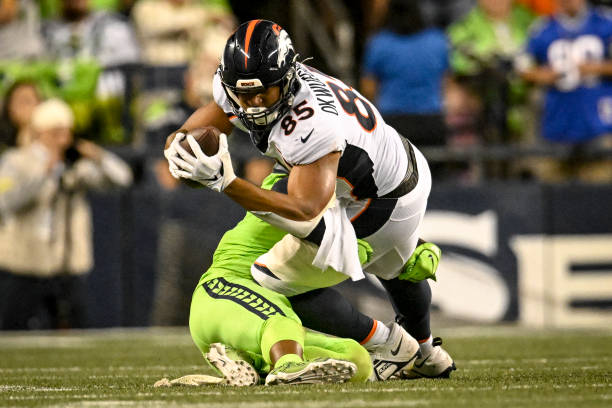 Albert Okwuegbunam, Denver Broncos – $3,700
Last week Albert Okwuegbunam caught five of six targets for 33 yards. All good signs now that Russell Wilson is his starting quarterback. At this pay-down price, we are chasing a touchdown in this plus matchup against a terrible Texans defense. The only downside of Albert O this week is that is the most popular tight end play at 12% rostership.