Welcome to NFL Week 5! Each week Nimble GPP will bring you the plays to get you paid for DraftKings GPP. Excited to share all my "Nimble GPP" content with you all this year. Each week I will help you build the best GPP lineups by providing you the building blocks at each skill position by identifying "High Priced", "Mid-Range", and "Value" plays. The play represents the player that I predict for the most upside at their price range. Mix and match the players you are high on and build your optimal lineup.
If you are interested in NIMBLE GPP Lineups or Bo McBrayer's Cash Plays, check out all our content at NimblewNumbers.com . All Nimble's Numbers will be powered by RuntheSims.com this year. Signup for a FREE RunTheSims account today!!
High Priced – Quarterback
Jalen Hurts, Philadelphia Eagles – $8,100
Jalen Hurts had a down Week 4, only scoring 17 DraftKings points. The weather in Philadelphia was absolutely terrible with monsoon-like rain and wind gusts swirling along with an invigorated Jacksonville defense. Despite a poor overall performance he rushed for a touchdown and he currently leads all quarterbacks with four through four games.
The Arizona Cardinals are not a very good football team. According to PFF, their defense currently ranks 32. Since there are only 32 teams and it's not opposite day, they are royally fucked this week when Hurts and the undefeated Eagles soar into the desert. Hurts stacked with A.J. Brown is my cohost at the Fantasy Millionaires, Mike "Cash" Collins favorite pay-up stack of the week. It might secretly be mine too. Don't tell him.
Mid-Range – Quarterback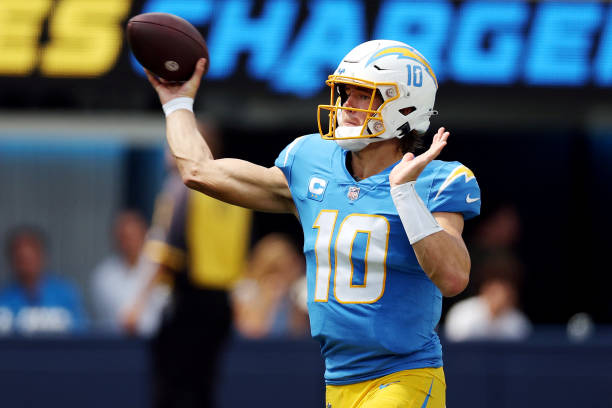 Justin Herbert, Los Angeles Chargers – $7,100
Last week I told you to stack Justin Herbert with Austin Ekeler. The two combined for 59 points, just like I predicted. Apparently, the DraftKings algorithm did not read my article or watch Justin Herbert's performance last week against the Houston Texans. I mean, I get it. There's no Keenan Allen and Herbert hasn't been dominant yet this season, but still.
Herbert has scored over 23 DraftKings points in three of four performances this year. The addition of free agent tight end Gerald Everett has been a huge upgrade over aging Jared Cook last year. Head coach Brandon Staley called Allen "day-to-day" on Monday, and so his status for Sunday remains unclear. If Allen returns, I will be above the field on Herbert shares.
Value – Quarterback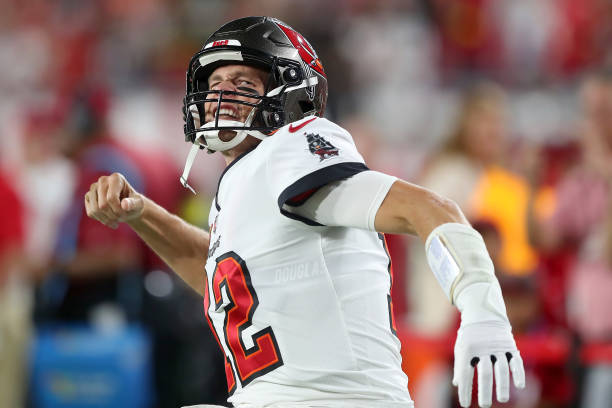 Tom Brady, Tampa Bay Buccaneers – $6,000
I can't believe that Tom Brady is priced down at only $6,000 this week on DraftKings. I thought it was a typo and it was actually $6,900 but then after I blinked a few times I realized that maybe DraftKings felt bad for Tom after the news of Gisele leaving him broke. Maybe they were trying to throw him and also us players a proverbial bone. Whatever the reason, I'm scarfing down this min-priced Brady. I love stacking them this week with Mike Evans or Chris Godwin. You can even get cute and creative and stack him with Leonard Fournette or Rachaad White. Balls will be thrown this week. Brady is down, but not out, and I literally expect him to throw himself into his work with week.
High Priced – Running Back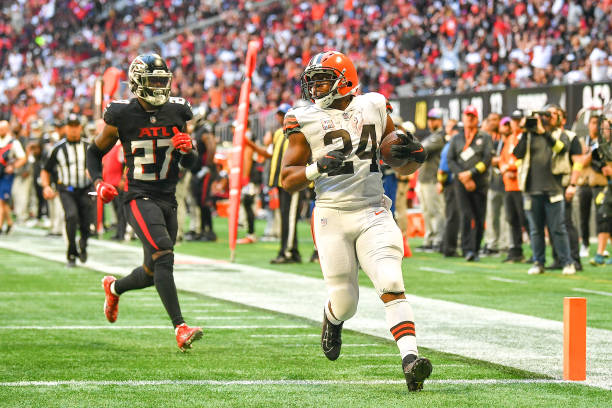 Nick Chubb, Cleveland Browns – $8,000
Nick Chubb is averaging 23 DraftKings points per game and is only priced at $8,000. This makes no sense. He is going to run the football all day long. He's good for a touchdown every single week and he's a plug-and-play value at this point. On the season the Chargers have given up 619 yards and five total touchdowns to the running back position. On average they give up around 30 points per game. Last week Dameon Pierce averaged 9.4 yards-per-carry, rushed for 131 yards, and scored 28.9 DraftKings points. Dameon Pierce is no Nick Chubb.
Mid-Range – Running Back
Dameon Pierce, Houston Texans – $6,200
Speaking of Dameon Pierce, last week he finally burst onto the NFL scene with a 75-yard touchdown run, carving up the Los Angeles Chargers defense like a turkey on Thanksgiving. What was most impressive was his 20 total opportunities including six targets and six receptions. All of us did come in a furious comeback time, but that's the best part about the Houston Texans is it their defense is terrible, so they'll be in a furious hurry-up comeback mode all season long. Pierce is priced up this week but I still love his matchup against the Jacksonville Jaguars who just made miles Sanders look like Saquon Barkley, giving up 134 yards and two touchdowns. It's officially Pierce season!
Value – Running Back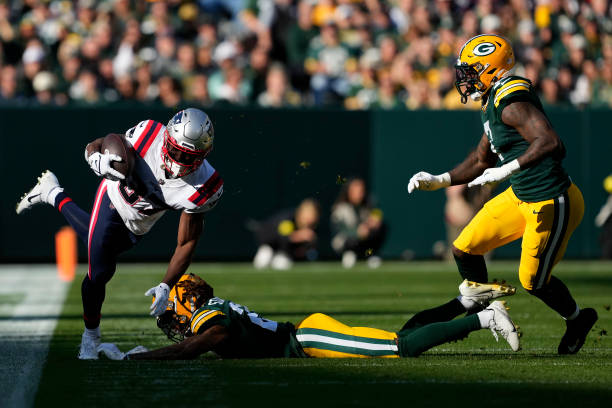 Dameon Harris, New England Patriots– $5,600
Nobody knows who the starting quarterback is going to be for the New England Patriots next week. We do know that the Detroit Lions give up 30-plus points per game to opposing running backs and are ranked 31st in the NFL. Last week Rashaad penny cashed in with two rushing touchdowns and 151 yards rushing. Last week the Patriots ran the ball 32 times. Damien Harris saw 18 of those carries to Rhamondre Steveson's 14. Harris also scored a touchdown and 15 DraftKings points to Steveson's 12. I like both Patriots running backs this week so pick your poison in this juicy matchup.
High Priced – Wide Receiver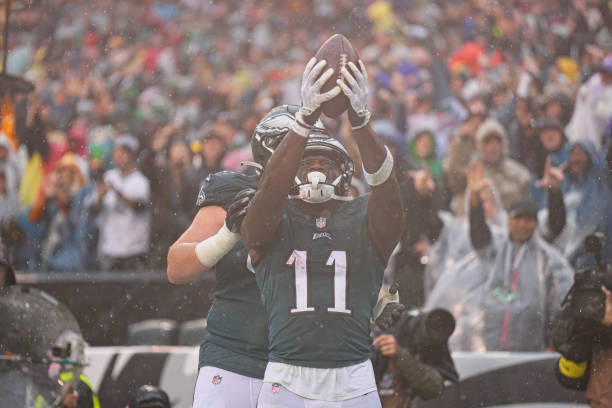 A.J. Brown, Philadelphia – $7,500
AJ Brown is averaging over 100 yards receiving, 9.5 targets, and most importantly, 18.6 DraftKings points per game. According to PFF, Brown has the best cornerback matchups this week. There's nothing better than a score of 100. RunTheSims also has Brown as a top 5 wide receiver this week.
Brown has only scored one touchdown on the season, after getting a touchdown called back from a sketchy offensive pass interference call on Dallas Goedert. The Cardinals' cornerbacks are no match for the physicality Brown will bring them on Sunday. Marco Wilson, PFF's 101st /105th, and Byron Murphy Jr., PFF's 49th/105 cornerbacks both give up 35lbs. and four inches in height to Brown. Brown is my "LOCK OF THE WEEK"!
Mid-Range – Wide Receiver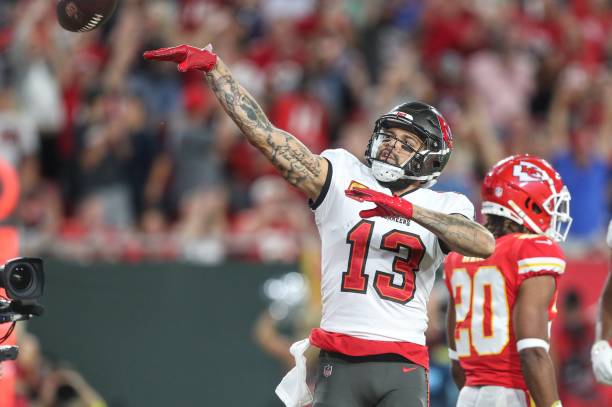 Mike Evans, Tampa Buccaneers – $6,900
Mike Evans is averaging 20 DraftKings points per game he's currently the seventh highest scoring wide receiver and is being priced as the tenth highest. He Scored 33 DraftKings points last week after catching eight receptions for 103 yards and two touchdowns. He's Tom Brady's favorite target in any zone and should see plenty of volume in this high-scoring affair. The Atlanta Falcons are averaging 25.8 points scored per game. which means this game has the potential to shoot. Currently, the total over-under is 48 points, With the Buccaneers being favored by 8.5 points at home.
Value – Wide Receiver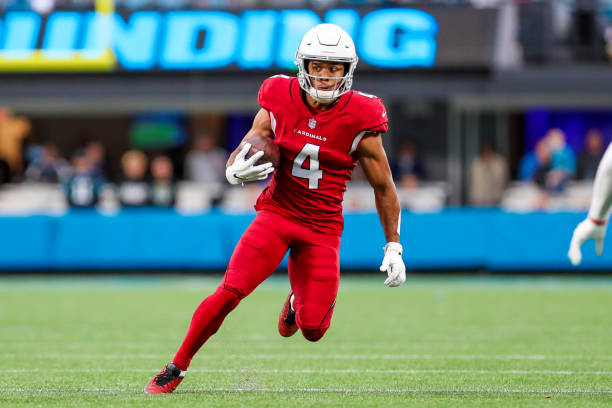 Rondale Moore, Arizona Cardinals – $4,100
Rondale Moore made his season debut last week and had an 86% snap share, ran 33 routes on 35 Kyler Murray dropbacks, and had a 10.4-yard average depth of target. All those stats from Adam Levitan from Establish the Run.
In Week 5, Moore and the Arizona Cardinals face off against Jalen Hurts and the Philadephia Eagles, the only remaining undefeated team in the NFL. They are currently five-point home underdogs. This game script has a pass-heavy Kyler comeback narrative written all over it! At only $4,100, Moore is the pay-down lotto ticket that actually has slate-breaking upside. He should see more than five targets this week as Greg Dortch is further fazed out of the offense.
High Priced – Tight End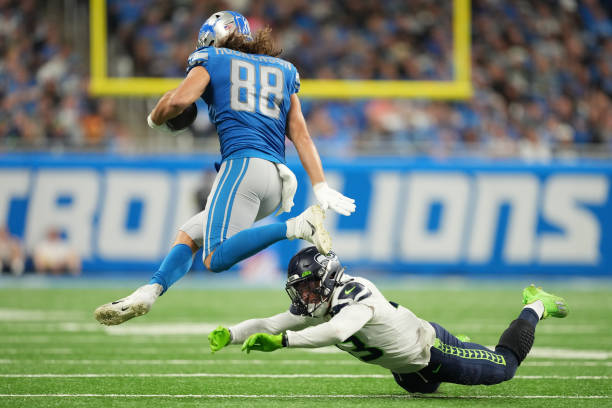 T.J. Hockenson, Detroit Lions – $4,900
T.J. Hockenson is going to have so many babies named after him in nine months after he more than likely impregnated anyone lucky enough to be in attendance at Ford Field on Sunday. Hell, I peed on a stick after watching the highlights just to make sure I was in the clear.
I'm not expecting a repeat performance, nor am I chasing points. That's a tremendous weekly DFS podcast from my guys over at Fantasy Points, led by Graham Barfield and Scott Barrett! The Lions' opponents in Week 5, the New England Patriots have given up 5 touchdowns to tight ends through four games this season. That's bad for them and great for us! Wheels up.
Mid-Range – Tight End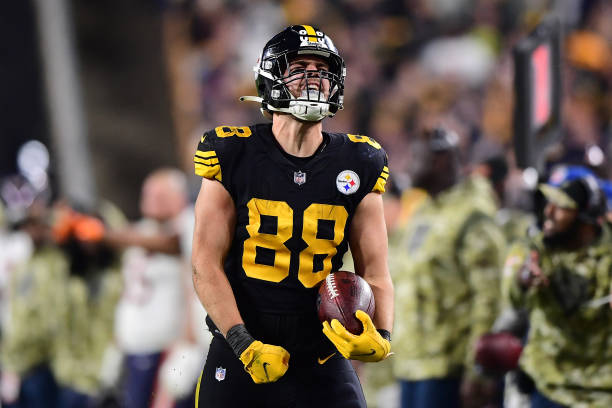 Pat Freiermuth, Pittsburgh Steelers – $4,100
Pat Freiermuth has quietly scored over 12 DraftKings points in three or four games so far. This week he's priced at $4,100 and faces a Buffalo Bills defense that is good. Kenny Pickett is going to be under duress all game long and I expect him to look for Pat Freiermuth in the middle of the field like he did last week against the Jets. He was targeted a game-high nine times for an insane 35% target share. Look for Pickett to continue to lean on Freiermuth as he gains his bearings in the NFL. He's a target monster with a red-zone touchdown upside.
Value – Tight End
Hunter Henry, New England Patriots – $2,900
Tip of the cap to my cohost on Chalk Blocked, the world's sexiest DFS Show, for now, Bo McBrayer for pointing out the glaringly obvious. Hunter Henry is the only game in Patriots town at the tight end position this week. Jonnu Smith is OUT and so might be Max Jones. If Zappe is under center expect Henry to see an increased role in the passing games. I'm rolling with Henry as a pay down with pay off written all over him!!