Welcome to NFL Week 6! Each week Nimble GPP will bring you the plays to get you paid for DraftKings GPP. Excited to share all my "Nimble GPP" content with you all this year. Each week I will help you build the best GPP lineups by providing you the building blocks at each skill position by identifying "High Priced", "Mid-Range", and "Value" plays. The play represents the player that I predict for the most upside at their price range. Mix and match the players you are high on and build your optimal lineup.
If you are interested in NIMBLE GPP Lineups or Bo McBrayer's Cash Plays, check out all our content at NimblewNumbers.com . All Nimble's Numbers will be powered by RuntheSims.com this year. Signup for a FREE RunTheSims account today!!
High Priced – Quarterback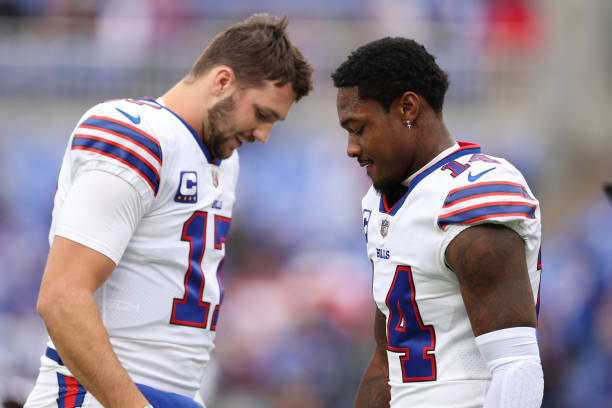 Josh Allen, Buffalo Bills – $8,200
This just in, Josh Allen is Elite! The last time he faced the Kansas City Chiefs he threw for 329 passing yards, four touchdowns, and broke off 68 yards on the ground. He carved up the Chiefs last year like a Christmas ham, deliciously. We just saw what Derek Carr and Davante Adams did to this porous Chiefs secondary. They have given up a league-worst 12 passing touchdowns to opposing quarterbacks and rank 27th in the NFL, giving up over 21 fantasy points per game.
Allen's 16 total touchdowns,14 passing, and two rushing lead all NFL quarterbacks. He's averaging over 32 points per game in a matchup that has a 53.5 total. Stacking Allen with Diggs or Gabe Davis gives you the greatest upside play in this matchup. The Chiefs have given up 7 touchdowns to wide receivers and over 800 receiving yards in five games. Allen is expensive at $8,200 but he's still one of the top plays this week.
Mid-Range – Quarterback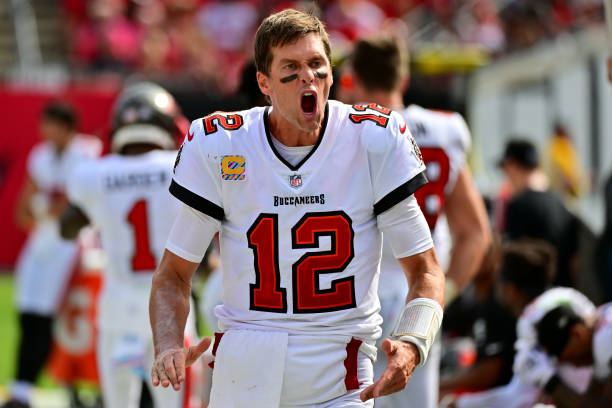 Tom Brady, Tampa Bay Buccaneers – $6,300
My co-host at the Fantasy Millionaires Mike "Cash" Collins believes that Tom Brady is going to come out like a man possessed in the next few weeks, raining down touchdowns in his angry wake. Tom Brady has been "Elite" all these years while also spending time being a family man. Now there's nothing to stop him from truly dedicating himself to his one love in life, which has always been football.
Lining up across from our Hero this week are the Pittsburgh Steelers, who might be one of the worst football teams in the NFL this year. Their secondary ranks dead last in the NFL against the wide receiver position, giving up 48.8 points per game. On the season they've surrendered 9 touchdowns and over 1,100 receiving yards. Tom Brady is only priced up $300 to $6,300 this week. I'm double stacking him with Leonard Fournette and one of his wide receivers. Cha-ching!
Value – Quarterback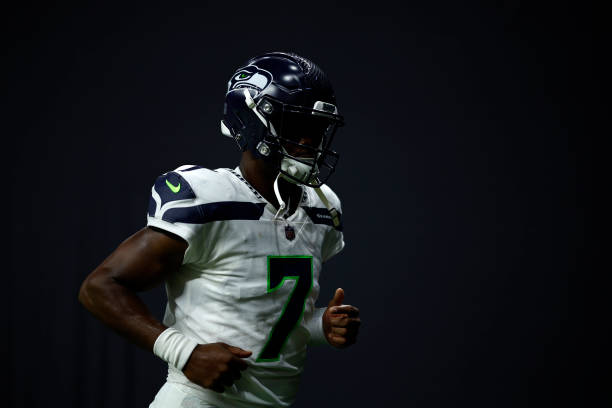 Geno Smith, Seattle Seahawks – $5,700
If you would have told me that Geno Smith would be $5,700 on DraftKings in week 6 I would have said that sounds expensive to me. Now I'm foaming at the mouth to get him into as many lineups as I can after he's exploded onto the scene this year. Who knew that Russell Wilson was holding back the Seattle Seahawks? Apparently, Pete Carroll did! Geno Smith has been a revolution. His deep ball is perfect, connecting twice last week with Tyler Lockett on 40-plus-yard touchdown throws. He's the definition of En Fuego right now.
Tyler Lockett is only $5,600 this week which is insane. His rostership will be through the roof, obviously. But sometimes you need to eat the chalk to make a DFS lineup. The Geno/Lockett stack will be one of the most popular ones this week, but adding Cardinals wide receiver Marquise Brown as a run-back option should help break it up a bit. You could also pay up for DK Metcalf at $6,800 as well in this matchup. The total for this game is 51.5, the second-highest total this week. I'm going to be all over this game!
High Priced – Running Back
Saquon Barkley, New York Giants – $7,700
Saquon Barkley is averaging 24 opportunities and 22.3 DraftKings points per game. He's basically scoring a point every time he touches the football. This week the Giants are 4.5-point home underdogs to Lamar Jackson and the Baltimore Ravens, so he might be touching the football A LOT!!
If the Giants plan on controlling the clock and keeping Lamar off the field, they are going to need to feed Barkley. If they are trailing and need to play catchup, I love Saquon seeing increased opportunities in the passing game. Not to make it too simple, but all roads lead to Saquon this week for the Giants. At only $7,700, it might be the deal of the day at running back.
Mid-Range – Running Back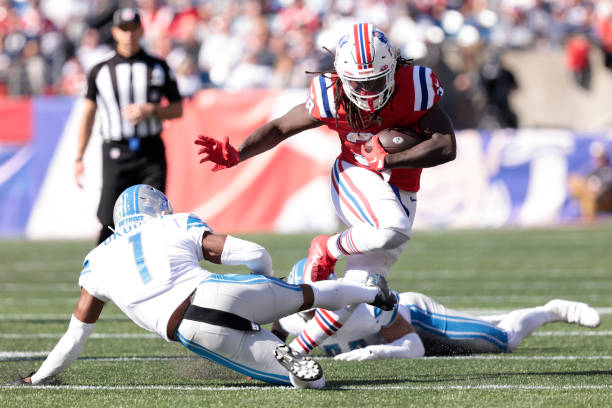 Rhamondre Stevenson, New England Patriots – $6,000
Rhamondre Stevenson was unleashed last week by Bill Belichick, rushing for 161 yards on 25 carries, adding two receptions for a total of 27 touches. Stevenson scored his highest output of the season and his third 20-plus point performance in his last seven games. That's actually impressive for a Patriots running back given the mercurial nature of Belichick's running back by committee rotation history. Reports came out today from ProFootballTalk that "Damien Harris likely to miss multiple games with a hamstring injury."
Stevenson should be in line for 20-25 touches again this week against a Cleveland Browns defense that let Austin Ekeler rush for 171 yards at a clip of 10.8 yards per carry. Yes, what you just read sounds absurd. It's insanity. Stevenson is rushing for 5.5 yards per carry on the season, which means this is a matchup made in matchup heaven. Fingers crossed Belichick doesn't decide to unleash Zappe. LOL!
Value – Running Back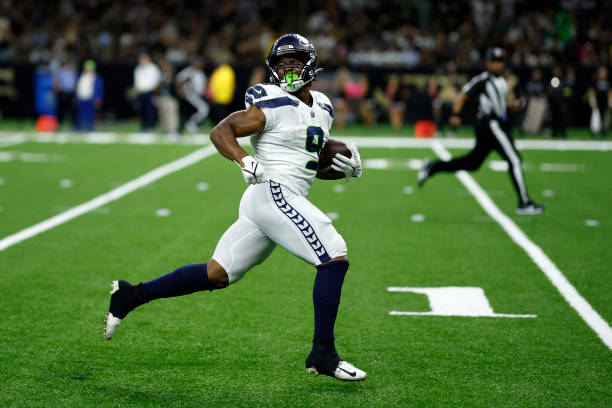 Kenneth Walker III, Seattle Seahawks – $5,400
Kenneth Walker III is the new starting running back for the Seattle Seahawks after Rashaad Penny fractured his fibula in last Sunday's game against the New Orleans Saints. Walker III filled in admirably in the starting role, rushing for 88 yards on eight carries. His most impressive carry was his 69 touchdown scamper in the second half. He looked like he was shot out of a cannon.
Seahawk running backs are averaging 21.4 opportunities per game this season. Walker will split backfield touches with DeeJay Dallas but should see the bulk of the work. I am projecting him for 16-18 touches, including the passing down work. He's a great pay-down option if you want to load up on high-priced stud wide receivers this week. The Cardinals have given up three passing and two rushing touchdowns to go along with over 500 total yards to running backs. Walker will be chalky, so stay frosty.
High Priced – Wide Receiver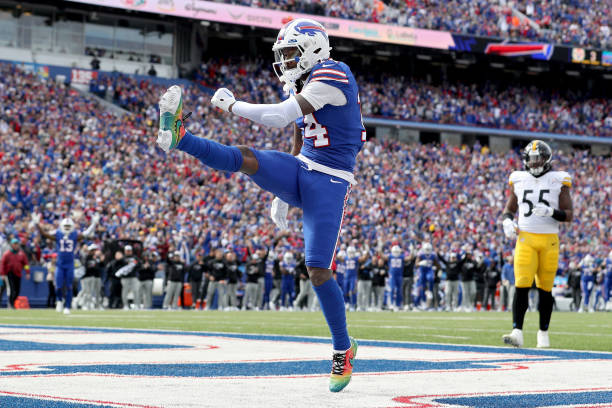 Stefon Bills, Buffalo Bills – $8,400
Josh Allen and his traveling high-flying wide receiver circus are on the road this week at Arrowhead Stadium in Kansas City to take on Patrick Mahomes and the Chiefs. This is the marquee matchup of the Sunday slate and currently has a 54-point total. It was 53.5 when I started writing this article an hour ago. 80% of the bets are coming in on the Bills right now. Besides Allen, one of the main reasons the Bills have been successful this year has been Stefon Diggs.
Diggs is second in DraftKings fantasy points to only Cooper Kupp. He leads the NFL in receiving touchdowns with 5, is third in receptions with 39, and ranks 5th in receiving yards with 508. Lining up against him is normally, reliable cornerback, Rashad Fenton ranks 62nd out of 102 defensive backs according to PFF. His coverage grade of 58.8 is the worst of his career. I'm sure playing against Davante Adams twice a year is fun. Out of the frying pan and into the furnace this week against Diggs. I expect him to bounce back big from his poor playoff performance last year in the Divisional round game where he had three receptions for seven yards. Fade him at your own risk this week.
Mid-Range – Wide Receiver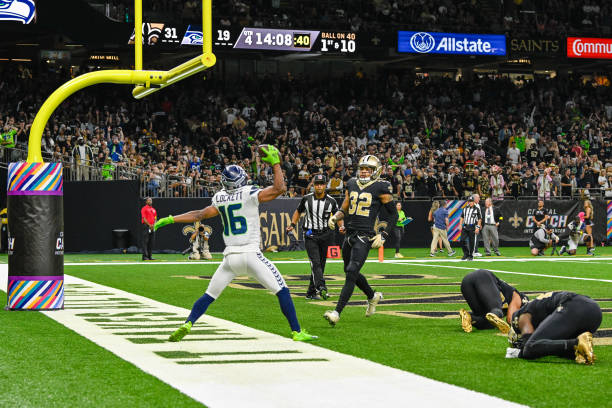 Tyler Lockett, Seattle Seahawks – $5,600
Tyler Lockett has scored the eighth most DraftKings points for wide receivers this season and is the 21st most expensive wide receiver this week. Once again I'm questioning the sanity of the DraftKings algorithm. He should be priced up to $6,500 at least. Instead, he is priced at $5,600. I honestly think they made a mistake and we're too proud to admit it and now they're just going to roll it out there like that and let us feast upon him.
The problem is every time you look up Lockett is catching a 40-yard touchdown bomb from Geno Smith. I don't make the rules Kidz this is just what's happening right now. He scored over 14 DraftKings points in four of 5 weeks this season, including 22.7 and 30.4 point performances. I'm just going to cash in while I can and ride Lockett to money in my pocket. He might have a 69% rostership this week, so make sure that you stack him for maximum upside.
Value – Wide Receiver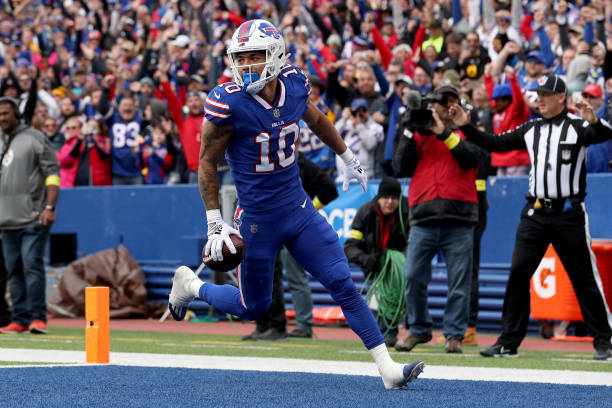 Khalil Shakir, Buffalo Bills – $3,700
Tip of the cap to my cohost on the Nimble DFS Chalk Blocked show Bo McBrayer AKA @Bo_McBigTime on Twitter, who called Khalil Shakir's breakout game last week against the Pittsburgh Steelers. With Isaiah McKenzie still in the NFL's concussion protocol, he shined in the slot receiver role, catching three of five passes for 60 yards and a touchdown. Well down all around.
What's not to love about running it back at only $3,700 this week? Shakir should continue to see an increased role in the offense after last week's performance, McKenzie or no McKenzie. Not to beat a dead horse in this article, but the 54-point total just jumped to 69 points for goodness' sake people! Play the man!!
High Priced – Tight End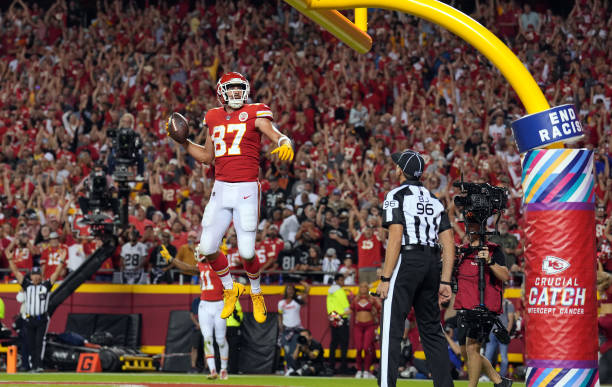 Travis Kelce, Kansas City Chiefs – $7,800
Travis Kelce is "Lock and Load"this week at only $7,800. No, he's not going to score four touchdowns sorry to say. Last year in their Divisional Round matchup against the Bills, Kelce caught eight balls for 96 yards and a touchdown. Good for around 20 DraftKings fantasy points. So far this season he's been the number one tight end averaging 4.2 more points per game than Mark Andrews. He's first in receptions with 33 and touchdowns with seven and he's second in receiving yards to Andrews by only two yards.
No one can stop Kelce right now. He's caught 16 of the last 18 passes Mahomes has thrown his way. He was four for four in his red-zone opportunities last week against the Las Vegas Raiders. I expect him to see another 10 targets this week including multiple red-zone opportunities in a game script that should keep him involved all game long. I'm not expecting a 78-point outburst like last January's Divisional Round matchup, but this game is going to fuck, just make sure it's not you and play Kelce.
Mid-Range – Tight End
Tyler Higbee, LA Rams – $4,600
I'm partial to Tyler Higbee after he caught three touchdowns in Week 2 of the 2020 season, helping me score 251.6 points and win $5,000 on DraftKings. With that being said, he has quietly been one of the most consistently performing tight ends all season long. Higbee scored at least 10 DraftKings points in four of five matchups this season. He's seen a Cooper Kupp-like target share the last two weeks as the Rams' offensive line has struggled to protect Matthew Stafford, forcing him to settle for short passes underneath to Higbee.
His 24 targets in the last two weeks are probably not sustainable long-term, but he should see plenty of work this week against a Carolina Panthers defense that can get after the quarterback. According to PFF, Higbee has a top-five matchup this week against linebacker Cory Littleton. Expect the Rams to take advantage of this mismatch and pepper him with 8 to 10 targets. I'm predicting he catches his first touchdown so now you know you have to play him at only $4,600.
Value – Tight End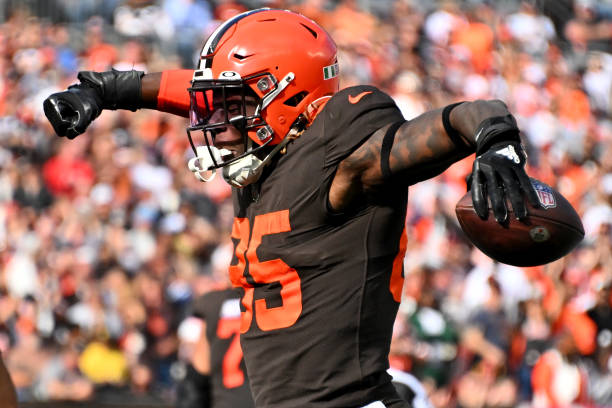 David Njoku, Cleveland Browns – $4,000
It's David Njoku SZN!! In his last three games, he's averaging just under eight targets and 16.5 DraftKings points per game. He's also been consistent, scoring over 10 points in three straight games after getting off to a slow start through the first two weeks of the season.
The New England Patriots have given up five receiving touchdowns to tight ends in five games this season. Njoku has only one receiving touchdown on the season, but he has an excellent chance this week to add to his total. When I'm not playing Kelce, I'm paying down for him and loading up with high-priced wide receivers and running backs.