Welcome to NFL Week 7! Each week Nimble GPP will bring you the plays to get you paid for DraftKings GPP. Excited to share all my "Nimble GPP" content with you all this year. Each week I will help you build the best GPP lineups by providing you the building blocks at each skill position by identifying "High Priced", "Mid-Range", and "Value" plays. The play represents the player I predict for the most upside at their price range. Mix and match the players you are high on and build your optimal lineup.
If you are interested in NIMBLE GPP Lineups or Bo McBrayer's Cash Plays, check out all our content at NimblewNumbers.com . All Nimble's Numbers will be powered by RuntheSims.com this year. Signup for a FREE RunTheSims account today!!
High Priced – Quarterback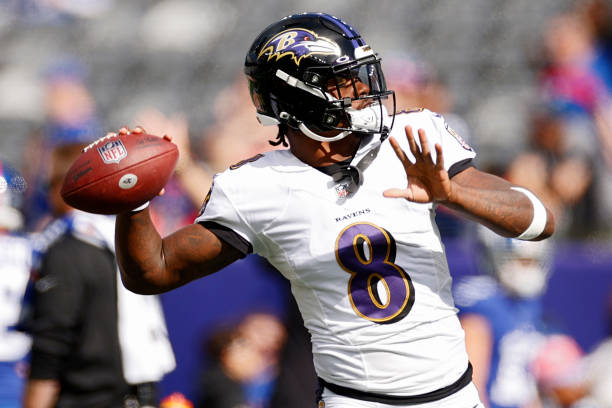 Lamar Jackson, Baltimore Ravens – $8,000
Lamar Jackson played terribly last season against the Cleveland Browns, only scoring 14.4 points combined in two games. A stark contrast to the previous season when he scored six touchdowns against the Browns, good for 65.5 DraftKings points. So which Lamar should we expect agaisnt the Browns this year?
I'm predicting a huge bounce-back performance from Lamar Jackson this week! The Browns have looked terrible on defense this season, giving up 30 or more points in half of their games. This week they are 6.5-point road underdogs. I am expecting the Ravens to dominate the Browns on Sunday. My favorite way to approach this game is to stack Lamar Jackson with his tight end Mark Andrews and then run it back with Amari Cooper. Shhh. Don't tell anyone.
Mid-Range – Quarterback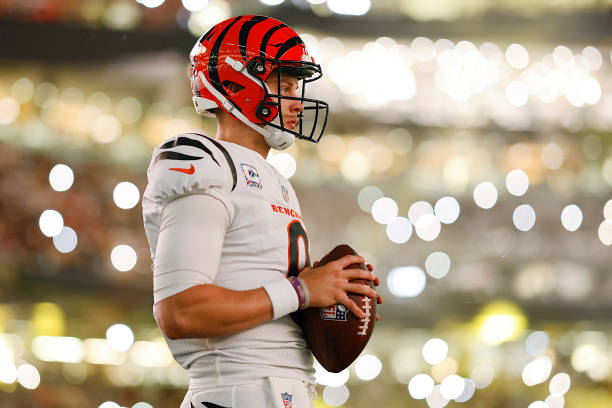 Joe Burrow, Cincinnati Bengals – $6,900
Joe Burrow was the top-scoring quarterback on DraftKings last week, accounting for four total touchdowns and passing for 300 yards during his slate-breaking performance. With Tee Higgins nursing an injury, Ja'Marr Chase was once again Burrow's number-one target, collecting seven receptions for 132 yards and two touchdowns. We should have known when Burrow showed up to the New Orleans Super Dome in a Ja'Marr Chase LSU game-worn jersey that they were going to pop off.
This week Burrow, Chase, and Higgins are up against an Atlanta Falcons secondary that ranks 30 against wide receivers. They surrender over 40 points per game. Last week they gave up 48 points to Jimmy G. and the 49ers' passing offense. Burrow and company are going to feast on PFF's 49th and 84th-ranked cornerbacks Casey Hayward Jr. and A.J. Terrell. The Falcons have played well the past few weeks, but I expect the 6.5-point home-favorite Bengals to cover and put up points in the process.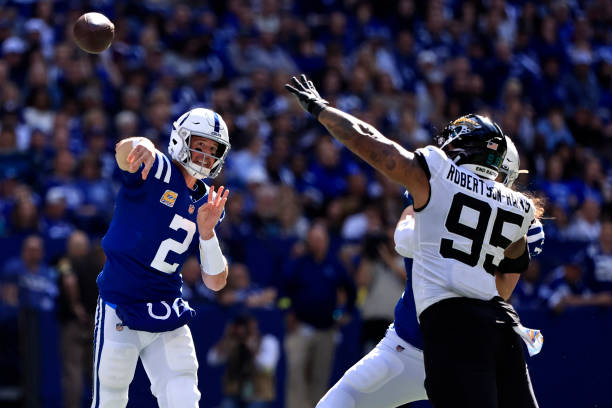 Value – Quarterback
Matt Ryan, Indianapolis Colts – $5,400
A few weeks ago, Matt Ryan looked absolutely washed in his Thursday Night performance against Russell Wilson and the Denver Broncos. He scored 6.1 points, which wasn't his lowest output of the season. He only scored 1.8-points in Week 2 agaisnt the same Jacksonville Jaguars he faced on Sunday. So of course, right on cue, he drops three touchdowns, passes for 389 yards, and scores 27 DraftKings points in an impressive performance. Well played Matty Ice. I should never have doubted you.
This week Ryan and his wide receivers Michael Pittman, Paris Campbell, and Alec Pierce face a Tennessee Titans defense that ranks 28th agaisnt quarterbacks and 31st agaisnt wide receivers. Last week Ryan targeted wide receivers 34 times for 23 receptions, good for 240 yards and two touchdowns. Without Jonathan Taylor, in the lineup, the Colts offense has slowly shifted to a more pass-heavy focus. They are currently attempting the second most passing attempts per game through the first six games of the season. This is a trend that I expect to continue in this matchup with the Titans. Ryan might just be the nuts, again.
High Priced – Running Back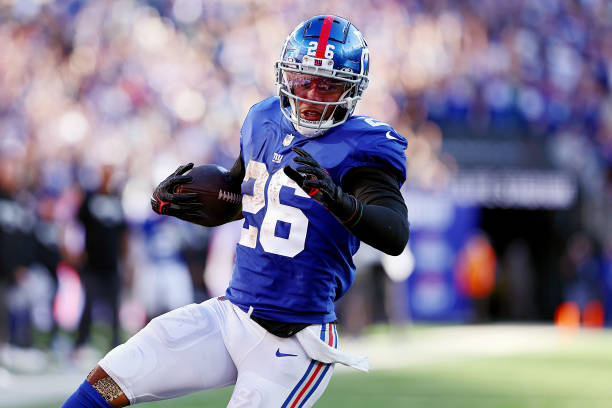 Saquon Barkley, New York Giants – $7,900
Saquon Barkley's 141 touches are the most by any running back in the NFL. He's currently only one point behind DraftKings leading running back scorer Nick Chubb of the Cleveland Browns. Barkley looks like his former self, seeing over 23 touches per game and averaging over 5YPC.
This week Saquon and the New York Giants face the Jacksonville Jaguars who give up 27 fantasy points to running backs per game. Opponents' running backs have exploited the Jags for 808 total yards and five total touchdowns. Just two weeks ago they game up 172 rushing yards and three rushing touchdowns for 40 points to the Philadelphia Eagles. Saquon is priced up $200 this week from $7,700 last week but he should still be a popular play given his volume and the positive matchup.
Mid-Range – Running Back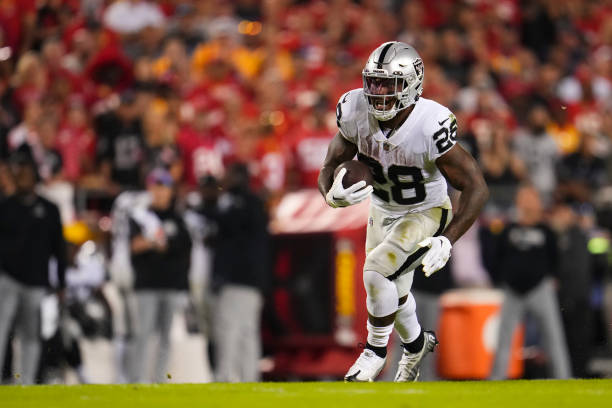 Josh Jacobs, Las Vegas Raiders – $6,500
Josh Jacobs might be the only offense that the Las Vegas Raiders have come Sunday's tilt with the Houston Texans. Wide receiver Davante Adams is facing possible Leauge discipline after he was charged with a misdemeanor assault for shoving a sideline photographer to the ground on his way to the locker room. Darren Waller missed Week 5 with a hamstring injury.
Jacobs is averaging 21.8 touches and over 20-points per game. Coincidence? I think not. Volume has been king for Jacobs this season. Nothing should change this week when the Raiders face the Texans. They have given up 880 total yards and six touchdowns to running backs in only five games. Opposing running backs are scoring 30-points against them on the regular. Hopefully, Jacobs won't be 40% rostered next week because he will be one of the most popular running back plays for Week 7. Much like with the Rhamondre chalk last week, sometimes you just have to eat it.
Value – Running Back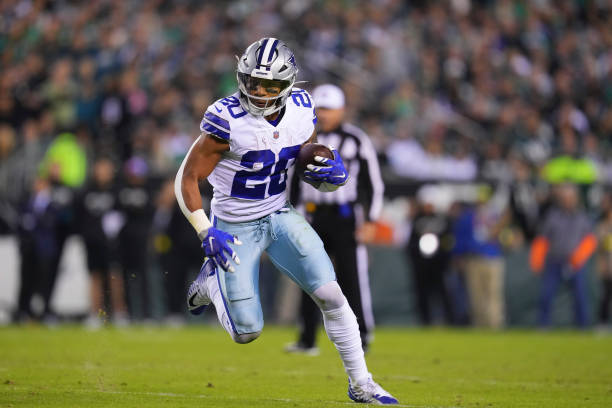 Tony Pollard, Dallas Cowboys – $5,700
This week Tony Pollard and the Cowboys face the Detroit Lions and their absolutely terrible rotten horrible no good defense. The Lions are so bad that despite having a bye last week, they have still given up the most touchdowns (eight) to running backs on the season. Running backs have lit them up for at least 20 points in every game this season. They say that past performance is the best predictor of future results. I don't think the Lions' defense learned to tackle during the bye so this week we roll with Dallas Cowboys running backs.
While Ezekiel Elliott is still officially the lead running back, Tony Pollard has outscored him on the season in DraftKings points by one. Pollard is priced at $5,700, while Elliott is priced at $6,000. Pollard has seen twice the receiving volume and has the breakaway speed needed to take a long run to the house. Elliott has a more stable floor, but I love Pollard's upside for GPP tournaments.
High Priced – Wide Receiver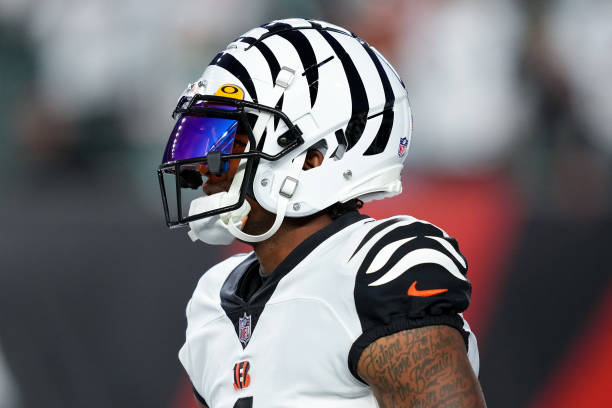 Ja'Marr Chase, Cincinnati Bengals – $8,200
Ja'Marr Chase put his afterburners into nitro last week and blew by the New Orleans Saints secondary on his way to the game-winning touchdown. It was just ridiculous to behold given the angle and acceleration displayed by Chase. He was not going to be denied. There's just too much junkyard dog in him. This week he has a juicy matchup with a Falcon's secondary that is old and slow. Despite beating the 49ers at home last week, they gave up 180 receiving yards and two touchdowns to wide receivers for a total of 48 points. I love this match-up for Chase and if he show's up to this week's game in a vintage game-worn Joe Burrow LSU jersey, shit is about to get wild!
Mid-Range – Wide Receiver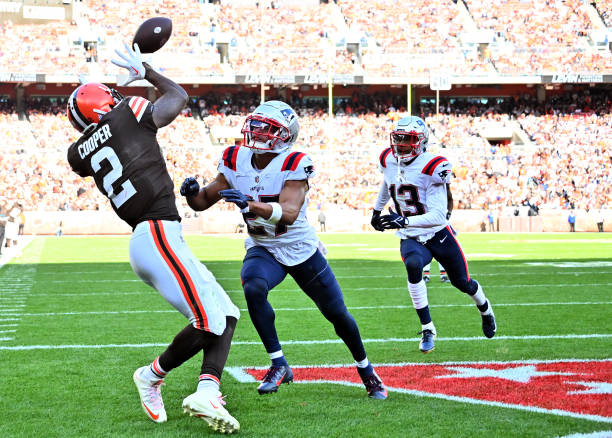 Amari Cooper, Cleveland Browns – $6,100
Amari Cooper has been averaging 12 targets per game in the last two weeks. This is three more than his season average of nine per game. Why the increase you ask. Good question. The Browns are 1-4. They have lost three games in a row. This week they face a Baltimore Ravens defense that ranks 29th against wide receivers this season. They have given up 1189 receiving yards and seven touchdowns through six weeks.
The Browns are currently 6-point road underdogs in this matchup. The game script is just begging Amari Cooper to break out. The Browns should be playing catchup or engaged in a back-and-forth game with the high-scoring Lamar Jackson and company. Hell, they fired their defensive coordinator Joe Wood, always a good sign if you are a wide receiver on the team. GPP or bust!
Value – Wide Receiver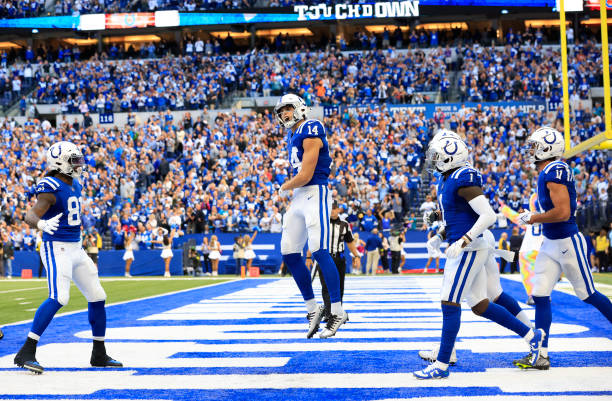 Alec Pierce, Indianapolis Colts – $4,600
Last week Alex Pierce finally showed up for the Indianapolis Colts, catching a last-minute touchdown pass from Matt Ryan to secure the victory over the visiting Jacksonville Jaguars. The rookie will be brimming with confidence rolling into this week's matchup with the Tennessee Titans. Despite being on a bye this past week, they still are tied for second worst in the NFL with eight touchdowns given up to wide receivers. They are giving up close to 45 points per game to the wide receiver position. I expect Matt Ryan to continue to feed Pierce this week. In all likelihood, he will be up against 5'11" 190lbs. Roger McCreary. Pierce has a four-inch height and a 20 lbs weight advantage so….adjust the ranks.
High Priced – Tight End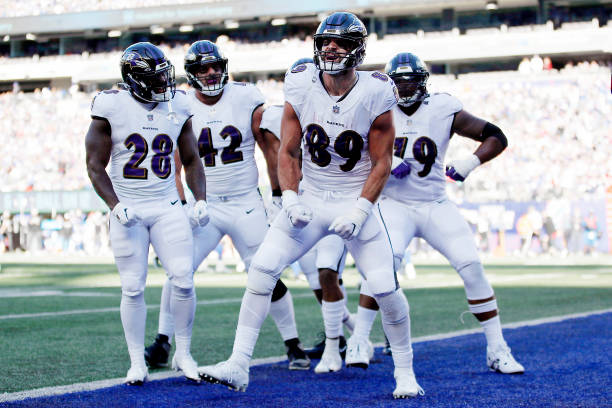 Mark Andrews, Baltimore Ravens – $7,400
Mark Andrews has scored over 22.9 points in four of six games this season. He's averaging 20.1 points per game and is second to only Travis Kelce this season at tight end points scored. No shocker, in games where Andrews has been targeted 10 times or more he scored 22.9 or more DraftKings points. The question then becomes, do we think that Andrews will be targeted 10 or more times? I do.
Andrews functions as the Baltimore Ravens WR1 with a 31.5% target share. He's currently third behind only CeeDee Lamb at 32.4 and Cooper Kupp at 31.7. His $7,400 price tag is $600 less than Travis Kelce this week, who only has a 22% target share in the Chiefs' offense. One never completely fades Kelce, but I am leaning toward Andrews in the pay-up tight end game this week.
Mid-Range – Tight End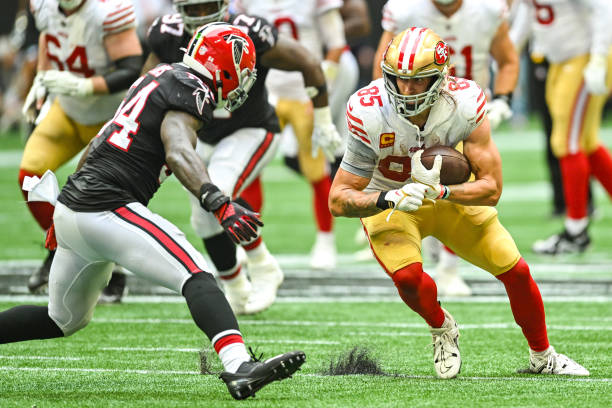 George Kittle, San Francisco 49ers – $5,300
George Kittle looked like George Kittle this past week against the Atlanta Falcons. He converted 10 targets into eight receptions for 83 yards and 16.3 DraftKings points. My partner at the Fantasy Millionaires, Mike "Cash" Collins (@TheRalphMacho on Twitter) loves Kittle's matchup this week. PFF has him as a top 6 option as well. The 49ers will need to lean on him again this week if they have any chance of upsetting Travis Kelce and the Kansas City Chiefs.
The Chiefs' defense has been susceptible to the old tight-end touchdowns this season, having given up four in six games. Kittle has yet to find the end zone in the four games he's played. His target share bumped from 20% to 24% last week in a negative game script. TJ Hockenson's $4,800 price should draw enough rostership to make Kittle a leverage play this week. Play him with quiet confidence.
Value – Tight End
Gerald Everett, LA Chargers – $4,000
This play is super simple. The Seattle Seahawks rank dead last in the NFL against the tight end position, giving up 24-points per game, six more than the 31st-ranked team. Gerald Everett was targeted seven times last week by Justin Herbert and should be able to find room down the seem against this young defense. They have already conceded 32 receptions for 526 receiving yards and four touchdowns through six weeks. All good things, for Everett.