Welcome to NFL Week 8! Each week Nimble GPP will bring you the plays to get you paid for DraftKings GPP. Excited to share all my "Nimble GPP" content with you all this year. Each week I will help you build the best GPP lineups by providing you the building blocks at each skill position by identifying "High Priced", "Mid-Range", and "Value" plays. The play represents the player I predict for the most upside at their price range. Mix and match the players you are high on and build your optimal lineup.
If you are interested in NIMBLE GPP Lineups or Bo McBrayer's Cash Plays, check out all our content at NimblewNumbers.com . All Nimble's Numbers will be powered by RuntheSims.com this year. Signup for a FREE RunTheSims account today!!
High Priced – Quarterback
Jalen Hurts, Philadelphia Eagles – $8,300
The Philadelphia Eagles are the only undefeated team in the NFL. They are coming off their bye week and are facing their in-state rivals the Pittsburgh Steelers, who are 2-5 and have looked anemic to be kind under rookie Kenny Pickett. Jalen Hurts and the Eagles are currently 10.5-point home favorites. The writing is all over the wall in this matchup that Hurts and company will have their way with the TJ "Less" Watt Steelers' defense.
Hurts is the highest-priced quarterback on the main slate in Week 8 at $8,300. I would argue that he is worth every penny of his price tag in this matchup with the Steelers' secondary that has given up the third-most passing yards to quarterbacks. Hurts' RunTheSims.com "Boom" rate is 59.9% this week, the highest of any player on the slate. With weapons like AJ Brown, Devonta Smith, and Dallas Goedert, along with Hurts' dual-threat ability as a runner, his upside is slate-breaking. Play him in all GPP formats.
Mid-Range – Quarterback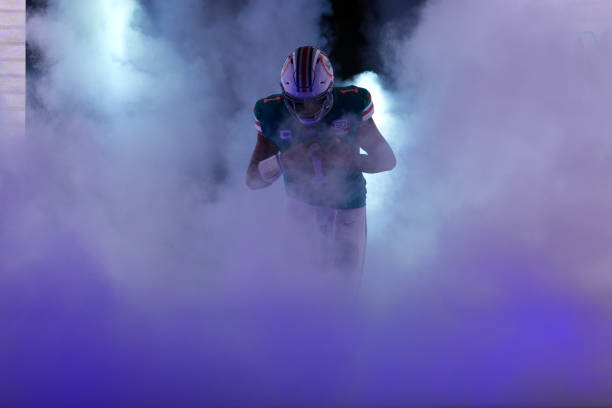 Tua Tagovailoa, Miami Dolphins – $6,200
The Detroit Lions defense played better last week against the Cowboys, but they were coming off their bye week and facing Dak Prescott who was returning from an injury he suffered in Week 1 and truthfully did not look like himself. All that to say this secondary still sucks and this week will be heavily exploited by Tua Tagovailoa and his arsenal of elite wide receivers.
Tua returned from the concussion he suffered a few weeks back on Thursday Night Football against the Cincinnati Bengals, to pass for 261 and a touchdown last week. Now he has a Lions secondary that gives up 35 fantasy points to wide receivers on average per week. The Dolphins' wide receivers aren't average though. I love stacking an inexpensive Tau with either Tyreek Hill or Jaylen Waddle or doubling-stacking them both. The total for this game is 50.5-points, the highest on the main slate.
Value – Quarterback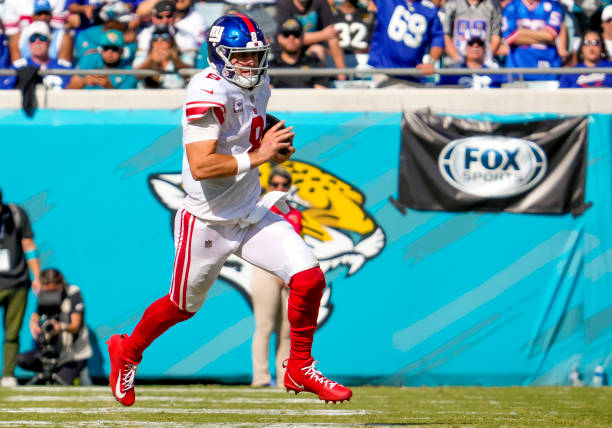 Daniel Jones, New York Giants – $5,700
Daniel Jones is quietly averaging 18-points per game is and the 10th leading scoring quarterback in DraftKings. This week he faces a Seattle Seahawks defense that ranks 22nd against quarterbacks, giving up, you guessed it, 18 points per game. Jones currently ranks third in quarterback rushing yards with 343 and his 5.9 average yards per carry ranks ahead of Justin Fields, Jalen Hurts, Josh Allen, and Kyler Murray. Just saying.
Jones passed the ball 30 times last week in a back-and-forth affair with the Jacksonville Jaguars. The Giants' opponent this week, the Geno Smith-led Seattle Seahawks are scoring 26.1 points per game, fifth best in the NFL. This game has a 45-point total and looks to be one of the best games of Week 8. Jones's wheels and arm will both need to be on display this week if the Boys in Blue want to become the worst 7-1 team in NFL history.
High Priced – Running Back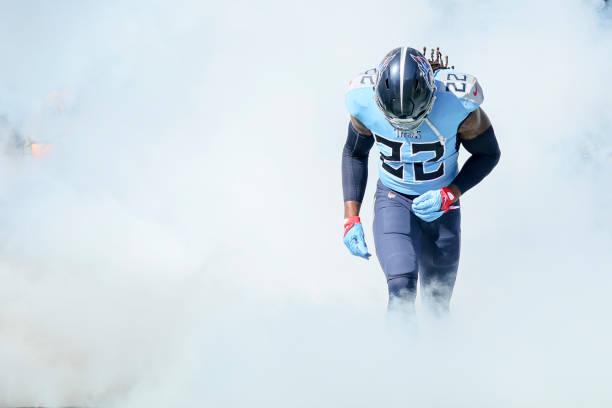 Derrick Henry, Tennessee Titans – $8,400
Josh Jacobs looked like Derrick Henry last week, rushing for 143 yards and three touchdowns against Henry's opponent this week, the Houston Texans. You know he's just licking his chops or doing push-ups with weights on his back or throwing a 50lbs ball really hard agaisnt a wall and catching it or something. Henry rushed 30 times for 128 yards last week. In the last four weeks, Henry has averaged 29 touches and 25.5 DraftKings points per game.
Henry is going to be chalky given this juicy matchup against a Texans defense that has given up 1044 total yards and eight total touchdowns on the year. On average that's 32 points per game. Henry's floor is safe and his upside is upwards of 30-points. In Henry we trust if we are going to pay up.
Mid-Range – Running Back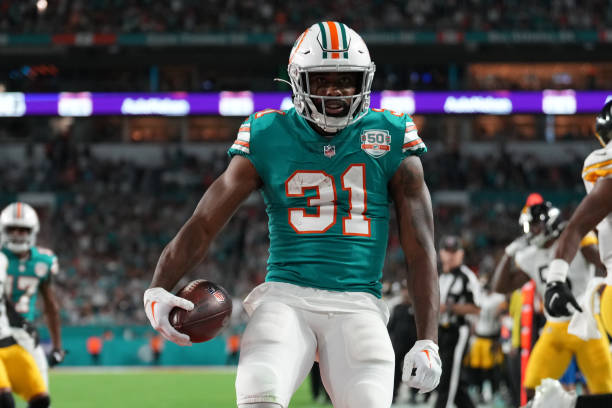 Raheem Mostert, Miami Dolphins – $5,900
Raheem Mostert is averaging 19 touches per game since taking over as the starting running back for the Miami Dolphins in Week 4. He's scored double-digit points in three of four games and has two 20-plus-point performances. Matt Harmon of Yahoo Fantasy and Reception Perception likes him this week as well. I mean who doesn't with his matchup?
The Detroit Lions rank 30th in the NFL against running backs on the season. They have given up 10 rushing touchdowns and 940 total yards to running backs. Mostert's 4.32 speed is a game-changer and just what we look for in a GPP value running back. The 50.5-point total is the largest on the main slate this week. Get the popcorn ready for this one and load up on Mostert.
Value – Running Back
Antonio Gibson, Washington Commanders – $5,400
Bo McBrayer said it best.
We all saw it again in Week 7. Antonio Gibson racked up 16.7 DraftKings points off of 14 touches, good for 1.2 points per touch. Brian Robinson scored 10.6 DraftKings points on 22 touches, good for 0.48 points per touch. Washington should continue to use Gibson in the passing down roll this week against an Indianapolis Colts team that has given up over 1,000 total yards to running backs in seven games. Gibson is a GPP play for the GPP players.
High Priced – Wide Receiver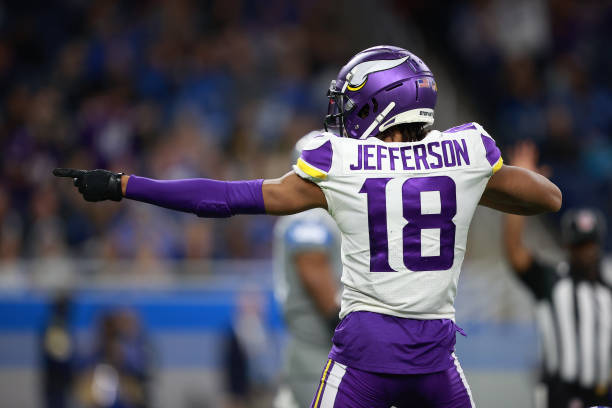 Justin Jefferson, Minnesota Vikings – $9,100
Justin Jefferson is averaging 24.2 DraftKings points per game this season, good for third-highest at the wide position. He has three performances out of six games with 33-points or more and has scored double-digit points in five of six games. The floor is safe and the upside is through the roof. His $9,100 price tag should scare away some of the chalk, but he will still be popular.
Jefferson is averaging over 11 targets in his last three games and takes on an Arizona Cardinals defense that PFF ranks 29th overall. Their secondary consists of Marco Wilson and Byron Murphy Jr. who rank 102 and 60th out of 110 cornerbacks. Jefferson is going to have a field day. Two touchdowns are not out of the question and which means the Kirk Cousins stack is in play this week at $15,200. It's my cohost at the Fantasy Millionaires Mike "Cash" Collins Diamond stack of the week. Adjust your ranks.
Mid-Range – Wide Receiver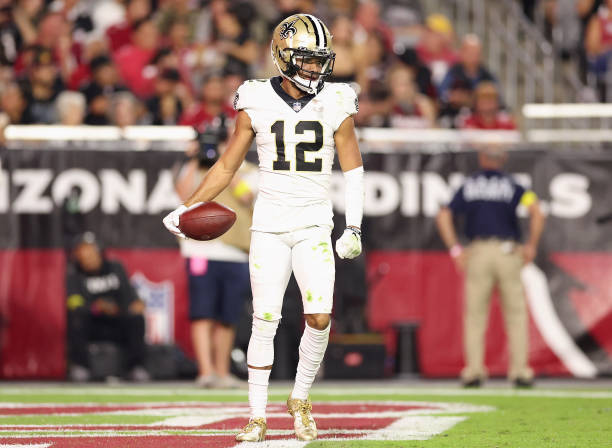 Chris Olave, New Orleans Saints – $6,000
O, Michael Thomas, Michael Thomas, wherefore art thou Michael Thomas?
But soft! What light through yonder window breaks?
It is the east, and Chris Olave at $6,000 is the sun.
Arise, fair Olave, and kill the envious GPP bro lineup,
Who is already sick and pale with chalk,
That thou, her stack, art far more fair than the fields.
Value – Wide Receiver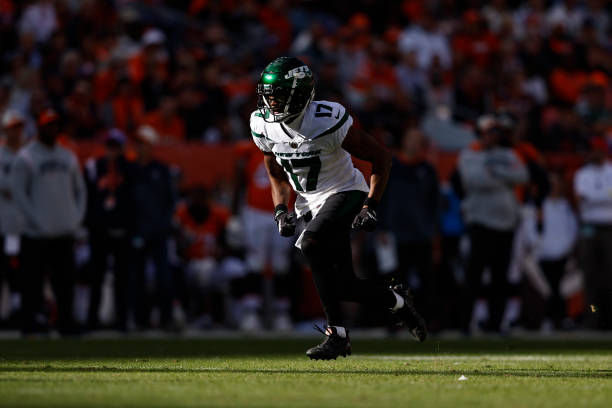 Garrett Wilson, New York Jets – $4,200
Last week the Jets' offense was pathetic after Breece Hall went down with his season-ending ACL surgery. To be fair, Zach Wilson has struggled since returning from a pre-season injury this season. Garrett Wilson led all Jets' wide receivers with five targets but only turned that into 6.4 DraftKings points against a stout Denver Broncos secondary.
This week the law firm of Wilson & Wilson takes on a New England Patriots defense that was just exposed by the Chicago Bears at home at Foxborough. Wilson should see an increased target share this week. Without Hall in the lineup I expect the Jets to showcase their other rookie offensive weapon in Wilson. His $4,200 is just way too cheap. I expect the sharps like Bo McBrayer to be all over him, so don't be surprised he gets a little chalky.
High Priced – Tight End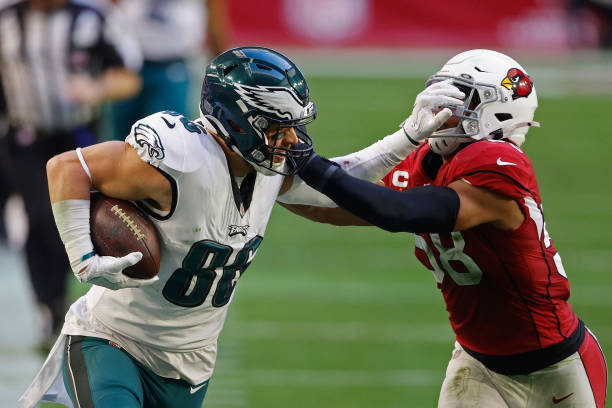 Zach Ertz, Arizona Cardinals – $5,100
Zach Ertz is the play this week against the Minnesota Vikings. Their defense ranks 26th in the NFL giving up over 15-points per game to tight ends. Ertz ranks third in the NFL with 55 tight end targets and is averaging 7.9 per game. The game has a total of 49 points which means that Ertz should see plenty of volume. I'm not overthinking this high-priced play this week.
Mid-Range – Tight End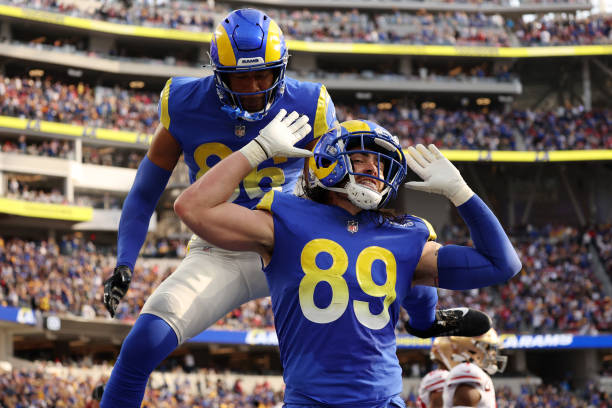 Tyler Higbee, Los Angeles Rams 49ers – $4,200
No one ever likes playing Tyler Higbee. But his 50 targets are fourth most at the tight end position and besides by the law of averages, the passes slings his way by Matthew Stafford can't all be intercepted. Higbee is a middle-of-the-field volume guy who has the potential to catch a touchdown or three when you least expect or accept it. At only $4,200 he's popping in RunTheSim.com tight-end models as a value play with the top 'Boom' rate.
Value – Tight End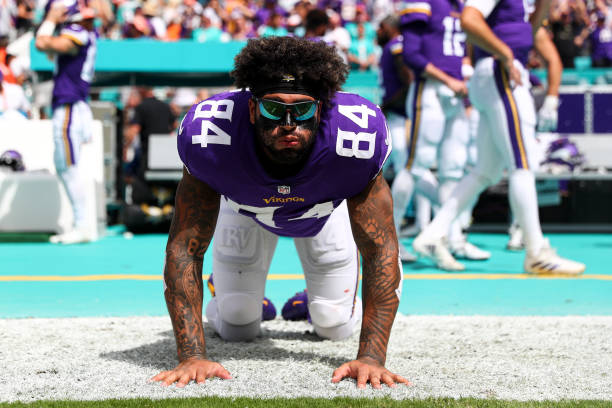 Irv Smith, Minnesota Vikings – $3,500
Fresh off their bye week, Irv Smith has a juicy matchup against an Arizona Cardinals defense that gives up 20-points to tight ends per game. Smith has been averaging over five targets per game in his last five games. He's cheap at only $3,400 and can be played naked or stacked with Bo McBrayer's favorite quarterback of all time Kirk Cousins. Make sure to tag him with your winning lineups.