Utter Domination
9/23/2020
Written by: Bo McBrayer @Bo_McBigTime
What a sensation! A normal late summer Sunday night usually consists of shamefully shoving Taco Bell in my face so I wouldn't chew my fingernails into oblivion. This was not the case last Sunday! The players I faded were fading, the ones I featured were exploding, and even my risky plays were doing what I had hoped they would do.

I was wrong about a couple of my fades: Cam Newton was otherworldly against the Seahawks, but he wasn't on the Main Slate to destroy my day. Russell Gage found the end zone again and even threw a Mohamed Sanu-esque pass to Julio Jones, who promptly dropped it like he was channeling Nelson Agholor. My apprehension to Week One standouts Mitchell Trubisky, Adrian Peterson, David Johnson, Marquez Valdez-Scantling, Sammy Watkins, and Logan Thomas in DFS were all keen in avoiding a dud lineup that loses money. Even Noah Fant was shut out in the first half before scoring a touchdown in the second half against Pittsburgh.

The Week One disappointments that I was looking to bounce back in Week Two were also mostly successful, although the injury bug was not kind to Jimmy Garoppolo or Saquon Barkley, and Chris Godwin entered concussion protocol and was ruled out post-writing. TY Hilton was a miss in a game that featured immense offensive letdowns on both sides. Dak Prescott put up a record-breaking point total, passing for 450 yards and accounting for four touchdowns, including three rushing touchdowns. Austin Ekeler was featured in the passing game much more in Week Two and put together a nice performance with Herbert at quarterback, even with the increased presence of rookie Joshua Kelley. Tight ends Jonnu Smith and Hayden Hurst both found the end zone and showed to be important features of their respective offenses.

Week Three lets us further narrow our scope to identify breakout performers and fool's gold. With more tape and data, we can build our lineups with confidence and smart aggression. Here are the guys I will not be rostering on Draft Kings, due to price and pitfall risk.

Deshaun Watson: Pittsburgh's defense isn't as gnarly against teams with great passing games, but as great as Watson is at the game of football, his receivers are not. Add to that a very strong pass rush from the Steelers met by one of the worst offensive lines in the NFL at pass protection and Watson is going to struggle to put points on the board in this game.

Jared Goff: The Rams have been very efficient on offense so far this season, coming into Buffalo with a 2-0 record and Goff fresh off a thorough beating of a terrible Eagles defense. The Bills are not the Eagles. They are much more equipped to force the Rams into playing one-dimensional and should force Goff to be average at best. He might be a sneaky tournament play, but I won't be risking it with such a low ceiling.

Leonard Fournette: Yes, Uncle Lenny had himself a game last week. A lot of DFS players will take a flyer at $6200, hoping for similar volume. I am simply not convinced that Fournette will have as much success against the Broncos, nor a consistent floor of volume. Game script and riding the hot hand played a big part in his performance against a putrid Panthers run defense. I'm not buying it this week.

Melvin Gordon: The volume was there for MGIII in Week Two, but his notoriously bad vision was apparent against the Steelers. For his career, Gordon's yards per carry versus top half run defenses is in the low 3's. The Bucs are solid up front, making for another 3 point something YPC in the making. There are many better options on the board in the same price range at the position for DFS this week.

Robbie Anderson: Anderson has really impressed me this season. It is very revealing how inept the Jets are in terms of putting talent in the right place. That being said, I expect the Chargers to put the clamps on the Panthers passing game, especially downfield. Without a real running threat, expect Teddy Bridgewater to narrow his sights to shorter routes to avoid turning the ball over. This will be a rough patch of the schedule for Anderson as long as Christian McCaffrey is out.

Odell Beckham Jr: The name carries memories of the best catch in league history, but does not correlate to consistent performances in the last couple of years. Washington doesn't strike fear into top wide receivers, but they have shown a very good pass rush. Baker Mayfield has been abysmal under pressure so far, so it stands to reason he either won't target OBJ enough or will commit turnovers trying to force it to him under duress.
Dalton Schultz: Without Blake Jarwin, Schultz surprisingly saw a team-high ten targets and had the lone receiving touchdown in the shootout with Atlanta in Week Two. I have very little hope that this will be replicated against Seattle, who boasts good slot coverage and Jamal Adams, who is on his way to an All-Pro selection at strong safety.
Tyler Higbee: I missed the information last week that Gerald Everett would not be suiting up for the Rams. That piece of information was huge, considering Higbee was now the only tight end running routes for Los Angeles against a Charmin-soft Eagles secondary. Three touchdowns later, I expect plenty of regression against a stout Buffalo defense, especially with Everett off the injury report.
Conversely, here are the guys who may not have put it together in Week Two that I feel are smash plays for Week Three on Draft Kings.
Joe Burrow: He's for real. The next Joe Cool after Montana was a revelation last week, but wasn't overly efficient for throwing the ball 61 times. Cleveland gave him short routes to stop Mixon in the run game and there wasn't much reason to do anything else playing from behind. The Eagles are equally bad against the short passing game and stout enough to bottle up Mixon in a similar fashion. I expect Burrow to take some deep shots and run more like in Week One.

Carson Wentz: Just when you think he's floundering, the schedule gives Wentz the Bengals. They won't be able to give Miles Sanders 35 carries to take advantage of the Cincinnati run defense to the degree that the Browns did, but the play action pass will be deadly, and I can see a massive touchdown total in the works for Wentz to flip the narrative back in his favor. I can see shootout written all over this game.

Antonio Gibson: The rookie slash player has looked sharper by the touch at running back this year. As raw as he is, the volume is increasing through his impressive ability to make tacklers miss. This is a play where the $4700 price is lovely, so I will be loading him into lineups just about everywhere to get a safe floor with explosive upside against the Browns.

Joe Mixon: We are ready to see this breakout. Mixon is too talented for the pedestrian
production we have witnessed so far. The Eagles are decent against the run, but I look for Burrow to target Mixon more in the passing game to keep up in a shootout. This type of running back at $5900 is my kind of play.

Michael Gallup: It's his turn, right? The opportunity has been there so far for Gallup. He made the biggest play in the Cowboys miracle comeback win against Atlanta, getting one cheek down inbounds to set up a touchdown. With Cooper as a primary read, and Lamb in the slot, Gallup is the home run threat. He hasn't quite been on the same page as Dak Prescott in the early going, but the same thing happened last season. Seattle will challenge the route running and decision making of the Cowboys offense, but the Seahawks gave up some deep shots against New England, mostly by Julian Edelman. Dak is certainly not afraid to throw a 50/50 ball to Gallup, leading me to predict some gaudy upside from him this week.
Allen Robinson: Last week, trade rumors swirled when ARob took down all affiliation to the Bears on social media. He was largely bottled up last Sunday, but will look to exploit an abysmal Falcons secondary. Give me all the ARob volume and upside this week to either increase his trade value or put the rumors to bed.

Logan Thomas: Back in good graces, with a much more savory opponent is the former VaTech quarterback. I faded him last week because of a wretched matchup, but this week he faces a Browns defense that let CJ Uzomah get loose on them. The price is still low on DK, so I'm loading him in like it's Week One, baby!

Drew Sample: He's like CJ Uzomah, but with better speed, agility, route-running, vertical leap, and hands. Burrow likes a big target underneath. With more expensive tight ends in questionable health or off the main slate, I'm getting immense value on the Bengals youngster.
I'm Half Sure of Knowing for Certain
9/19/2020
Written by: Bo McBrayer @Bo_McBigTime
I fell short of breaking even last week, by a smidge. There was a pretty decent showing in cash games with the volume lineup featuring the pairing of Cardinals, Kyler Murray, and DeAndre Hopkins. Tournament play was a buzz saw of missing out on the top total of the week in Minnesota, spearheaded by my NorCal homie Aaron Rodgers cutting through the Vikings secondary, all the way to the bone. His heart was heavy, carrying with him the solemn news of lives lost in the Butte County wildfires. I should have known this was another chip, rather than a burden. He, along with Davante Adams, Lazard, and Valdez-Scantling fully exposed a Minnesota defense that also was not keen on slowing down Aaron Jones and Jamal Williams in the running game. The game stack would have included Dalvin Cook and Adam Thielen, but I settled for fragments of the Seahawks-Falcons shootout that left me shy of the pay line.
We all learned a lot from the kickoff slate of games. Which teams are a foregone conclusion to compete for the Super Bowl, and which teams' dreams are already in jeopardy from a rash of hamstring injuries. The Jets are still abysmal and the Cowboys still have enough talent to waste on poor situational coaching. Going into Week Two, I'm attacking the Main Slate on Draft Kings with the same three lineup builds: Pay up for Studs, Game Stack, and Volume-Rich (for Cash Games). For those playing along, these examples should make for a more profitable Sunday and fewer tequila shots to chase the blues away.
Pay Up On Studs
QB: Dak Prescott $6,800
RB: Derrick Henry $7,900
RB: Jonathan Taylor $5,700
WR: Amari Cooper $6,300
WR: Julio Jones $7,400
WR: CeeDee Lamb $4,700
TE: Chris Herndon $3,400
FLEX: Benny Snell $4,500
DST: Cardinals $3,000
Remaining Salary: $300
I incorporate a small game stack here with the high total in the DAL/ATL game, but I will have other variations with more guys sprinkled in, not just the top dollar guys. There are still great values on the board that will have moderately high ownership in this build. I will be using this setup for multiplier games.
Game Stack
QB: Matt Ryan $6,600
RB: Ezekiel Elliott $8,200
RB: Ronald Jones $5,200
WR: Michael Gallup $5,200
WR: Calvin Ridley $6,800
WR: CeeDee Lamb $4,700
TE: Hayden Hurst $4,600
FLEX: Nyheim Hines $5,300
DST: Buccaneers $2,900
Remaining Salary: $100
With the fireworks expected in the Dallas-Atlanta game, it stands to reason to use this type of game stack for GPP/Tournament play. I also like the RoJo/Bucs DST stack against Carolina, who I see struggling against a better defense than Las Vegas ran out there against them. Another high total I'm using in GPP is Minnesota at Indianapolis, throwing stacks of Cousins/Rivers, with Cook, JT, Hines, Thielen, Campbell, and Hilton.
Volume Play
QB: Kyler Murray $6,100
RB: Ronald Jones $5,200
RB: Jonathan Taylor $5,700
WR: DeAndre Hopkins $7,700
WR: Adam Thielen $7,200
WR: CeeDee Lamb $4,700
TE: Jonnu Smith $4,200
FLEX: Raheem Mostert $6,400
DST: Rams $2,800
Remaining Salary: $0
My cash games are a shoo-in to make money this week. There are some criminally underpriced plays that, regardless of ownership, should smash this week. AJ Brown's injury puts Jonnu Smith as a potential 4x value, Marlon Mack's injury makes JT a very chalky 3x+ option. Lost in all of this is Kyler Murray's inexplicable price drop from the 49ers to the Washington FT after torching San Francisco last week. Pair him with his Bentley of a WR, Nuk Hopkins, and you can deposit this straight to the Caymans. Ram's defense should feast on the tattered Eagles, whose line was dismantled by Washington's front seven.
Playing a Different Game – @Bo_McBigTime
9/17/2020
We were playing a different game Sunday. From the winners, that is. Feeling disappointed in the lineups we played isn't warranted, since just about every player we ran out there was good enough to win…just not this week. We didn't miss by having duds, but we missed the massive performances that were all over the NFL in Week One. Some of them we rostered but didn't put enough in the SAME lineup to reap a big victory. Where we rostered the GPP masterpiece of a Murray-Hopkins pairing, we had Ekeler and Chubb or Mixon with mediocre numbers. Where our roster had Jacobs racking up the touchdowns, we were disappointed by Wentz at QB and Kittle or Hurst at tight end. Even the Milly Maker roster that popped off for 180 points this week did not even cash in the slightest, because of the absence of Rodgers-Adams or Ryan-Jones-Ridley.
Week One was discouraging, but not devastating. We now see the effects of an unusual offseason on certain teams and players, with depth charts shaking out and injuries wiping the bugs off our windshield. Visibility was poor last week from the wildfires in California and the lack of insight into preseason breakout performers. Our contact lenses are in now; we can get down to get the bankroll moving in the right direction.
First and foremost, chasing last week's points is a terrible strategy if you still don't consider that player's opportunity to be any better. Some of the top performers on a given week are not inclined to repeat it any time soon, even if the matchup is favorable. Going after that guy will land you in the bottom of most contests (along with all the other fool's gold miners). Let me give you some Week One breakouts that I will not be rostered on Draft Kings in Week Two.
Mitchell Trubisky: Mitch was abysmal in the first half against Detroit. It took three Lions DB's coming up with sore hammies for the whole game to change. The Giants are not world-beaters on defense but weren't helpless against a strong Steelers passing game. Trubisky might be back on the hot seat after this one.
Cam Newton: After last week's performance, Cam will be on the hearts and minds of many DFS players. For this week against the Seahawks, I say skip over him and wait for that juicy divisional schedule to resume. He was not impressive past his first read in the passing game, even against a Dolphins defense that isn't very good. The Seahawks will provide a real challenge to the Patriots new scheme.
Adrian Peterson: The future Hall of Famer led the NFL in rushes of 10+ yards in Week One. There's no reason to call the Packers a good run defense, but there is a very high likelihood that the game script will favor the Lions passing attack, leaving Peterson with high ownership, and low points scored.
David Johnson: Aside from a very impressive touchdown run, 2016 standout David Johnson was only average. He will not be highly owned against the Ravens in Week Two, for good reason. Steer as far away from the entire Texans offense as you can this week.
Russell Gage: The Falcon offense is powerful. They showed a lot of grit coming back against the Seahawks. Gage was targeted a lot in the second half and was locked in a mismatch, with Jamal Adams focused on Gurley and Hurst. The Cowboys defense lacks any star power in the secondary and will be letting Ryan's first read come open more often. Gage is still expected to be the fourth or fifth passing option going forward, so managers who chase his Week One might starve waiting for the targets that won't come.
Marquez Valdez-Scantling: All summer long, we ignored him and chided the Packers front office for not getting Aaron Rodgers some receiver help through the draft or free agency. He only ran 48 routes to Allen Lazard's 78 but was the benefactor to a perfect deep ball touchdown and another go route where the corner sat down too early in his cover two. Lazard is the clear cut number two receiver for Rodgers, so don't overvalue a splash from MVS.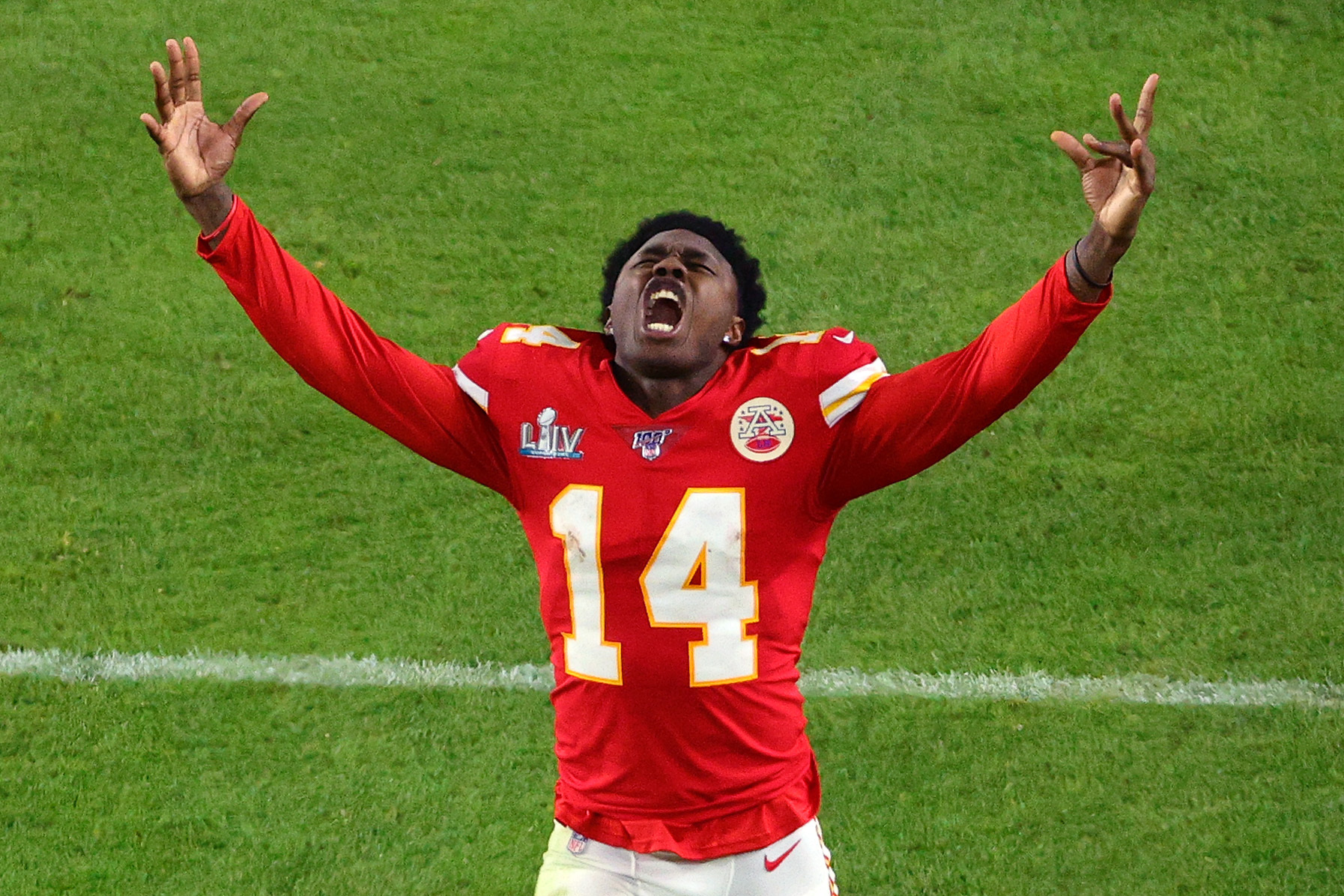 Sammy Watkins: Sammy Watkins is a gifted talent. He has a long injury history that hampers his value. Plus, he is in a powerful offense that features different breakout players without predictability. Similarly to last season, I will not fall for the narrative that puts Sammy back on the map as a consistent receiver, especially against a talented Chargers secondary.
Logan Thomas: It seems insane to not target a tight end facing the Cardinals, especially after his performance against the Eagles last week, but that's where we're at. After a moderate first half for Kittle last week, the Cards put the clamp on him. I would put a healthy Logan Thomas as equal to Kittle with a knee sprain, so there will be plenty of DFS players crushed by a Thomas play this week.
Noah Fant: Yes, Noah Fant is a stud tight end. He was impressive in his season debut versus the Titans but now faces a tough opponent in the Steelers, who are fresh off a stifling performance of a healthy Evan Engram. In DFS, parallels can be drawn between Engram and the young Fant, which leads me away from the matchup altogether in any contest.
Just as we must avoid the pitfalls of chasing points from the previous week, we cannot get discouraged from plugging guys in whose disappointing performance is fresh in our minds. Here are some guys that stunk it up in their games last week, but will be appearing in my Week Two rosters on Draft Kings.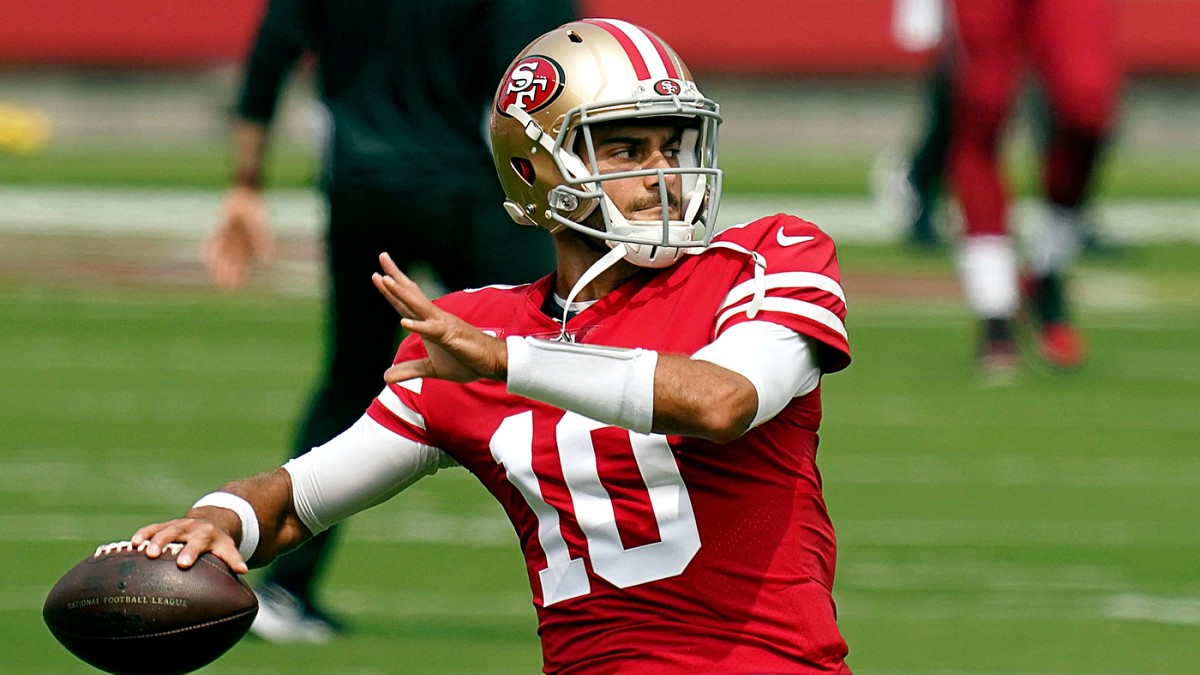 Jimmy Garoppolo: Is he a good quarterback? Sometimes. We correctly predicted his struggles against the Cardinals pass rush playing from behind. The Jets are not a good defense, nor are they well-coached by any stretch of the imagination. Expect a pretty loud bounce-back performance from Jimmy G this week, with his running backs playing an explosive role in the passing game once again.
Dak Prescott: Everyone predicted that Dak, along with his triumvirate of talented receivers, would explode out of the gate and be well on his way to the huge payday he's seeking. Instead, through incredibly poor reads (especially on third down) and play calling at the most extremely conservative end of the spectrum, Dak managed only one touchdown pass. It was a short dump off to Zeke Elliott, who reminded everyone that he is a bad man with the ball. With how explosive the Falcons are on offense, Dak and the Cowboys will have to be more assertive if they want to stay in the game. There will be fireworks in this game.
Austin Ekeler: The Chargers might have shown the worst game plan of any team last week, even in a winning (?) effort. Their defense was predictably stifling, but the offense was rudderless and abandoned all usage of their weaponry from last year. Joshua Kelley was serviceable, but everyone watching was angry that they threw the ball to Ekeler only once. It was apparent that the opportunity was there to get the amazing runner the ball in space, but they refused. When Coach Lynn watches the tape, he will see how pathetic their execution was in the passing game and how easy it would be to run angle, wheel, swing, shovel, and out routes to Ekeler to manage more than 16 points this week against the Chiefs. They will need to keep up. Ekeler had 20 touches, but they were the wrong kind of touches to put him in explosive play situations.
Saquon Barkley: I'm not too sure anyone will be too shy about rostering Saquon in DFS, but inevitably, some will question if he is worth the price after rushing for only six yards (!) against the Steelers on Monday night. I'm here to exclaim that he will be among the top performers in the league this week against the Bears, who are fresh off allowing 97-year-old Adrian Peterson to pop five carries over 10 yards. We are still talking about a generational talent in the backfield, licking his chops to prove that last week was nothing but a fluke struggle against a top defense.
TY Hilton: This great-when-healthy wideout was matched in targets by second-year speedster Parris Campbell. Hilton is still the main guy in Indy when he suits up, and Campbell's success can only contribute to more open looks for the veteran Hilton. If Philip Rivers keeps slinging the ball 46 times, it is a foregone conclusion that Hilton will be a beneficiary. The Vikings looked lost against the Packers last week, which should bode well for a Colts offense with something to prove after falling in Jacksonville.
Chris Godwin: Although not having a terrible showing in New Orleans, Godwin was limited to six catches and without a touchdown, despite Mike Evans being hobbled by a hamstring injury. The Saints corners, especially Marshawn Lattimore, will show to be much tougher to deal with than those from Carolina. Tom Brady should have more time to find his open receivers this week, which means Godwin should be in the running for a big performance.
Hayden Hurst: As with the expectations for Russell Gage to see fewer targets against the Cowboys this week, the Falcons and Matt Ryan should see an easier time finding Hayden Hurst open over the middle and in the red zone. His output was dampened when Jamal Adams was in coverage, but Dallas lacks the man coverage to give Hurst any fits, especially when they will have enough trouble covering Julio Jones and Calvin Ridley
Jonnu Smith: Even though his outing was salvaged by a touchdown, Jonnu was covered tightly and bracketed throughout the night against the Broncos last week. Don't expect the same ability from a young and inexperienced Jaguars defense. Add in Smith's YAC prowess, and this could be a massive, slate-breaking performance.
Get On a Heater…From the Jump!
9/9/2020
By Bo McBrayer @Bo_McBigTime
It's crazy to think we can predict the first week's breakout players in a year like 2020, absent of those super-meaningful preseason games. I'm only partially saying that in jest; preseason games help coaches set their rosters, shed light on depth charts, and possibly reveal certain player packages. This season, we are at a level of mercy on coach speak that has never been seen before. Beat reporters, often with their fingers square on the pulse of their team's OTAs, Mini Camps, and intra-squad scrimmages, are now hopping fences and climbing trees with binoculars to get a closer look at how players are faring. Coaches are naturally evasive at pressers, looking to get it over with and avoid revealing any secrets to the outside world.
In redraft and dynasty leagues, managers have their antennae perked during the preseason to any news. How do the rookies look in camp? Are the injuries serious, or is the guy in a walking boot merely as a precaution? Is the guy who disappointed as a rookie turning the corner and finally showing value as a sophomore?
In DFS, players building rosters live in the NOW. It is very simply creating a maximum value of points to salary. Of course, this will be a Week One of unprecedented uncertainty. That does not mean you, as a casual bettor, cannot wield a powerful sword, in the shape of a formidable roster that maximizes ROI. For Week One 2020 is your chance to bankroll early and get on a heater that you can ride all year. These three unique roster concepts will each actualize a philosophy rooted simultaneously instability and upside. Take a gander!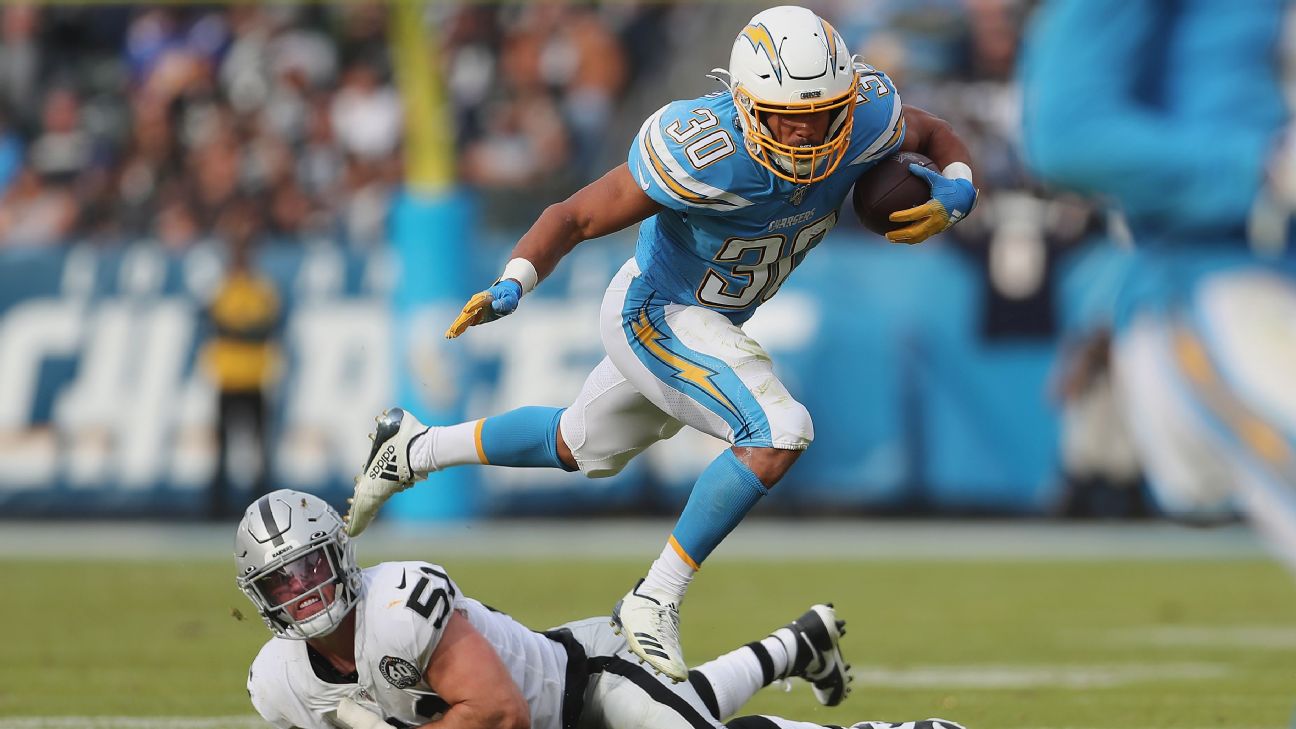 Pay Up for Stud(s)
QB: Lamar Jackson $8,100
RB: Austin Ekeler $7,000
RB: Alvin Kamara $7,200
WR: Marquise Brown $5,100
WR: Terry McLaurin $5,600
WR: Trent Taylor $3,900
TE: Zach Ertz $5,800
FLEX: Zack Moss $4,400
DST: Chargers $2,800
Remaining Salary: $100
This roster is obviously top-heavy with talent at QB and RB but is also not as chalky as it appears on the surface for Week One. We also have a massive upside at WR to plug into GPP play. Taylor is a sneaky good PPR monster with value in a game where Jimmy G will be looking for trusted receivers. I am heavily rostering Chargers DST in Week One. They have a great secondary and will challenge rookie Joe Burrow in his first career start, almost guaranteed to force multiple turnovers.
The Stack
QB: Matt Ryan $6,700
RB: Austin Ekeler $7,000
RB: Josh Jacobs $6,800
WR: Calvin Ridley $6,100
WR: DK Metcalf $5,800
WR: Terry McLaurin $5,600
TE: Hayden Hurst $4,400
FLEX: Laviska Shenault $4,400
DST: Patriots $3,200
Remaining Salary: $100
Stacking for the sake of stacking isn't that effective most of the time. I usually only stack members of a passing game in a game I expect to be over the total. Atlanta/Seattle is my top expected total of the week, so I'm looking for Matty Ice to chuck the ball at least 35 times. Included in the stack is a member of the opposing passing attack, forming a very nice game stack. Another stacking strategy is an RB going against a poor run defense and stacking with that RB's DST. Ekeler vs the Bengals excites me, and one could easily pay up a little at flex with the $400 extra dollars saved by going Chargers DST instead of the Patriots.
The Volume Play
QB: Kyler Murray $6,400
RB: Dalvin Cook $7,900
RB: Austin Ekeler $7,000
WR: DeAndre Hopkins $6,800
WR: Terry McLaurin $5,600
WR: Scotty Miller $4,000
TE: Chris Herndon $3,300
FLEX: Todd Gurley $6,100
DST: Chargers $2,800
Remaining Salary: $100
Sometimes, especially in Cash Games, I like to fill my entire lineup with guys with extremely high floors of volume. They mostly have a good upside, but if I'm looking to get over a 50/50 payline with ease, I'm not taking as much of a gamble. Kyler Murray showed out in both games vs the staunch 49ers defense in 2019 as a rookie. Plus, he now has a weapon in Nuk with an insane catch radius and can't really be covered. The Cardinals will be a high passing volume attack again this year and with K1's rushing upside, I'll take it to the bank Week One. Cook is the most expensive RB I'll be playing this week. He averaged 22 PPG in PPR in 2019 before the injury and the Packers can't stop the run. Throw in people who should be handling the rock a lot, like Scary Terry, Darnold's buddy, Herndon, and the Falcons only professional RB, Todd Gurley, and it should be a breeze to cash in on Double-Ups and even some multipliers.
________________________________________________________________________
Entry 1 – Everyone Is An Expert Until Week Two
8/30/2020
Bo McBrayer @Bo_McBigTime
Millions of DFS players will flood the lobbies of Draft Kings, Fan Duel, and the like on the
weekend leading up to Kickoff Sunday in the NFL. Undoubtedly, everyone will claim they are the voice of promised riches and that their crystal ball is more Swarovski than everyone else's. As you may have already surmised, the vast majority of these elbow-patch salesmen will be dead wrong in Week 1, fading
into the hedges like Homer Simpson.

I hate having knowledge of "experts" who won't even put their own money into their subscriber picks, or are even so scheisty as to lead people to players they are fading to tip the ownership numbers away from their GPP picks. All of these things happen every season. I am here to outright guarantee that I will win (and lose) with y'all every week. I will gloat the winners, lament the bad calls, and cry when things just don't pan out. Is that so different than the rest of the industry? Not really, but it sure is fun to have skin in the game and simultaneously entertain the casual player DFS player with real world, main street analysis and anecdotal quips on why a guy might be a smash play one week because his wife makes killer biscuits and gravy before home games.

I am primarily a Draft Kings guy, as I prefer full PPR scoring. I'll still throw out some FanDuel buys if there is enough differentiation in pricing to swing the value proposition. DK has already released Week 1 salaries and opened the contest lobby as of the writing of this article. The key with any investment, whether it is the stock market, dynasty league, redraft, or DFS, is to find the highest ROI factor, identify scarcities, and to not chase those pesky winners from last week. In Week 1, everyone will be on the same guessing game; especially without any preseason games to weed out the coach speak on the depth chart and target shares. The same core principles to follow are solid roster-building, identifying player and game stacks, and forming your roster to end the contest above the pay line. That last one is the most obvious one, but it is often forgotten. Contest selection and understanding how many points will likely need to be scored to cash are my main focus, especially in the opening week, where over-analysis will be rampant. Every team is a championship contender in Week 1, and every DFS player is an expert until after the first week is in the books.

For Week 1, I am targeting these players by position, for Cash Games and
GPP.
Quarterback
Lamar Jackson ($8,100) vs Cleveland: Of course, Big Truzz will be very highly owned in the Milly Maker and other GPP contests. I wouldn't necessarily shy away from spending up on him in any contest, especially if I'm stacking him with Andrews and/or Hollywood Brown in a juicy matchup against division rival Cleveland.

Carson Wentz ($6,300) @ Washington: The Washington Football Team (Robert Downey Jr. eyeroll) is abysmal on defense and a rookie pass rusher will not have enough of an immediate impact to slow down a well-oiled attack from Philly. Wentz will not be super highly owned, look for a Ertz stack and even a GPP dart on rookie receiver Jalen Reagor.

Jimmy Garoppolo ($5,800) vs Arizona: This game between the 49ers and Cardinals has sneaky shootout potential. The obvious stack is with Jimmy G and Kittle, but a game stack in GPP with Hopkins or Kirk could be very fruitful if the Cardinals move the ball and score against the Niners as well as they did last season.

Kyler Murray ($6,400) @ San Francisco: Lost in the impressive run by the 49ers last season was how effective the rookie Murray was in the two games against them. San Francisco is down a gigantic rusher in Buckner (trade to Indy)and had some glaring flaws in containing mobile quarterbacks (Murray, Jackson, Mahomes). I expect that to really come into play in this game, especially now that K1 has arguable the best possession receiver in the game now in DeAndre Hopkins.
Running Back
Christian McCaffrey ($10,000) vs Las Vegas: Spend up on CMC at your own risk in GPP. The Raiders defense is not any better than last season, even in their new Vegas digs. CMC will get his points, but roster building around him will be a challenge. He's the ultimate genesis of a "Studs and Duds" lineup.

Austin Ekeler ($7,000) @ Cincinnati: Ekeler's ownership might actually be higher than
McCaffrey's in Week 1, but I am SMASHING this at the price. Value prop is screaming at me for $3,000 less than CMC and a similar points projection.

Josh Jacobs ($6,800) @ Carolina: The Panthers actually drafted ALL defensive players in 2020. This, combined with no preseason and strange offseason, means I'm high on Jacobs in tournaments to get 30 touches and pop some big plays. Many will be looking on the other sideline at McCaffrey in this game for tournaments.

Todd Gurley ($6,100) vs Seattle: Gurley's knees will never be fresher than in Kickoff Weekend. I expect very low ownership against a Seahawks defense that is given way too much credit for being a good defense. Gurley should be featured early and often, both running and in the passing game. This game will likely be high scoring, and one thing Gurley has always been great at is finding the end zone.

Tevin Coleman ($4,200) vs Arizona: Spending way down on a running back isn't usually on my radar. I tend to save on my WR or TE dart throw. However, the 49ers run the ball a ton and splits between Coleman and Raheem Mostert won't be too far from 50/50. Getting a 3x return on value from Coleman is definitely achievable.

Miles Sanders ($6,300) @ Washington: Sometimes, you simply are forced to pick on a terrible defense. The Eagles are an offense that can run up the score and support multiple skill positions in one game. For how many touches Sanders figures to get in this game script, his price is criminally low.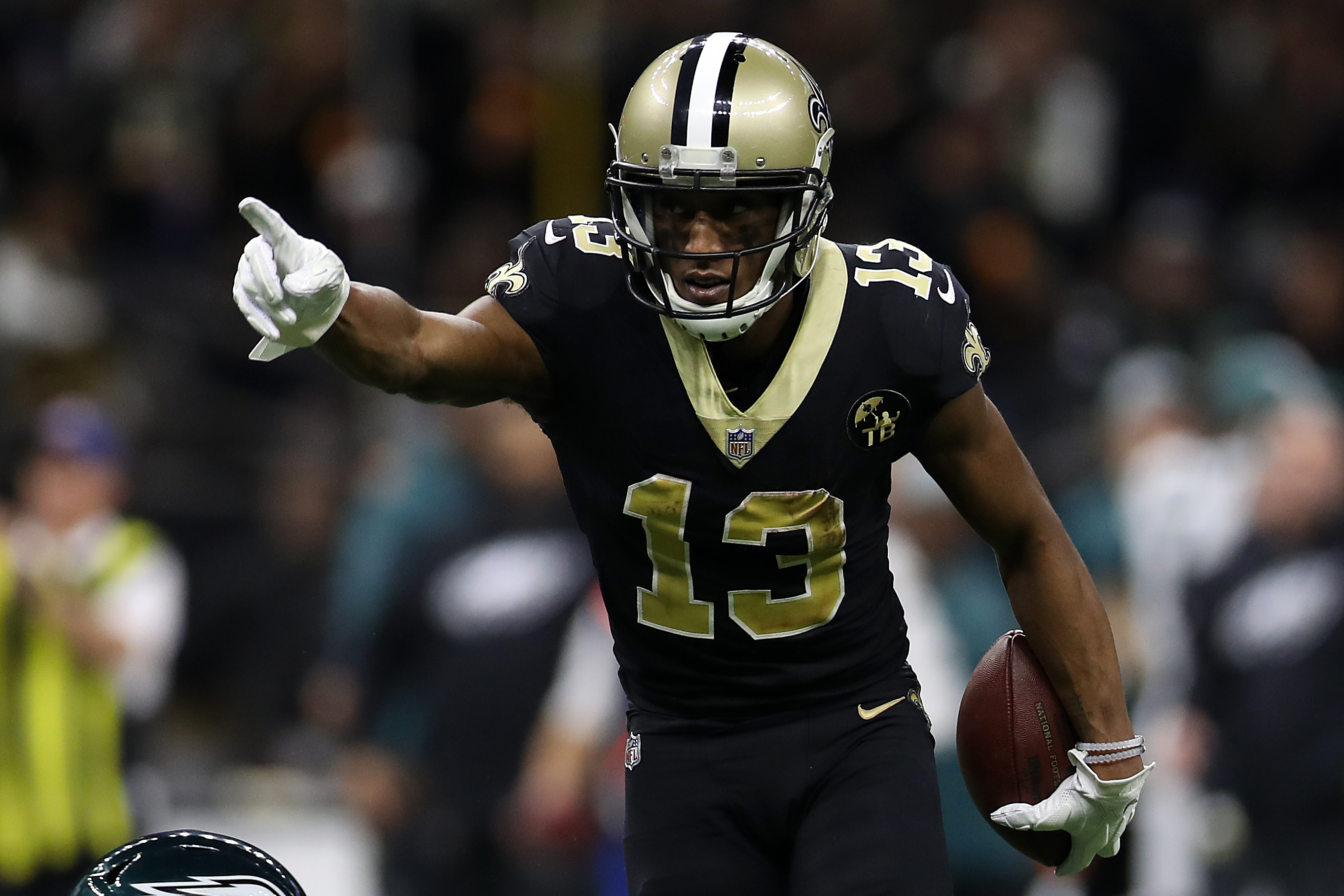 Wide Receiver
Michael Thomas ($9,000) vs Tampa Bay: This one is obvious. MT is always highly owned (and should be) in PPR contests. The Saints offense is quite the funnel to MT and running back Alvin Kamara, with ancillary routes existing only to get them open. I wouldn't kick Thomas out of bed in a GPP, but he is a mainstay in a high-floor cash game lineup.

Davante Adams ($7,300) @ Minnesota: Speaking of target funnels, Adams is in a similar place as Thomas, in that most targets are either at him or for the running back Aaron Jones. The Vikings are a solid defensive unit, but now lack a shutdown corner, after the regression of Xavier Rhodes. Ownership will be mitigated by the perception of the Vikings strength on defense.

Chris Godwin ($7,100) @ New Orleans: Yes, his new quarterback is the GOAT. No, the GOAT did not have anyone of Godwin's caliber to throw to the last few years. What remains to be seen is whether Godwin or Mike Evans will draw Marshon Lattimore in coverage. Since I think Godwin will see more Lattimore, I will load him into GPP hoping for lower ownership than Evans. I have no fear, however, that both will be solid plays. A Brady/Godwin/Evans/Gronk stack in GPP is a fearless plunge into the offseason hype surrounding this "good on paper" attack.

Julian Edelman ($6,000) vs Miami: I hate the Patriots offense in redraft and dynasty. I want no part of it, but in a one week snapshot with PPR scoring against an unproven Miami team, I'm banking on the wily veteran to be a target vacuum for newcomer Cam Newton. I have seemingly never lost a cash game when plugging Edelman in for a good matchup. He's as good as automatic.

Terry McLaurin ($5,600) vs Philadelphia: Give me all stud wide receivers against the Philly secondary. I expect Washington to be slinging the ball around 40-plus times in this game script, and I highly doubt Darius Slay will be able to contain McLaurin in any regard. Smash City!

Marquise Brown ($5,100) vs Cleveland: Lamar and Company like to run the rock…a LOT. That said, Hollywood is someone low on price that can bring crazy value on ONE play. Give me some of that in GPP to splash a big jackpot.
Tight End
George Kittle ($7,200) vs Arizona: Holy Mother of ownership! The Cardinals were the worst defense again tight ends in history last season. They went out and drafted an absolute stud, Isaiah Simmons to remedy that. I'm not biting on this one in GPP, but in cash, absolutely! Kittle is a man beast and cannot be covered one on one. Everyone in tournaments will have him, so if you're looking for a contrarian play, turn around and go the other way. This ain't it, Chief.

Zach Ertz ($5,800) @ Washington: Ahhh, the "forgotten" TE1 after missing the end of last season with injury. Before that, Ertz was everything you want his price tag to be. This price and lower-than-usual ownership might only exist in Week 1. Wentz loves going to the tight ends, and Washington should offer very little resistance.

Hayden Hurst ($4,300) vs Seattle: I'm cautiously watching the ownership here. Seattle was pretty dreadful against the tight end position in 2019. I hope I can get the expected value from him without alerting the masses until after Week 1. In GPP, I'll be loading up on Hurst unless his ownership trends too high.

Greg Olsen ($4,000) @ Atlanta: This is my pivot play for GPP contests if Hurst gets a little too popular leading up to kickoff. I expect a shootout in this game and Russell Wilson has made a star out of much less talent at the tight end position.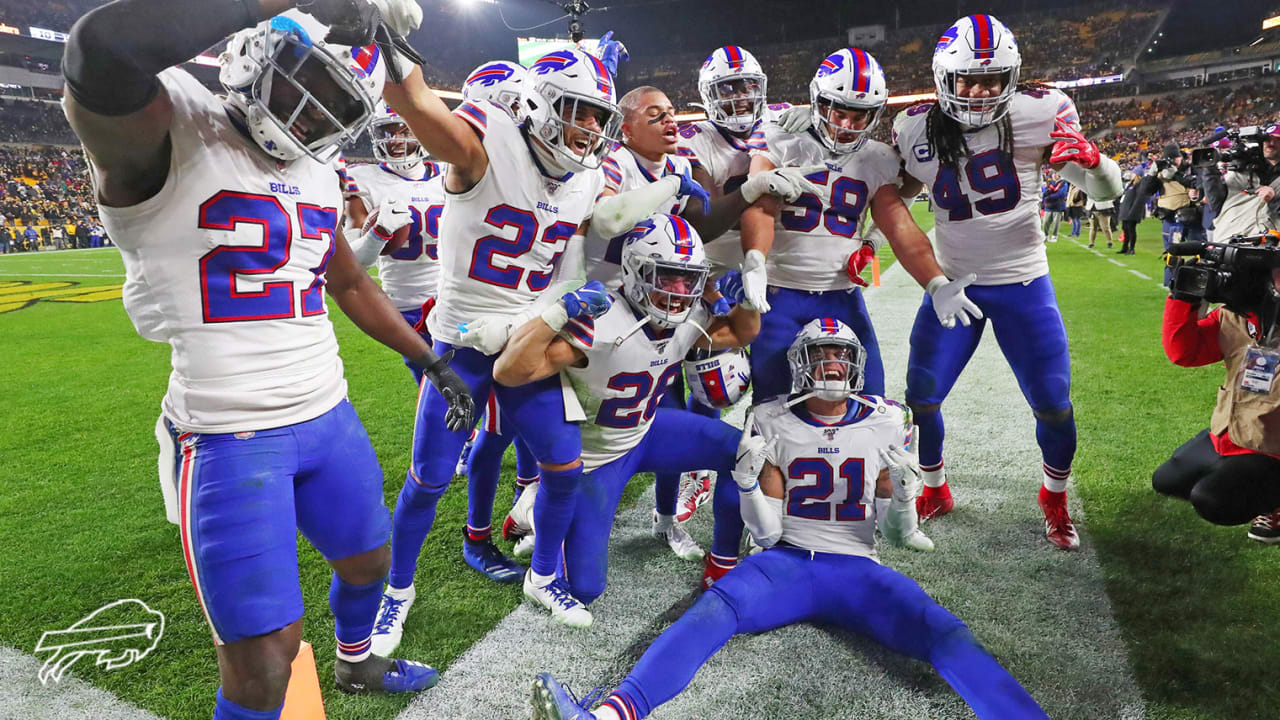 Defense/ST
Buffalo Bills ($3,700) vs New York Jets: This unit is elite. The Jets under Sam Darnold are still unproven and prone to turnovers. I like the improvements the Jets made on the offensive line, but anytime an elite defense faces an offense coached by Adam Gase, I am putting them down in pen.

Los Angeles Chargers ($2,800) @ Cincinnati: Don't get me wrong, I think Joe Burrow is easily the best QB prospect since Mahomes. It's just that he's up against the 8-Ball in Week 1 against the league's best secondary. Points will be scored in this one, but I think the one thing we can count on is rookie mistakes, i.e. turnovers. At this price, I'm going all in.

Green Bay Packers ($2,600) @ Minnesota: On paper, this doesn't look like a good matchup. That's what we're looking for in a GPP matchup. The Packers defense is better than people give credit for. They will key heavily on Dalvin Cook and the running game. I am not sold at all on Thielen being a stand-alone WR1. He has had issues getting open on the outside, and Cousins has been much maligned for his performances against winning teams.
Indianapolis Colts ($3,000) @ Jacksonville: I am just not sold on Gardner Minshew as a franchise quarterback. He didn't really rip the job away from Nick Foles last season, Foles lost the job twice. The Colts added DeForest Buckner to an already fierce front seven and, if they can contain DJ Chark, Minshew will really have problems moving the ball down the field. I love this matchup